Everything changed for the Cleveland Browns' defense the minute Donte Whitner held up his number 31 jersey at an introductory press conference.
"There's not a lot of these players anymore: he is a follow-me-or-else, leader," defensive coordinator Jim O'Neil said. "He made our team tougher the day he walked into the building."
Watch Whitner leave the weight room. He's drenched in sweat. Glance at Whitner on the practice field. He's instructing a young linebacker when exactly to pounce on a tight end. Wait for Whitner to leave practice for the day – that is if you want to drive home when the sun has already set.
No player in the NFL will be more prepared than Whitner by the time Week One in Pittsburgh rolls around. On Friday's and Saturday's before games, he calls his mentor, Brian Dawkins. The nine-time Pro Bowl safety doesn't just dole out advice to any player in the league.
Dawkins respects the way Whitner carries himself.
It's on Sunday where O'Neil and the city of Cleveland will be counting on Whitner the most. The Browns' defense will pride itself on intimidating offenses. Because of Whitner's pedigree for delivering crushing hits, O'Neil said, "[Donte] will be our enforcer."
"That's my game," Whitner said confidently about knocking offensive players to the ground. "The middle of the football field is a scary place. It's not a place where guys should want to go. And it's not a place where guys are going to go on this defense."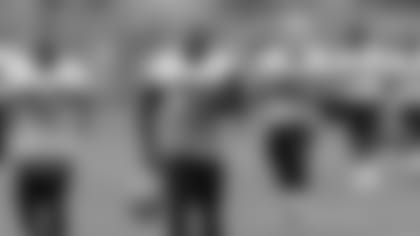 "It's a part of the game that everybody can't do and they're not willing to go out there and put their body on the line and sacrifice it," continued Whitner. "And it's just something that I enjoy doing."
A player such as Whitner can only do so much. But that's where Whitner's follow-me-or-else leadership qualities come into play.
In San Francisco, defensive coordinator Vic Fangio pushed Whitner to the brink. When the safety said he was tired, Fangio made him lift longer. When Whitner didn't want to study, Fangio kept him in the classroom.
Logging the long hours in April, May and June, when being in the building isn't required, created a criteria for a winning formula in San Francisco.
"You show toughness is the standard," Whitner said. "Once you develop it as a standard, and it's the standard in the way we practice, the way we study, the way we play. Then it becomes easy for everybody. You have to show it first and foremost."
O'Neil can sleep easier at night knowing there's a player on his defense like Donte Whitner, striving for team-wide perfection every single day.