If the Cleveland Browns are committed to drafting their franchise quarterback, 2014 might be the year to do so.
Several players have already declared for May's 2014 NFL Draft, including Louisville's Teddy Bridgewater and the University of Central Florida's Blake Bortles, while Texas A&M's Heisman Trophy winner from 2012, Johnny Manziel, will make his choice whether or not to stay in college in the near future.
Bridgewater, a 6-foot-1, 196-pounder out of Miami, Fla., led the Louisville Cardinals to a lopsided, 36-9 victory over his hometown Miami Hurricanes in the Russell Athletic Bowl on Dec. 28. In the victory, Bridgewater completed 35 of 45 attempts for 447 yards and three touchdowns without an interception.
The junior quarterback completed 303 of 427 attempts for 3,970 yards and 31 touchdowns
against four interceptions this season, improving on single-season career highs. In just three short years as a collegian, Bridgewater threw for 9,817 yards and 72 touchdowns against 24 interceptions.
"He just kind of seems to have the whole package and can do a little bit of everything," said Paul Rogers, Louisville's play-by-play announcer. "He's an outstanding leader, but he does it in a pretty quiet and humble way. Not that he won't speak up when need be, but he's one of these guys that people just seem to fall in line with and really like to play for because he's like a great basketball point guard. He does things that make everybody else better. That's probably the best way he leads.
"I think maybe his best attribute, and maybe because it's undervalued or underappreciated, is his ability to run. He's not known as a running quarterback and does not want to be a running quarterback, but he has great escape ability where he kept alive a play just with his elusiveness and ability to buy the extra time to complete the throw downfield."
Bortles led the Central Florida Knights to a BCS appearance, and a 52-42 victory over the Baylor Bears in the Fiesta Bowl on New Year's night. Bortles completed 20 of 31 passes for 301 yards and three touchdowns against two interceptions in the victory.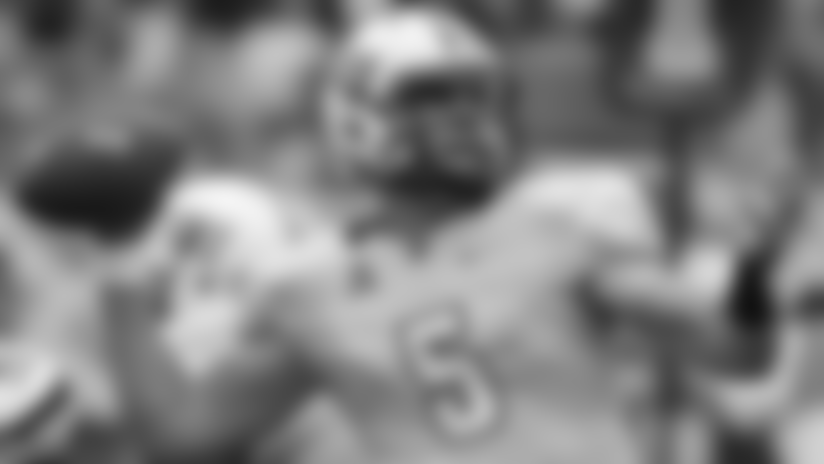 On the season, Bortles completed 259 attempts for 3,581 yards and 25 touchdowns against nine interceptions. He improved his yards-per-attempt average by nearly two yards per pass, up to 9.37 in 2013 from 7.67 in 2012.
"He's gotten a lot of experience this year where they've been down, they were up, and I would say he just stays at a steady emotional level," said Roger Simmons, sports editor of The Orlando Sentinel. "He's never way high or way low. That's been a big reason why the Knights were able to overcome a lot of deficits, come back and win. He never seems to get rattled.
"Based on what he told us, he had something to prove personally. He talked about going to a lot of these camps when he was in high school and seeing a lot of four-star and five-star guys and he was doing just as well as they were, but he wasn't getting the attention. He came to UCF with a chip on his shoulder, something to prove, and that bled over to the rest of the Knights that they had something to prove as well."
The 6-foot-1, 210-pound Manziel may have made headlines for the wrong reasons during the 2013 offseason, but when the redshirt sophomore returned to the field in the fall, he did so with a point to prove.
Manziel ended his college career by declaring for the draft after engineering a 52-48, come-from-behind victory over the Duke Blue Devils in the Chick-fil-A Bowl on New Year's Eve. In the win, Manziel completed 30 of 38 attempts for 382 yards and four touchdowns with no interceptions.
Despite having to repeat his production after becoming the first freshman ever to win the Heisman Trophy, Manziel completed 300 of 429 attempts for 4,114 yards and 37 touchdowns against 13 interceptions. He improved his completions, yards, touchdowns, and was sacked three fewer times in 2013 than in 2012.
For his career, Manziel threw for 7,820 yards and 63 touchdowns against 22 interceptions in two years leading the Aggies.
"His innate ability to know where all of the players are, seemingly, for his team and the other team, because of that he can turn nothing into something great," said Robert Cessna, sports editor of The Eagle in College Station, Texas. "Along with that, because of his great ability to ad-lib, he makes all of the other players around him better.
"I'm old enough to remember Fran Tarkenton, and he reminds me so much of him, only probably a little bit more talented with how quick he is. You'd swear he's got eyes not only in the back of his head, but also, on the sides of his head. I've been here almost four decades, and nobody plays the game like Johnny Manziel does."