Through Browns First and Ten movement, the Browns are always looking for fans who volunteer and help their communities. This year during Training Camp, we hosted a contest to find the most exceptional volunteers from the Greater Cleveland area and afar.
When the volunteers shared their stories of how they give back and help their communities, they were entered in for a chance to win the opportunity to become our First and Ten Coin Toss Captain!
During the coin toss moment of the game, the volunteer will walk side-by-side with the Browns team captains of the game, to midfield where they will witness the official coin toss standing across from the competitors. This moment is broadcast on the scoreboard for the entire stadium to see and the First and Ten Coin Toss Captain is announce and recognized for their service.
During the Browns vs. Steelers home opener game, Connor Gisztl, a 15-year-old from Brooklyn Heights, OH was honored during this time after being voted as an inspirational teen who is making an undeniable impact in his community.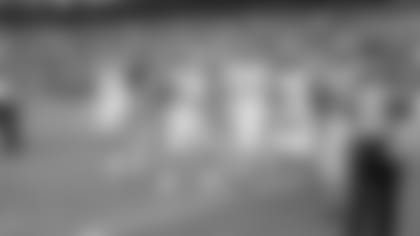 Connor is passionate about helping the homeless. Whenever he sees those without basic necessities like food, water, clothing and shelter, he is pressed to help and decided to make a habit out of helping others.
Without the coercion of his mom or family, Connor decided that he was going to make a difference on his own. His mom says "He has a hard time passing a homeless person without getting sad." She would witness that Connor used to always want to give money and was constantly digging around in her purse when he decided to turn it into something more constructive.
A man with a plan, Connor started making 'blessing bags' that contain water bottles, granola bars, apples, and other assorted foods. He goes around Cleveland looking for homeless people to give the bags to and even if they're sleeping, he leaves one for them.
He writes: God Bless You on the bags and decorates it.
His parents drive him around, but according to his mom, he does this completely on his own and from his own desire and passion to give back.
Each month he goes out shopping with his mom to hand select the items and delivers the items personally. He doesn't collect or receive donations, but simply provides what he can from what he has or his parents can purchase. When asked what his favorite memory from giving back was Connor said, "When I gave a person a blessing bag and he was smiling."
Connor is a freshman at St. Ignatius High School where he plays football on the team and is a pretty big Browns fan, with an even bigger heart.