Browns fans are the best in the world and not only because of their undying devotion to the team, but also because of their commitment to their communities. This week at Training Camp more than 450 people pledged to #give10. Fans of all ages continue to make the pledge, making themselves and their communities better.
How they give back:
Jan, who is originally from Lorain, Ohio grew up as a Cleveland Browns fan. She enjoys supporting the #DawgPound in her Bernie Kosar jersey each Sunday. She lives to work with the kids at Grace Lutheran Preschool in any capacity needed. As a former educator Jan is always looking to make a difference. Jan says that she never says no when asked to do something. She loves the kids and to #give10 because being a Browns fan is not just about football. Jan's friends in North Carolina told her about the First and Ten program and how great it was. Jan, then pledged to #give10 because she helps her community on a daily basis. She also pledged her group to #give10 to enhance the community efforts and spread some #DawgPound pride throughout the Carolinas.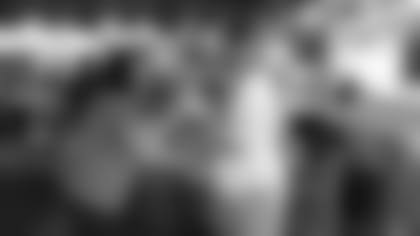 How they give back:
Amanda volunteers her time at an animal shelter in Parma that allows her to do mobile adoption activations at events like Training Camp. Amanda loves to #give10 and help her community as much as she can. As a teacher, she gets her summers off and uses the time to make an impact in the community by saving dogs and cats who need a home. She is an animal lover who has three dogs, three cats and four fish. She got her passion for animals and giving back from her mother, who volunteered at the animal shelter for more than 35 years. She says the animals deserve forever homes just like humans. It's something that she couldn't imagine a life without. That's great Amanda! Way to #give10 and save lives!
How they give back:
Chad coaches for the Brook Park Recreation Center Basketball Team but also volunteers for the Lou Groza team as well. He brought some of his players to training camp to see Browns players who have made it to the professional level of the sport which he says takes lots of hard work, time and dedication. Chad is committed to #give10 to help his players stay out of trouble. He says that when they are in practice or involved in sports they are less likely to be out doing things they aren't supposed to do. Chad has been coaching for three years and he loves the kids and the program. The ability to give back through the vehicle of sports is the best part for Chad and he hopes that more Browns fans can #give10, get involved and help their communities. You're the best Chad! Be sure to use #give10 to share your photos and stories on social media with us. Go Browns!
Name:Allyson Williams and Skylar Wood
How they give back:
Allyson Williams (11) and Skylar Wood (12) are students that volunteer in their communities. They like to #give10 each week during the summer. Allyson mows her neighbors' front and back lawns which help the elderly who can't do for themselves. She has also been known to dogsit for free. Allyson is a peer mentor who tutors other students in her fifth grade class with reading skills and more. She thinks it's fun to #give10 because you treat people how you want to be treated and that's the best part. Skyler helps out with cheerleading five days a week. As a cheerleader Skylar noticed that there were no older cheer girls helping the "freshmen" in her gym. She has cheered for five years and cheerleading is her thing. Skylar says that because her and her teammates have more experience in the sport it is important for them to help the younger girls practicing to get better. 
Hometown:Greater Cleveland
How they give back:
Ron is currently studying for a degree in construction management. As a part of his program students are highly recommended to go out into the community each Friday to #give10 and help their community. The way that they give back and volunteer is through a program called Youth Build where they use the skills that they've learned and put them into action. Youth Build the nonprofit not only provides job skills, education and counseling, but affordable housing for those in need. Awesome Rob! Thanks for sharing your story… Keep up the good work and best wishes in your continued education! #give10.
TELL US YOUR STORY. HOW DO YOU #give10?
Are you signed up to #give10? Share how you are helping the community and pledge to be part of First and Ten on ClevelandBrowns.com/community. All you have to do is give 10 hours, help your community. We want to hear your stories so follow @BrownsGiveBack on Twitter and Instagram for the latest community updates and be sure to use #give10.