Thank you to the following individuals who are giving back! We encourage community service and all acts of giving back and are proud of our fans who continue to make a difference.  These outstanding individuals are pillars in their communities and inspire us all to #give10.
Names:Terry Rounds and David Brinker
What they do to give back:
The Greater Cleveland Food Bank recently recognized Terry Rounds and David Brinker as the 2014 *Volunteers of the Year. *These two men have given hundreds of hours in service to their fellow Northeast Ohioans, going above and beyond all expectations. Both retirees, they began their volunteer journey in the distribution center sorting and repackaging donated food. Each finally found his niche on the streets, helping the Food Bank's outreach team with pop-up clinics where staff will literally set up a tent on a street corner distributing fresh produce. The level of commitment exhibited by these volunteers is truly inspiring to our clients and staff. Thank you, Terry and David, for all you do to help your neighbors in need!
What they do to give back:
Doug is a longtime football fan who loves to #give10 at the Pro Football Hall of Fame.  Since 2008, he has volunteered over 3,000 hours of his time educating fans from all over the world on the history and knowledge of the game of football. He loves giving back, especially at the Hall of Fame, where he can share his passion of the game with the many new and interesting fans he meets every day.
What they do to give back:
Jessica gives back through Brodyn's Friends, a charitable organization that works towards improving the lives of children and families affected by Non-ketotic Hyperglycinemia.  NKH is a rare and incurable illness, and Brodyn's Friends goes a long way towards raising awareness and supporting those affected by this devastating disease. Jessica volunteers her time by assisting in the various outings and fundraisers put on by Brodyn's Friends, and is humbled to be a part of this caring organization.
What they do to give back:
David is a Browns fan from Memphis who gives back to his local community by volunteering in the congressional care ministry at his church.  Whether it is visiting the sick in the area's hospitals or the elderly in assisted care living facilities, David finds it important to #give10.  He finds giving back to the community is richly rewarding, and loves to do as a part of the Browns First and Ten program.
What they do to give back:
Stephen is an active member in the local community.  He spends his time at a local school volunteering in their Hosts Program, which is a program designed to help students improve their reading levels.  By going every week for the entire school year, Stephen is able to see first-hand the drastic improvements made by his students under his tutelage.  In addition, Stephen also volunteers his time with the Anthony Munoz Foundation which impacts the lives of youth in the Greater Cincinnati area.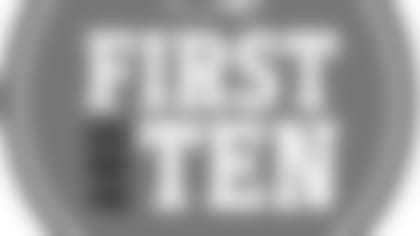 Make sure to let us know how you are giving back! Share your stories of goodwill on the First and Ten webpage or through @BrownsGiveBack to be recognized for your work!