Thank you to the following individuals who are giving back! We encourage community service and all acts of giving back and are proud of our fans who continue to make a difference.  These outstanding individuals are pillars in their communities and inspire us all to #give10.
Name: Warrensville Cowboys Youth Football
Hometown: Warrensville, OH
What they do to give back:
When the Warrensville Cowboys Youth Football team(s) aren't chasing American Youth Football National Championships, they're learning important life lessons off the field. The dedicated group of volunteer coaches love the game, but more importantly, they want to make a difference in the lives of the youth they encounter through the youth football program. The coaches lead by example and stress the importance of community service. Throughout the year, the youth football players and cheerleaders can be found giving back to their community by raking leaves for the elderly, organizing canned food* *drives, and tutoring their peers at the Ferguson Center on Cleveland's eastside.
What they do to give back:
Tom's son is in the Navy and is passionate about recognizing our troops. He started off working with Red Cross "Holiday Mail for Heroes", sending cards to soldiers overseas. Eventually he hooked up with Phantus Paper, producing cards with American flags that are proudly made in USA. Tom has personally signed over 3200 cards himself! He also has now set up stands throughout the local area, with the hopes of sending out an additional 5-6 thousand card this season on his own. #Give10 and salute out troops by stopping on Dawg Pound Drive this Sunday, November 16th, to sign a card thanking a troop for his service.
Name: Willoughby Middle School
What they do to give back:
The Willoughby Middle School Student Council joined the fight against cancer last month by raising over $550 through staff and student donations! The campaign to raise funds for the American Cancer Society took place in October during the school's Spirit Week and was held in conjunction with ACS's Breast Cancer Awareness Month. Not only did the campaign help raise awareness for breast cancer, the financial contribution will be used to help fight cancer.
What they do to give back:
John is a big time Browns fan who continues to #give10, volunteering 8-10 hours a month to the Ronald McDonald House Family Room at the Cleveland Clinic Children's Hospital since 2012.  In addition, the Ward family also holds 50/50 raffles at various hosted events, usually raising $250-500/per year for the Ronald McDonald House of Cleveland. Along with helping Ronald McDonald House, he volunteers his time and photography services to the Lake Humane Society in Mentor for various events and promotions. To check out more of Matthews's good work, visit www.dawgwardens.com.
Hometown:Parma Heights, OH
What they do to give back:
Priscilla gives back to her community in more ways than one. She volunteers with the Cuyahoga Scenic Railroad as a server on the monthly beer and wine trains. So far she has put in over 267 hours of volunteer service, way to #give10! Every holiday season, she is a volunteer elf on the Polar Express trains.  When she's not keeping busy with the Cuyahoga Scenic Railroad, she can be found volunteering at the Cleveland International Film Festival, WVIZ Annual Auction, this year's Gay Games and the Senior games last year, in addition to and many other civic events.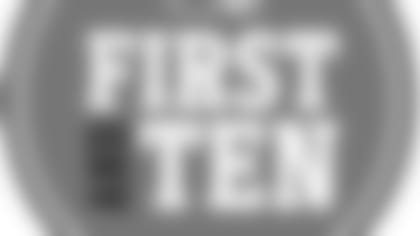 Make sure to let us know how you are giving back! Share your stories of goodwill on the First and Ten webpage or through @BrownsGiveBack to be recognized for your work!