Major Everett, a former member of the Cleveland Browns hosted nearly 200-area youth ages (6-14) at his football camp at the end of June. To #give10 and help his community, Major teamed up with another Browns alum Glenn Young and Jeff Bryant (Seahawks alum) to put on the event. Major said He feels that it's his civic duty to give back to the same community that nurtured him.
The goal of the camp was to give kids a safe place to play and learn. Lessons that the football greats passed on to the future stars were the rewards of hard work, team unity and sportsmanship. The coaches also stressed the importance of being active for at least 60 minutes a day in addition to correct hydration and stretching techniques. Rotating through stations on the field, campers learned the fundamentals such as speed/coordination, passing, offensive and defensive techniques and more. Campers also learned about the tools needed to be successful off of the field including the importance of self-discipline, quality leadership and confidence-building. They really wanted the kids to know that they could reach their dreams by working hard, being disciplined and hitting the books. Not only were the NFL alumni present as positive role models, but Major was able to rally others in the community to #give10 as well by assisting with registration, coaching and more. That is fantastic Major! We love to see our Browns give back to the youth, and you did so in a very big way.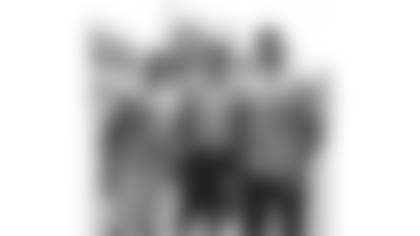 Name: Greater Cleveland Sports Commission Volunteers
Volunteers of all ages come together to #give10 and help bring sporting events of all kinds to life. The goal of the Sports Commission is to leverage sports events and activities to further economic development throughout Northeast Ohio. The Sports Commission welcomes nearly 1,000 volunteers each year to help execute large scale events like NCAA Swimming, Basketball and Wrestling Championships. Bob Happ is a loyal fan who volunteers for more than 10 events each year. These volunteers #give10 to help their community and their entire city! Recently 250 volunteers took the pledge to #give10. Nice wristbands Browns fans! Great job.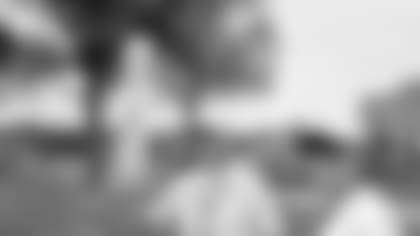 Hometown: Rancho Cucamonga, CA
Cleveland Browns rookie Randall Telfer has always been committed to volunteering. The USC alumnus said that he loves children so he tries to work with the future generation as much as possible. To #give10 and help his community, Telfer visited children currently undergoing treatment. The rookie's commitment to children speaks volumes. When he's not inspiring the youth of tomorrow, Randall makes it a priority to visit with the elderly. Keep it up, Randall! #give10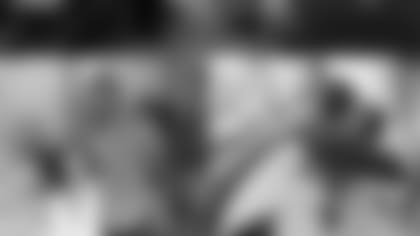 Name: Special Olympics Ohio
Volunteers in the area were able to #give10 and help their community at the Special Olympics Ohio Summer Games. The Special Olympics Ohio team believe that their volunteers are the backbone of the organization and the event wouldn't have been a success without the volunteers involved. Each year they have more than 12,000 people who donate their time by helping with registration, coaching, officiating and more. The three day-long event included many events for the athletes to participate in. Volunteers of all ages sported their orange #give10 wristbands while packing lunches for the athletes. It was a fantastic effort by all. Thanks for sharing!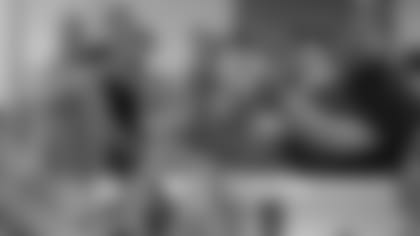 Hometown: Williamsburg, VA
John loves the Browns and he loves to give back. John signed up to #give10 in order to help his community become a better place and interact with those who live in it. Lately John has been getting involved with the local Browns Backers clubs to fundraise and support others in the community. The group held a yard sale in which proceeds were donated to the local SPCA. Other items were donated to the Salvation Army. Way to go Dawg Pound! It sounds like both the Dawgs and the dogs in your community benefited from your decision to #give10.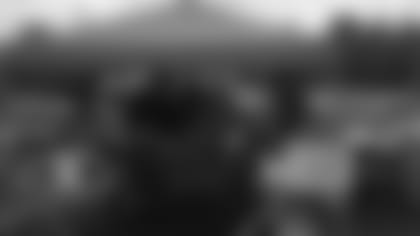 TELL US YOUR STORY. HOW DO YOU #give10? Are you signed up to #give10? Share how you are helping the community and pledge to be part of First and Ten on ClevelandBrowns.com/community. All you have to do is give 10 hours, help your community. We want to hear your stories so follow @BrownsGiveBack on Twitter and Instagram for the latest community updates and be sure to use #give10.