Highlights for the week of April 20
What they do to give back:
Heath Houser, a loyal Browns fan through and through, is a teen who has pledged to #give10 and help his community. Heath has supported the team all of his life and will continue to do so in any way that he can. He took the challenge to #give10 and went above and beyond by contributing 15 hours to a special project in his hometown. He volunteered his time over one weekend to help restore a portion of the local athletic facility. With summer games quickly approaching, Heath managed to paint the inside of the baseball training grounds for youth in his community. Wow, Good job Heath. The space looks great with the fresh coat of paint! I'm sure everyone appreciated your time and effort.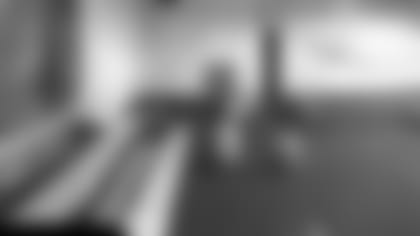 What they do to give back:
Dan Gibbons chose to #give10 with a group in his local community who committed their time to raise money for those with MS. The group was able to raise $3,350 for the Bike MS 150 Buckeye Breakaway. The race is a part of a cycling series that fundraises to free the world of MS. Bike MS consists of 100 extraordinary rides. Teams can cycle or just give back to help the cause. Thanks Dan, keep up the good work!
What they do to give back:
Jacob has been a loyal Browns fan for years. As a nursing student who works in ophthalmology he helps give others the gift of sight. As rewarding as the job is he still enjoys giving back to his community. He is able to do so at Boys and Girls club when not working or attending class. He is most satisfied when patients see him out and about and thank him for taking excellent care of them. That is fantastic Jacob! Thanks for sharing.
Hometown:Highland Heights, OH
What they do to give back:
Tamitria is a loyal Browns fan who has pledged to #give10 with a group from Richmond Heights Schools. In May they are hosting "Neighbors Make a Difference Day". The all-day event will bring together people from all walks of live who will also #give10. The volunteers consist of students, parents, staff, residents, and businesses. The group will be involved in beautifying the campus by cleaning the area, planting flowers and more. Thanks for pledging to #give10 and help your community! Don't forget to share the pictures from your upcoming event on Twitter and Instagram using #give10
What they do to give back:
Anthony is a season ticket holder committed to #give10 and help his community. He recently was able to do this by cleaning up around the Tremont neighborhood on April 22—Earth Day! He has also been involved with St. Augustine Roman Catholic Church, who are very involved with the deaf community. The organization has focused on those in the deaf community for more than 100 years. Anthony is grateful to be a part of the group that has helped him so much in the past. Thanks Anthony, way to give back and #give10.
What they do to give back: Sam is a loyal Browns fan and former sergeant in the Army from Northeast Ohio. While deployed and serving our country, he felt that he could do even more, so he had his mom send care packages for the native Iraqi children. He became a hero to those kids just like Bernie Kosar was for him. Back in the U.S. Sam gave speeches to children in his own community telling them how in other countries kids, just like them, have much different lives. In 2012, Sam was named one of the Top 15 Most Influential Veteran's in 2012. Sam and his family have recently relocated back to Northeast Ohio and he is looking for fun and exciting ways to be active, and #give10 back to his community. What an amazing story. Sam, thank you so much for your service and going above and beyond to help your local community.