The Browns staff recently partnered with the Cleveland Lutheran Metropolitan Ministry (LMM) to provide COVID-19 relief!
Through participating in a "spring cleaning" clothing drive, Browns staff members were able to donate their clothes to local LMM's shelters, who serve men, women, and children. The Browns remained COVID-19 compliant throughout this process by having staff complete clothing drop-offs during specific delivery times at their facility.
Over 40 bags of clothing were donated and delivered to LMM, where their staff assisted in the unloading process. In addition, the Browns staff participated in LMM's Amazon Wish List. LMM prepared a desired list of items, based on their COVID-19 needs, to purchase and be shipped directly to their facility. This option also allowed for COVID-19 compliance, as Browns staff could give back from the safety and comfort of their own homes.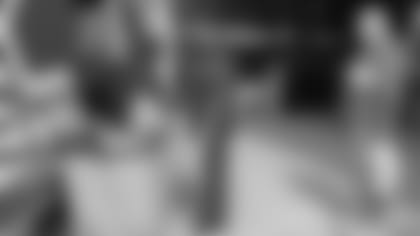 Are you also volunteering or engaging in COVID-19 relief? If so, then we encourage you to join our Browns First and Ten movement! By joining this movement you are committing to give back to your community, in any capacity, by volunteering 10 hours this year.
Officially join us in this service effort by taking the First and Ten pledge here! Also, make sure you share your #give10 stories with us! Let us know how you are volunteering here or by tagging us, using @BrownsGiveBack or #give10! Fans who both pledge and share their stories can be featured in Browns monthly First and Ten Highlights stories!