It's hard to figure out what's more distinctive: Karim Barton's thick Jamaican accent or his treacherous path to the NFL.
It's a Monday in March during the offseason and Barton is one of the only players in the Cleveland Browns' building. He laces up his orange cleats and trots out to the indoor practice field. He works out on the artificial grass until the sweat floods down his face like the rain water he grew up drinking. 
Barton, a 6-foot-3, 313-pound reserve offensive lineman, just completed his first season on the practice squad. An NFL practice squad is where many football careers come to an end. The Browns made more than a dozen cuts on the practice squad last season alone.
Barton won't allow anything to die. In fact, establishing himself as a professional football player will be a cakewalk compared to what he's experienced through most of his life.
---
Barton stares blankly at the pictures – the ones of his mom, dad and three older brothers.
As he slowly thumbs through the photos, the 23-year-old's face winces with pain. His throat hardens.  
Barton hasn't spoken to his father, Shirley, in years.
"My dad stopped being a dad," Barton said. "And I still can't figure out why."
The last Barton heard, his father was working as an electrician in Jamaica up in the hills on the rich folks' houses. By no means was Shirley a financially neglectful father as Barton grew up. The Barton clan always had consistent meals of curried goat, rice, beans and sweet potatoes.
Still, basic displays of affection or even unassuming father-son conversations were never a part of Barton's life.
"As a kid, you need that emotional stability," Barton said. "He never stepped up and said, 'Hey, I'm here for you.' He never talked to us like that. He went to work, took care of his business."
Inflation pillaged the Jamaican economy at the turn of the century. And the Bartons' world as they knew it came crashing into a million tiny pieces because of it in 2005.
The Bartons were considered middle class, but that still meant bathing in the river and drinking rain water. There were never any television sets or cell phones. The Barton family kitchen was a small fire pit housing charcoal rocks. The outhouse was 50 yards from the bedrooms.
The lack of technology and resources hit hardest when Barton's mother, Carol, was hospitalized with a blood clot.
Carol was strict with her sons, only accepting A's and B's on report cards – or else. Every once in a while she would migrate to America, working as a maid in a Brooklyn hotel to earn extra money for the family. She also took care of a small chicken farm near the Bartons' residence.
Carol was the light in the room with a contagious laugh. She genuinely loved being a mom of four boys.
Carol died in that hospital bed from a blood clot. What would have been a routine procedure in America – or for a Jamaican family with more money – ended up costing Barton's mother her life. There weren't enough doctors to go around.
The sudden death put the family in a tailspin. Shirley wasn't there to console his sons at all. Nobody could find a trace of him.
So Barton's oldest brother, Shawn, decided it was time to start a new chapter -- in Los Angeles.
---
Karim Barton remembers the broken glass, the gun shots, the screams.
"This was not the America I pictured," he said, his accent even more apparent.
The two brothers found an apartment they could afford – right in the center of the notoriously dangerous Crenshaw neighborhood.
Shawn Barton, in his early 20s, installed air conditioning units during the day and split his nights between taking college classes and working at a car wash. Sometimes Barton, then a lonely 13-year-old, would go to flip on the light switch, to no avail. Most nights, Barton was on his own for dinner, ordering Chinese food or whatever Shawn could whip up on the go.
Barton was forbidden from playing outside, so while Shawn worked ungodly hours, the teenager would stare out of his window. He'd watch a dice game between rival gang members turn bloody. Police would show up with their yellow caution tape. Neighbors would stand outside smoking crack-cocaine.
This was an everyday thing for Barton. There were no backyard soccer games or flying kites by the river like when he was in Jamaica. He missed his friends. He longed for his father to come save the day. American life, Barton was promised, would be like the movies. Life would be easier. 
When high school arrived, gang members tried to recruit the brawny Barton into their way of life. Crenshaw High School was a 2-minute walk from his house, but Shawn Barton deemed the area so hazardous to Barton's future that he petitioned for his younger brother to attend Verdugo Hills High School. That meant a 40-minute trek on a public bus in Los Angeles traffic. Shawn Barton didn't care: He would do anything in his power to keep Barton on a path toward success.
"I wanted a better life for Karim," Shawn Barton said. "I knew he could succeed. I knew I had a direct impact on how his life was going to turn out. I worked hard and tried my best."
"Shawn was my father and my mother," Barton said. "The stuff that he did for me, if he didn't do it, I would be in a gang, or into drugs. He's my entire world."
Barton adored his new school. Students – and coaches – marveled about this fascinating 300-pounder and his Cool Runnings accent. When he arrived in Los Angeles, he took a liking to American football, especially the Philadelphia Eagles. He idolized the way Terrell Owens played the game and celebrated but honestly feared he would break his neck playing the sport. While friends and coaches badgered Barton to put on a helmet during his freshman and sophomore years, he politely declined.
Barton's junior year came around, and he couldn't dodge his friends any longer – he was going to play football. He had to do this behind Shawn's back for the first few weeks, though. But once his brother realized the avenues it could open up for college, he became Barton's No. 1 fan.
Immediately inserted at left tackle, Barton was a ferocious, raw specimen. Letters of interest came pouring in. Barton narrowed his decision to UNLV and Morgan State. When UNLV's entire coaching staff was fired after the 2010 season, Barton committed to Morgan State.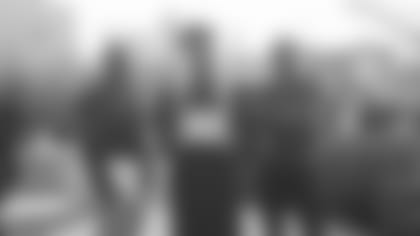 Barton thrived at Morgan State. He was a MEAC first-team all-conference right tackle. Barton built a reputation for rarely allowing sacks and using his athleticism to get down the field in run blocking.
After spending the first few months of his rookie season with the Philadelphia Eagles, the Browns scooped up Barton via waivers. The guard made a home for himself on the practice squad. General manager Ray Farmer and the coaching staff were impressed with Barton, they signed him to the roster the week after the season ended.
---
Karim Barton sits in a penthouse boardroom at Under Armour's headquarters in Baltimore.
Here on a three-week externship with five other NFL players, Barton absorbs conversations about revenue growth. Barton, in particular, worked closely with the consumer development department, learning about wearable devices and the enhanced technology they have to offer.
"These are some high-level discussions," said Barton, a business administration major.
After football, his hope is to be one of those vice presidents.
This past season in Cleveland, Barton became close with fellow guard John Greco. The veteran gave the rookie some tips about budgeting money, constantly reminding Barton that players don't get paychecks for 17 straight weeks in the offseason.
"I had no idea about that!" Barton said.
In the film room, Barton shifts his admiration down the offensive line to left tackle Joe Thomas. The eight-time Pro Bowler scribbles down copious notes on opponents, something Barton emulated, even though he was still on the practice squad.
"He is Mr. Consistency – what you see him do on the first play, he's going to do for the next 60," Barton said. "I pulled him to the side and ask him how he studies. He just tells me to stay attentive. For me, I stay learning."
If Thomas is Mr. Consistency, Barton is Mr. Humble.
---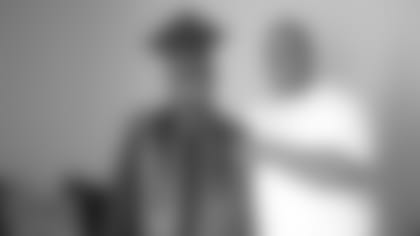 Two years ago Barton's dad, Shirley, showed up to Shawn's college graduation in California at El Camino College. The two other Barton brothers, Gary and Bobby, were there, too. 
With Shirley looking much older and haggard, the animosity was vivid and intense. Why would he show up now? Where had he been all these years?
Shirley deflected those questions from his sons, and asked, why didn't you come look for your father?
The cursing match ended abruptly. The commotion caused other graduates and their families to try and calm down both parties. Shirley called a cab and has not been heard from since.
"It's kind of hard to talk about," said Shawn.
"I don't know if we will ever see him again," said Karim.
The scars from Barton's past won't ever fade. His mother's death was a shock; his father's abandonment constantly gut-wrenching; the isolated life he lived inside his Los Angeles apartment while his brother worked the night shift wasn't a normal childhood.
But it's those deep-cutting scars that have Barton on a path he never thought America could offer him –toward an NFL 53-man roster and a high-profile business position when he hangs up the cleats.