Grant Delpit remembered how important school attendance was when he was a child and what it meant to him as he pursued a career in football.
Good attendance translated to good grades, which translated to higher opportunities at the college level. That's how he got to LSU, and that's how he became one of the top safeties in the country in 2020, when the Browns drafted him in the second round and gave him a platform to be great in the NFL.
That's the message Delpit delivered to 30 kids, all of whom were excelling in their own school attendance, from the Ohio Elite Seminoles youth football program Tuesday inside a Meijer grocery store in Seven Hills. Delpit was going to reward the kids' perseverance toward school attendance by letting them roam the store and puchasing treats and toys of their choice. Each kid was given a $150 gift card, courtesy of the Delpit's and Meijer's generosity
"School attendance was something my mom always stressed," Delpit said. "I remember when I was in their shoes and going to school everyday, stressing about homework and things like that. It's fulfilling for me to come in and do this."
Delpit was promoting the initiatives and goals of the "Stay in the Game! Keep Learning, Every Day!" Network, which was established by the Browns and Haslam family in 2019 to improve the attendance rates across 14 school districts. The outreach of the network has since expanded to 16 districts and aims to break down several of the barriers that could keep students from regularly attending class.
Rewarding students who do attend class is one way to ensure those numbers keep rising, and Delpit made that possible in ways beyond buying them a few toys. He interacted with the kids throughout their shopping spree, took pictures and signed autographs.
At one point, Delpit and a few of the kids played football and took turns going one-on-one against each other in an open aisle of the store using a mini football.
"I wish I had this experience as a kid," he said with a smile. "Seeing them happy and rewarding for stuff like this, it's a good feeling."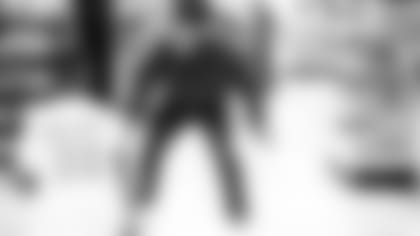 Delpit has been eager to host community events in Cleveland after Browns players were unable to hold similar activities last year due to the pandemic. To create this one, he teamed up with The Goldie Legacy, a non-profit organization created in July 2018 committed to mobilizing individuals to serve their communities by creating programs to empower the youth.
Delpit previously worked with The Goldie Legacy back in the winter to assist in rebuilding a Houston mother's home following destruction from a rare winter storm. He plans to host more charitable activities in the future.
"He was very excited to come out and do this," said Elizabeth Lloyd, co-founder of the Goldie Legacy. "It was barely a conversation once we told him what the idea was. He was elated about it because he gets to connect with the community. This is his second year in the NFL, but this is really his first year of being able to get into the community."
Delpit hopes the kids who participated will see a broader message beyond just their free prizes for their school attendance.
They can be like him when they grow up, too, and it takes dedication and commitment to school excellence to get there.
"They can do it, too," he said. "They can be in my shoes because I used to be in their shoes. Anything they want to do in life, they can do it, give back and stay on the right track."