Because Browns rookie quarterback Duke Johnson Jr. will make his starting debut Sunday against the Cincinnati Bengals, we thought we'd compile a list of other notable rookie debuts.
The one thing you'll notice about this list: None of these quarterbacks made their first appearance as a starter in a December game with playoff implications. As it always is, the stage for Manziel will be bigger than his peers.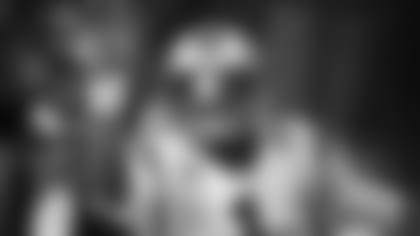 Cam Newton– Carolina Panthers
**
24/37, 422 yards, 2 TD, 1 INT
Week 1, 2011: Cardinals 28, Panthers 21
Analysis: My goodness did the Panthers let Newton air it out in his debut. The 422 passing yards was a rookie debut record. Newton looked prolific in and out of the pocket and he played like he was having fun – a key more than you think for Johnny Manziel. Newton's struggles came in his sophomore season, on the mental side of the game. Newton was interestingly given more chunks of the playbook as the season went along in 2011. Your guess is as good as ours with how much Browns offensive coordinator Kyle Shanahan will be putting on Manziel's plate.
Grade Now: B . This is graded on a curve since Carolina's front office somehow blew up a team that won 12 games last season. Newton doesn't have much to work with and the defense is playing nowhere close to where it did in 2013.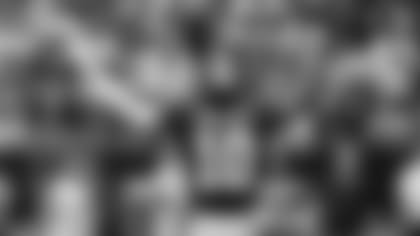 Robert Griffin III – Washington Redskins
19/26, 320 yards, 2 TD, 0 INT, 9 carries, 42 yards
Week 1, 2012: Redskins 40, Saints 32
Analysis: Find me a better rookie debut in any sport ever. Shanahan unleashed the read-option spread attack in the Mercedes-Benz Superdome, setting RGIII off to a blazing start to an eventual Rookie of the Year season. The best thing about Shanahan's play-calling in 2012? Griffin threw only five interceptions. Shanahan had a way of simplifying the offense for Griffin but, at the same time, making it a complex system for opposing defensive coordinators to decipher. Griffin led the Redskins to their best season since 1999.
Grade Now: Incomplete. Because of the egotistical mess in Washington, coaching staffs have not given the 24-year-old a fair chance to work through NFL growing pains. Much of the blame can be pinned on Griffin for his regression, but the circumstances in D.C. aren't prime for growth.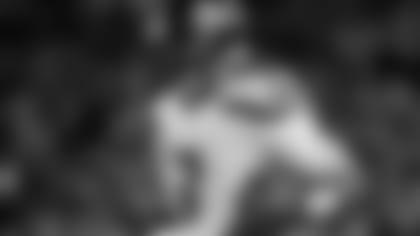 Russell Wilson – Seattle Seahawks
18/34, 153 yards, 1 TD, 1 INT, 8 carries, 20 yards
Week 1, 2012: Cardinals 20, Seahawks 16
Analysis: Seahawks coach Pete Carroll stunned the world when he named the 5-foot-11, third-round pick from Wisconsin the starter for Week 1. Wilson looked comfortable against a nasty Arizona defense but was only a shell of himself compared to what he is now. In an ideal world, Manziel becomes a player like Wilson, who can flip from his athleticism on the run and pocket passing like a light switch.
Grade Now: A. The only thing brighter than Wilson's future is the bling Marshawn Lynch rocks. He's perfected his scrambling ability to keep himself safe and keeps the chains constantly moving down the field.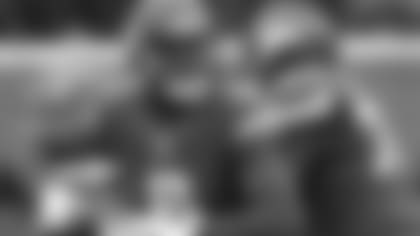 Teddy Bridgewater – Minnesota Vikings
19/30, 317 yards, 0 TD, 0 INT, 5 carries, 27 yards
Week 4, 2014: Vikings 41, Falcons 28
Analysis: Bridgewater didn't even get to finish what he started, as he sprained his ankle in the fourth quarter. In late September, when we all thought the Falcons could contend for the NFC title, this win was immense for a rookie quarterback. The Vikings employ Norv Turner as offensive coordinator and, to combat offensive line issues, utilize play-calling that features a bevy of quick-hitting passes. You wonder if the Browns will do the same with Manziel on Sunday against the Bengals.
Grade Now: B-. Bridgewater, so far, looks as if he will be the quarterback in Minnesota for quite a while. His decision-making is advanced for a rookie and he's handled throwing the ball well when blitzers cave in the pocket.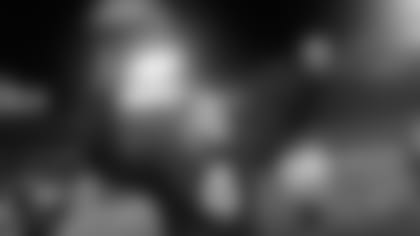 Derek Carr – Oakland Raiders
20/32, 151 yards, 2 TD, 0 INT
Week 1, 2014: Jets 19, Raiders 14
Analysis: Carr has the best pure arm strength of any rookie who's started thus far. He can throw receivers open. Against a pressure-happy defense in the Jets, Carr played well enough to win the game. So far this season, Carr has 17 touchdowns to just 11 interceptions. That number is staggering, considering the Raiders' 2-11 record. He's done more than his share as a rookie.
Grade Now: B. There is significant hope in Oakland at the quarterback position for the first time since Rich Gannon was slinging the ball around in the early 2000s. Pair Carr with an elite receiver and a stronger running game, and now we're talking business.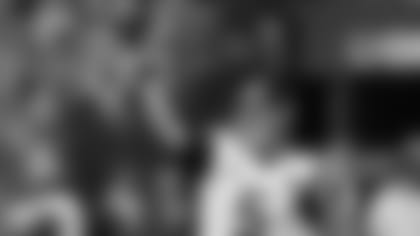 Blake Bortles – Jacksonville Jaguars
29/37, 254 yards, 1 TD, 2 INT, 5 carries, 24 yards
Week 4, 2014: Chargers 33, Jaguars 14
Analysis: San Diego's defense has been solid this year and was certainly a tough challenge for Bortles' first start. He exceeded expectations back in September, but the enthusiastic reactions since then have been quieted. Head coach Gus Bradley said Jacksonville heavily considered selecting Manziel in the draft.
Grade Now: C-. Bortles has been a turnover machine his rookie year, throwing 16 interceptions in 10 starts. He has just one game with more than 300 passing yards and his quarterback rating is 71.7. Jacksonville needs to be patient with the athletic specimen, but, as the third overall pick, they were probably expecting more from the rookie, who was not expected to play this season anyways.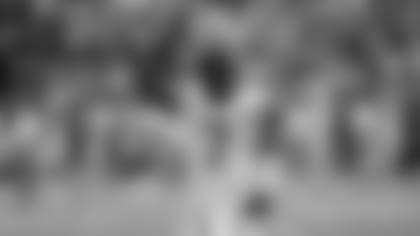 Geno Smith – New York Jets
24/38, 256 yards, 1 TD, 1 INT, 6 carries, 47 yards
Week 1, 2013: Jets 18, Buccaneers 17
Analysis: Normally a run-heavy offense, New York gave Smith the keys right in Week 1. Smith showed some clutch abilities, leading the Jets down the field in 34 seconds for a game-winning field goal. It was fool's gold, though, as Smith's two-year tenure has been rocky to say the least.
Grade Now: D . The Jets have their hands tied. Many recognize Smith isn't the answer, but starting over with another rookie doesn't sound appealing, either.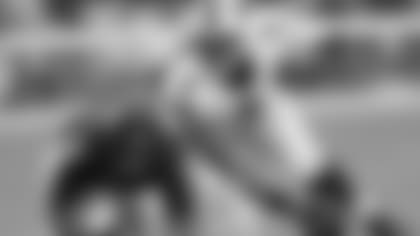 EJ Manuel – Buffalo Bills
18/27, 150 yards, 2 TD, 0 INT, 3 carries, 23 yards
Week 1, 2013: Patriots 23, Bills 21
Analysis: It looked like a promising beginning for Manuel. Anytime the Bills play the Patriots that close and don't turn the football over, it has to be extremely encouraging. But Manuel never really progressed as the season dragged on, often hurting the team by leaving the pocket too much.
Grade Now: Incomplete. Similar to RGIII, Buffalo has opted to go a different route. In today's social media society, people want success and gratification with the snap of a finger. Some players need time. Manuel seems to be one of those.
Andrew Luck – Indianapolis Colts
23/45, 309 yards, 1 TD, 3 INT, 2 carries, 9 yards
Week 1, 2012: Bears 41, Colts 21
Analysis: The main theme from Luck's rookie season was turnovers. He threw 18 picks and fumbled a whopping 28 times with 13 of them lost. Still, even with no-namers helping him along the way, Luck led the Colts to the playoffs the season after Indianapolis went 2-14. Since then, he's solved the turnover problem and might be the best 25-and-under player in the NFL.
Grade Now: A . He's a few playoff wins from entering Aaron Rodgers and Drew Brees status. He can make every throw and it's tough to find anyone who prepares harder.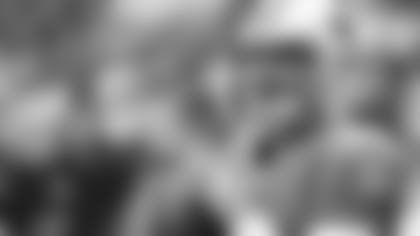 Ryan Tannehill – Miami Dolphins
20/36, 219 yards, 0 TD, 3 INT, 3 carries, -4 yards
Week 1, 2012: Texans 30, Dolphins 10
Analysis: It was an ugly debut for Manziel's former Texas A&M teammate. The Texans capitalized off all of the turnovers to bury Miami. If Manziel needs to do one thing, and one thing only Sunday, it's protect the football.
Grade Now: C . He's more than a game manager but he's not in the upper echelon of quarterbacks. If you pair Tannehill with the right defense and running game, he's good enough to sneak Miami in as a Wild Card team.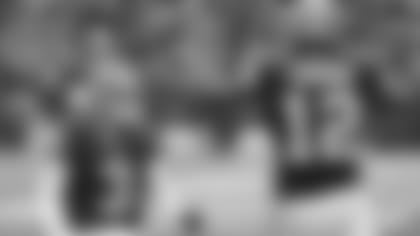 Brandon Weeden – Cleveland Browns
12/35, 118 yards, 0 TD, 4 INT, 2 carries, 25 yards
Week 1, 2012: Eagles 17, Browns 16
Analysis: Yikes. What a disaster – the debut and the whole tenure.
Grade Now: C. Weeden is a C backup quarterback. At 31, his days of being a starter are likely over.