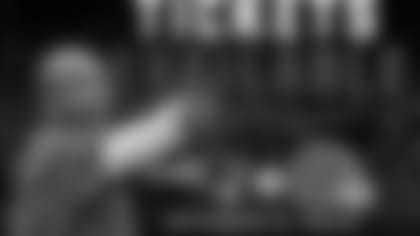 ](http://www.ticketmaster.com/FirstEnergy-Stadium-Home-of-the-Cleveland-tickets-Cleveland/venue/40971?camefrom=CFCBROWNSWEB_ARTICLES)
"Another week, another challenge. We get to head to Miami this week. We expect a real tough challenge. Obviously, it is their home opener in their newly renovated stadium. They are trying to right their ship just as we are. We know they are going to give us everything they have. Obviously, there are just so many things that we are working through ourselves, but we feel good about the start of our preparation for the week. One thing I know about our team is they are really resilient. The guys really work hard. I love our process. Win, lose or draw, we turn the page and move on to the next one because we understand that is life in the National Football League. All we can do is learn from our opportunity and our experience and then grow from it, as well.
"Obviously, we have several injuries to talk about a little bit. (DL) Carl Nassib had his surgery today. We will get him back hopefully shortly. He won't play this week. I think we all understand that. He will be week to week as we go through it. I think the surgery was good, really good. (QB) Josh McCown, as you guys know, has a shoulder injury. His status and when he returns, we'll keep checking on that. Obviously, he is not going to play this week as well, but hopefully, that will be something that we keep evaluating. You guys all know Josh. If he could, he would be out there, if the shoulder was just hanging by a thread that is just the kind of the way he is. We will keep working through that process with him. (DL Stephen) Paea has an elbow but there is nothing there. (DL) Danny Shelton has a knee sprain and (TE Randall) Telfer a neck sprain. All those guys were able to practice today on a limited basis and we expect them to improve through the week.
"(OL) Cam Erving was back in the building. It was good to see him. He was in our meetings today, big smile on his face. That was good. Anytime a player has to leave by ambulance, you are always concerned about their safety first and foremost. He was able to get through that. That is kudos to our medical team. They did a great job making sure he had the proper care immediately so we could get him back to where he needs to be so that is great. That is kind of the update on our football team as of right now.
"Today, the guys had the right mindset, the right attitude to go to work to get better. We understand and recognize there are a lot of things that we need to do better as a football team. We need to keep growing. The good part about our team, our coaches, everybody involved, they understand the process that we are in, and I do not think anybody is flinching. We understand that we are a 0-2 football team, that we need to continue to get better, work through some things, regardless of who is playing and who is not playing. We have an expectation here and that is not going to change regardless of who is playing. I will never change that when it comes to our players, and I don't think our players would ever want me to. We are always going to go out and expect to win, but we understand every week we have to work that way to get better and keep chasing it. That is what we are going to do."
On the emphasis with QB Cody Kessler today:
"Go play our offense. Cody has been here ever since the spring. He has been here in OTAs and training camp. Today, he obviously took the majority of the reps. I think he feels good about where he is. One thing I think we all know about Cody is he is in this building from morning to night. We have to kick him out. That is just the way he is. He sees this as a tremendous opportunity for himself and I think he wants to go represent himself and the organization and his teammates well. He is preparing as hard as he can to get himself ready to play."
On how the adversity Kessler has faced prepares him for this moment:
"I can't speak to that. That is for him to talk about. I think there are a lot of lessons learned a lot of different ways. Obviously, we all know there is nothing like playing the game. He is going to get that opportunity this weekend, and I'm looking forward to watching him play."
On the Browns signing QB Charlie Whitehurst and his role:
"He is a veteran quarterback that has played in this league that has done just what we are asking that guy to do. In case God forbid something were to happen, he has to go in there and play. We are going to try and get him up to speed as fast as we can. He is a veteran. He has veteran presence about him. He understands the role and the opportunity. I think he is trying to make the most of it as well. Here is a guy that has played in the National Football League and has been in the league for a lot of years and has seen a lot of different defenses. I think that gives everybody a calming thought process in the case that if something were to not happen right, here is a guy that can go out there and play."
On if he previously knew much about Whitehurst:
"Oh, yeah, I've competed against him several times. Obviously, San Diego and me being on the West Coast, I've seen Charlie quite a bit."
On WR Corey Coleman's status on returning punts:
"I think Corey Coleman is always ready to return punts. Obviously, he has a huge value on our offensive team so if we have somebody else that can shoulder that load a little bit, there is a strategic part about sticking him back there to give him an opportunity. At some point in time, he will be back there returning punts."
On the Browns OL transitioning and facing a tough Miami defensive front this week:
"There is no question. As I've said before, we are going to always face some tremendous players week in and week out. The guys that we kept here are the guys that we think can help us win. (OL John) Greco is no stranger to the National Football League and playing, maybe not center all the time, but I think he is up to the challenge. (OL) Alvin Bailey has played. These guys are on our football team for a reason. That is what they are here for. It is next man up. These guys have a job to do, and we have a tough opponent. We understand that, but that is what we have these guys here for. That is what their opportunity is about. You have to go play and go showcase your talent and ability."
On if the Browns gave or will give consideration to starting Whitehurst on Sunday, given that he is a veteran:
"Oh no, I wouldn't do that (laughter) No, I wouldn't do that. That is a good question, but I don't think I would do that."
On sounding reluctant about starting Kessler on Monday:
"I get to do that. It was early in the week. Right? I didn't have to play my hand that day. No, Cody will start the game. I'm not going to tell you where he may start, but he will start the game. We will go from there."
On the Browns releasing DL John Hughes III:
"It is tough. Any of those decisions are hard. They really are. Obviously, John is a veteran player, but that was one position where we had the luxury of more guys. In those situations, that is what it really kind of comes down to. Nothing against John at all, sometimes, you just get caught in a number crunch. As we again have these injuries, it is unfortunate. We had to get two guys and get them up here as fast as we can to help our football team so we have an opportunity to go play and win this weekend. He just got caught in that situation. You never know how that will unfold as we move forward. Obviously, we all know John and think a lot of him, but at the same time, we have to do what we think is best for our team."
On if Nassib may return to the field sooner rather than later:
"We hope so, yeah. The surgery went great. Some guys, as you guys know and ladies know, heal faster than others. Carl is one of those guys who is going to do everything he needs to do to get back out there as fast as he can. We hope to have him back shortly, yeah. What that time table is, there is no exact day or exact time, but we hope to get him back sooner rather than later."
On WR Josh Gordon and the arrest warrant issued:
"Our organization made a statement on that so I am very comfortable with what was said."
On comments earlier this year about Gordon doing 'so well':
"He still is doing well in my opinion. I don't know all the inner workings of that [situation], but I know here in this building – I can't tell you about everything that goes on outside this building – but I know in this building in our meetings with me, with our coaches, with the players, he has been outstanding. That is what I have to judge on. Now, we will find out about this other part and know a little bit more about it as we move forward, but I have nothing but great things to say about Josh."
On if the Browns are concerned the NFL will view this as a setback for Gordon:
"I hope not. Until I know more about it – I'm not the judge the jury on any of this – all I do is support and let's make sure we do the right thing, whatever that is pertaining to the situation. Hopefully, this will be wrapped up sooner rather than later too."
On if it would be more productive for the league to suspend players instead of issue fines for illegal hits:
"You guys want to try and get me in trouble, don't you (laughter)? I am going to stop right there. I am going to leave that one alone. I appreciate what you are saying. At the same time, we have rules in place and I think our league is doing the best job that they can to curb it and we are bringing it to the players' attention. This is a tough sport. I think we all know that. I don't think guys are intentionally ever trying to hurt anybody. Sometimes you get caught in awkward positions and things happen, but this is a rough sport for rough people. It is not easy. I think the league is doing the best job that it can to help it be as safe and the best that it can be."
On if there is any concern that QB Cody Kessler may 'over-prepare' for Sunday's game:
"No, I don't think you can ever be too prepared. I think you have to work up to and through the game. That is part of playing quarterback in the National Football League. There is a time to exhale a little bit, and I think he will take that. We have a plane flight down there so after that, I hope that he is still thinking about what we have to get done. No, I don't think he will over-prepare. I think he will do the best job that he can and then it is our job as offensive coaches, our defensive football team, our whole team is to help him be the best he can be. It is not just him. It is the whole team. We all have a part in this with him and he has to go out and do his part and everybody else has to do their part."
On fans being focused on Kessler's struggles in the preseason:
"You said you are stuck on that? Fans are. OK, and I respect that. I am not worried about what our fans are stuck on. I'm not worried about that. We are going to find out on Sunday. I can't speak to what our fans are stuck on. I am stuck on a lot of things, too. I am not trying to sound arrogant in saying that, but I'm just saying, he has to play. He has to play. I can't tell you what is going to happen on Sunday. All I can tell you is we have a game on Sunday, and he is going to go out there and play so the fans will be able to judge it then. Whether they feel good about it or bad about it, they are entitled to feel the way they want to feel, and I understand that."
On what to emphasize to Kessler this week as he prepares for Sunday:
"Play the game. Play the game. Play within yourself. Keep your poise. Run our offense the way we have coached you to run our offense. You don't have to do more than what you need to do. You are just a part of this. Obviously, he has to manage himself. I can't manage a man that way. He has to manage himself. He has played at a high level in a big time college program. There is nothing like playing in the National Football League. For me not to understand that he will be amped up and ready to go but at the same time, I think he knows there are a bunch of other guys on the other side that are after him. That is just life in the National Football League as a quarterback. He will be ready to go."
On positives from WR Corey Coleman's performance in Week 2:
"Two touchdowns, five catches, over 100 yards. Keep doing that for me baby, and we are right on (laughter)."
On if he talked to Coleman about his unnecessary roughness penalty and if it was a rookie mistake:
"Oh, absolutely. Oh, yeah. It is [a mistake]. The guy that hits last is going to get seen. We can't do that. We can't hurt our football team. We have talked about that with our whole team. We have to play intelligent football. Those things add up and those are the things that help you lose games. We brought that to his attention. He has to play within the rules of the game just like anybody else, and he has to continue to play well. There is another level for Corey Coleman, and I expect him to get there fast. That is what this is all about."
On if creating a gameplan for Sunday's game creates challenges for the coaching staff:
"Well, I think I have slept a little bit the last several days, but no, I mean it does. Let's be honest because I don't know Cody as well as I know the other guys. I know my time with him here, but I have never had to coach him in a game, a National Football League game, regular season game. This will be the first opportunity for him, but I am not going to stress about it that way if we know we prepare right. If our process is good, which I think it is and I think the young man will do all the work that he needs to do to get himself ready to play. That just gives him the opportunity to play well. That does not mean he will play well. It means it gives him the opportunity to play well. His teammates and what we try to do with him will be the deciding factors in how well he plays. I feel good about what we are doing. I think he had a great day today. We just have to keep stringing those days together and then let's go to Miami and see what we can get done."
On WR Terrelle Pryor's high competitiveness:
"There is no question. I think our whole team is like that right now. We want to win. That is all we talk about. We want to win. I think you have to believe you can before you do. That is what we talk about, and hopefully, we are not just all playing lip service to it. We have to do the things that it takes to win. It is still early in the season, and we have a lot of work to do, but I think our players are understanding how hard it is to win and how fickle this game is. It changes in a bat of an eye, and then when momentum goes the other way, you have to learn how to get it back. When you don't play well, you have to find a way to flip it. That is just the way the National Football League is and we understand that and we have to find a way to do it for four quarters. We have done it in spurts, and spurt teams don't normally win in the National Football League. Teams that are consistent and do it over a period of time that become sustainable and winning games. That is what we are trying to accomplish."