When Mike Pettine hired Paul Ricci to lead the Cleveland Browns' strength and conditioning in 2014, Ricci told the head coach he wanted the best weight room in the NFL.
Pettine and team owner Jimmy Haslam delivered.
When you walk into the Browns' weight room, you'll notice cutting-edge sensor boxes at the top and bottom of each lifting station. Cleveland has installed *Elite Form System, *which uses 3-D motion technology and infrared cameras that instantly charts every exercise a player performs. The technology recognizes Browns cornerback Pierre Desir as soon as he steps into a weight rack.
"It's state of the art," Desir said. "To see how much power and velocity you have right then and there is so helpful."
Instead of individual players filling out their workout routine on paper, Ricci and his assistants track the data and check in with players during their workouts if there's any slight modifications.
"It gives instant feedback to the player on if he's doing what he's supposed to, whether he needs to put more effort in or less effort – or if we need to change the exercise," Ricci said. "It's terrific, instant feedback."
The competition aspect of the offseason Pettine often discusses isn't just on the practice field.
The Browns have installed video boards all across the weight room that also sync up to this infrared technology. There are leaderboard standings that track who is lifting the quickest to further develop explosiveness.
The players would be lying if they said they didn't monitor these leaderboards. Last week Taylor Gabriel led all offensive players with a 0.88 speed rating on bench press repetitions.
"You want to see your name on the top," Desir said with a smile.
"It takes a lot of the coaching out and guys are self-motivated," Ricci said. "We encourage guys to go faster to be more explosive. Now, they have instant feedback."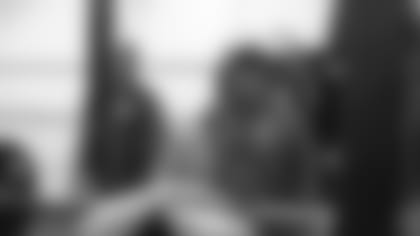 During the winter months of the offseason, Ricci sits down with the entire coaching staff to discuss the demands players will tackle during mini-camps and training camp. A workout regimen is created from there to have the players in tip-top shape when they strap on their helmets.
Ricci was delighted to see so many of his players try alternative training methods this offseason. Cornerback Robert Nelson pushed his smart car around a parking lot. Running back Terrance West used boxing to shed some weight. Linebacker Craig Robertson perfected his footwork utilizing tough workouts on the sand.
"You have to get some variety in and use your imagination because it can be a grind," Ricci said.
"These guys have been doing this since they were teenagers. If they can train safely and use a bunch of different methods, I think it's terrific."
Ricci and Pettine first met as assistant coaches in Baltimore in 2002. After nine seasons with the Ravens, Ricci took a job 40 miles south as the director of basketball performance for the Maryland Terrapins from 2008-2011 and then reunited with Pettine in New York with the Jets in 2012.
Because of Ricci's preparation and integration of trailblazing technology, it's simple to see why Pettine brought him on board.
"The weight room and the philosophy maximize efficiency," Ricci said. "We feel like we have the best situation in the league to train our players."