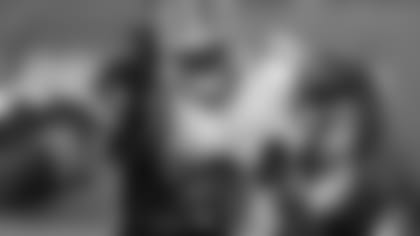 1)      Isaiah Crowell

My goodness. Where did this come from? Crowell's 13 carries for 102 yards is without question the Cleveland Browns' best individual performance during the 2014 preseason. The offense had been lacking "home-run hitting" type of plays and Crowell ripped off two of them on Thursday. The Alabama State alum took a shotgun read-option handoff from quarterback Connor Shaw, bursting up the middle and down the left sideline before finally diving into the end zone for a 48-yard touchdown. Another run went for 23 yards over the right tackle.

Pettine had indicated Dion Lewis had a stronghold on the number three running back position. Crowell might have done enough to make the Browns' front office brass reconsider.
"He certainly flashed his big-play ability," said Mike Pettine. "He's a bigger back. He ran a couple guys over. At the same time, ran away from some guys. That was stuff that he's shown in practice, and it was good to have it show up in a game."

"He broke a couple good runs," said center Alex Mack, who intently watched from the sidelines. "What you want to see is decisive, hitting the hole and running fast. He did a good job."


Nobody needed this game to go well more than Hoyer. And it went swimmingly. Hoyer completed six of eight pass attempts, and finally took control of the offense with both hands. The Brian Hoyer we saw against the Bears is the one who led the Browns to back-to-back victories in 2013. Not only did he make the throws – notably to detailed here in the game story – he made the right decisions. Even if Chicago was resting some of their key players, Hoyer commanded the offense to mistake-free 85-yard touchdown drive. There's no denying it felt good for Hoyer and all of Cleveland collectively breathed a sigh of relief. "All week, we talked about each player focusing on their individual job and coming collectively together as an offensive unit and taking it one play at a time," said Hoyer. "In the huddle, I said, 'Let's just go out regardless of who they're playing out there. It's all about us.' I think if we can have that mentality and do that, we'll be just fine."



3)      Willie Snead and Taylor Gabriel

Gabriel has emerged, so much so, that he was the catalyst for the touchdown on the Browns' opening drive with the first-string unit. Gabriel ended the preseason easily leading the Browns in catches (10) and receiving yards (128). Many in the local media are considering Gabriel a virtual lock for the 53-man roster – something which seemed unfathomable when first meeting the Abilene Christian alum in May.

Related article: How impacted Taylor Gabriel on YouTube

It's Snead in particular who will make general manager Ray Farmer's job a tough one. Snead's three catches and 75 yards tonight were not a surprise; he's been a practice standout from the get-go. Snead doesn't have one exact skill that separates him. He's balanced all around. Whatever decision is made, Snead has put enough good film of himself out there to prove he belongs in the NFL.

4) Barkevious Mingo

Which Browns player had the best preseason? Going into the game the easy answer was Armonty Bryant. The defensive lineman's emergence into the starting lineup was unpredictable and his pass rushing force was much needed.

But in terms of overall consistency, Mingo might win the competition. The second-year pro registered another sack on Thursday against the Bears and remained a disruptive force all throughout the fourth quarter. Penetrating into opposing backfields is becoming the norm for Mingo. Now, he's narrowing in on making a key play – which he did against the Bears. His sack turned Robbie Gould's field goal attempt into a 52-yarder which sailed wide of the goal posts.
When talking to Mingo in the locker room after the game, the outside linebacker expects to carry this positive momentum to Pittsburgh.

5) Robert Nelson

Lost in the shuffle of the 15 defensive backs on the roster is Robert Nelson. He's not flashy. And he's not a veteran of Pettine's system like Isaiah Trufant or Aaron Berry. But the 5-foot-9 undrafted rookie from Arizona State saved his best performance for last, when it mattered the most. His interception on David Fales was a beauty, outstretching his arms on a play not many other cornerbacks could make. Nelson also made a solo tackle on kickoff coverage and defended another pass in coverage. Nicknamed "Nelly" by our Nathan Zegura, the cornerback will be anxiously waiting by the phone the next feww days.

Honarable mention: Rex Grossman, Josh Aubery, Tank Carder, Jamal Westerman and Ben Tate for jumping in the Dawg Pound.