It's been nearly 10 months since the Browns steamrolled the Cincinnati Bengals 24-3 on Thursday Night Football, catapulting the team to the top of the AFC North with a 6-3 record.
That feeling of euphoria the win brought cornerback Joe Haden, the Browns and the city of Cleveland – it didn't feel surreal or accidental. 
It feels like there's unfinished business.
"That's the feeling we want to have in Cleveland," Haden said. "Now we know, whoever we play against, we can beat."
When the Browns lost five games in a row to close the season, there were two consistent problems: creating chaos up front on defense -- especially stopping the run -- and quarterback play.
Haden thinks Cleveland has addressed both issues with an iron fist.
Throughout training camp, Cleveland's Pro Bowler has seen a dramatic shift in the way the front seven defends the run. Last season, too many players were trying to make the tackle, leaving their gaps and providing holes for running backs to gash. Haden contends the buy-in from his teammates is real and improvements will be seen swiftly.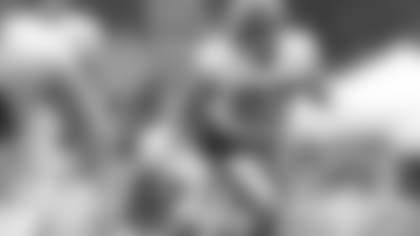 In 2015, interception opportunities for Haden could soar thanks to a replenished defensive line starring rookie Danny Shelton in the center of it. In practices, Haden watched gleefully as the 339-pound rookie chased quarterbacks around like kids playing duck-duck-goose in the park.
Even if he doesn't sack the quarterback, Shelton's can cause throw to be off target. Constant pressure from the defensive line will fortify the secondary – already the strength of Cleveland's team. 
Haden practically licks his chops talking about his new teammate.
"Danny is one of my best friends," Haden said to laughing reporters about No. 71's ability to change the defense. "At the end of the day, he's a ballplayer. He's stuffing up the middle, he's getting pushback and he's out there enjoying the game and playing it the right way. Danny, he's going to be solid for a long time."
The Browns quarterback position has been unpredictable since Haden arrived in 2010. Haden had every right to be skeptical of 36-year-old Josh McCown when Cleveland signed him back in February.
And then Haden saw McCown zip the football around the field with pinpoint accuracy. Haden even found himself as the targeted defensive back on a few deep completions – a rarity in practice. 
"I really, really, honestly love Josh McCown as our quarterback," Haden said. "I didn't really know him too well, so I came in with an open mind frame. When we first got him, I'm not going to lie, I said 'who's Josh?' I had never really heard of him.
"He's done nothing but prove me to be a believer in him. He just understands the system. He's a pro's pro. He can make all the throws. He commands the huddle."
The goal this weekend in Tampa Bay is simple in Haden's eyes: Force three-and-outs. Buffalo was 6-of-13 on the critical down last week. The opening, nine-minute drive from Bills quarterback Tyrod Taylor was frustrating and included three consecutive third-down conversions.
The goal for September for Haden is also simple.
"I started off the season last year kind of slow," Haden said. "So I definitely want to start off on fire and keep it going."