People naturally gravitate toward Joe Haden. They always have.
His younger brothers wanted to wear the same flashy Nikes. His friends wanted to listen to the same rap music. His cheeky smile and the gentle way he carries conversations make even strangers feel like they've known him for years. 
Entering his sixth NFL season, Haden has blossomed into not only a Pro Bowl cornerback for the Cleveland Browns, but also a colossal whale of a leader, imparting wisdom from all angles – past failures and future triumphs.
When Haden met with the Cleveland media corps for the first time in 2015, the first 12 questions he was asked pertained to Johnny Manziel, Justin Gilbert and former teammate Buster Skrine – and not the career season the 26-year-old notched in 2014.
Teammates, coaches, fans – even media members – are dying to know what Haden is thinking on major subjects.
"I know what's going on now. I understand the league. I'm mature now," Haden said.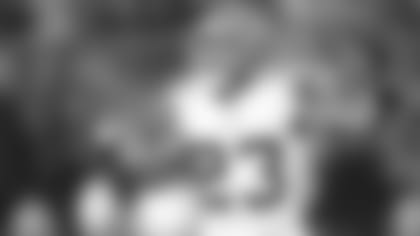 It was Week 17 last season against the Baltimore Ravens and the Browns had just been eliminated from postseason contention.
Haden came into the game nursing a bum shoulder, but it was a nasty case of the flu that had him tossing and turning all night at the team hotel. A 101-degree fever, body chills and dehydration only worsened as Haden walked off the bus and into M&T Bank Stadium.
Considering the circumstances, Haden probably should've been watching from sweatpants on the sidelines.
Instead, Haden requested IV shots from the training staff. A few more warmup sprints and Haden stared down Mike Pettine, giving the coach a thumbs up. He was playing.
The Browns ultimately lost the game 20-10 but Haden wanted to prove a point to his Browns teammates, especially the younger ones: In the NFL, every game matters, everyone has to be accountable.
"It's not just about Joe anymore," Cleveland secondary coach Jeff Hafley said. "Joe wants to win."
There's nobody that analyzes Haden more than Hafley. If you want to know the true reason Haden has morphed into one of the most respected and revered athletes the city of Cleveland has seen in decades, it isn't about the interceptions or the way Haden blankets the No. 1 opposing receiver.
"He goes out on the field and if somebody catches a ball on him, he's pissed," Hafley said. "That mentality of going out there and finishing, and winning every play, it sets an example. He is the example we use."
On the first day of offseason workouts one week ago, Haden was in the cafeteria eating breakfast at 6:15 a.m. The Browns didn't have a meeting scheduled until 8 a.m. Haden wanted to make sure he was there to greet teammates, meeting the new ones like running mate Tramon Williams, and review some notes from last year's playbook before kicking off the season. Haden's made it a point this season to learn the nickel back and safety positions so he understands when he can take more chances.
The extra film studies? The additional workouts after the four required hours at the facility? Haden isn't just a participant; he's hounding everyone else to be there, too.
"He does all the things that are not required of you, but if you want to be an elite player, you need to," teammate and eight-time Pro Bowler Joe Thomas said.
Haden is one of the most coachable players Hafley has ever been around. So now that the cornerback has mastered the Browns' system, the assistant coach has crafted a new message to keep pushing Haden toward uncharted success. 
"The great ones get the guys around them to become great ones," Hafley said. "And that's why the great ones lead teams to championships. And I believe Joe is now ready to do that."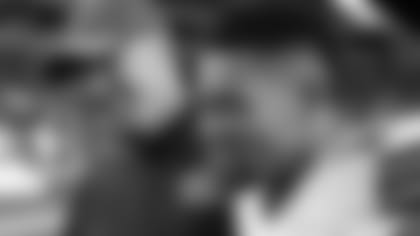 Life in the NFL has been volatile and often unkind to Haden.
He's seen four head coaches, three front office regimes and two different owners. Before last season's 7-9 final record, the best the Browns had finished with Haden on the roster was 5-11. Meaningless football in December served as the only constant in the early portion of Haden's NFL career. 
Considering the turmoil, Haden had every right to put off negotiating his contract until he became an unrestricted free agent. He could've tested the waters. He could've signed elsewhere to immediately compete for a shiny Super Bowl ring.
This is where Haden veers to the path less traveled, and it's ultimately what defines him and so few professional athletes these days: It would mean 100 times more for Haden to restore the Cleveland Browns to greatness than joining another team for the ride.
Haden understands Cleveland because he's an active member of the community – and we're not just talking about his charity endeavors like becoming a global ambassador for the Special Olympics or his annual celebrity softball game.
Before he married his wife Sarah, Haden lived downtown among Browns fans. He shopped for groceries at Constantino's. He frequented Barley House for the nightlife. He had brunch in Tremont. He adopted the Cleveland Cavaliers – sans LeBron James— arguably becoming their most notable and loyal fan.
Just being himself, Haden became the homecoming king and diplomat for a city begging for a luminary athlete.
"Even if he's having dinner with his wife or family, he'll get up and sign 100 autographs," Thomas said. "And now, a lot of guys do that. But he's a guy that's genuinely happy to do all that – with a smile on his face.  
"It's not phony. Not with Joe."
The passion, the loyalty, the pride, the hard-working nature that make up Cleveland – Haden is all of that. He gets that playing for the Browns doesn't mean he's an NFL player. It means he's a Clevelander.
So understanding the league for Haden was way more than an X's and O's thing. It was understanding how much of an uplifting effect he could bring his new city – mingling with fans and more importantly winning on Sunday.
"For us I think, it would mean everything to both of us if our legacy was turning the Cleveland Browns organization back to the winner they used to be," Thomas said.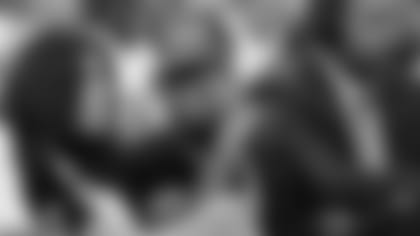 While Hafley might interact with Haden the most, it's Thomas who's known him the longest out of anybody in the organization.
"When Joe just first got here in 2010, everybody fell in love with Joe," Thomas said. "He's a really friendly, outgoing, optimistic kind of guy. He's somebody that people like to be around."
While the talent was oozing from Haden's No. 23 jersey, Thomas noticed his new teammate enjoyed being an NFL player on the field as much as he did off of it.
A failed drug test for the ADHD medicine, Adderall, would sideline Haden for the first four games of the 2012 season. How could this loveable, always smiling, rising rock star let down the organization and his growing fan base? Haden stared in the mirror and wondered the same thing.
A month watching his beloved Browns each Sunday from his couch was enough to spark a raging fire inside of Haden. Wondering about his public image had become as much of a priority to Haden as playing football.
Haden used to marvel at how former linebacker D'Qwell Jackson went about his business. He rarely yelled at teammates, yet his leadership reach stretched wall to wall in the Browns' locker room.
So Haden followed suit. He was more attentive in meetings. He was the last one out of the weight room. He wasn't going out at night nearly as much during the season.
The subtle changes Haden made were apparent. Pro Bowl considerations came fluttering in for his 2013 and 2014 campaigns. Because the way Cleveland puts him in man-to-man coverage on 99 percent of the plays – without safety help – there are multiple scouts around the league who consider Haden to be the most important cornerback to his defense.
In the 24-7 news cycle we live in, Haden has flushed the memories of some that said he almost went down a path where he was just another guy in the NFL instead of a face of a franchise. But Haden won't forget. And that's why he was the first teammate to vehemently support rookies Justin Gilbert and Johnny Manziel, both of whom faced suspensions and succinct media scrutiny.
Gilbert and Manziel have responded. The cornerback flew down to Miami for private workouts this offseason with Haden. The quarterback called Haden on his birthday, and the two had a lengthy chat on the personal changes Manziel's making. These two want to better themselves as men and as football players, and they want Haden's approval along the way.
If it's not apparent, is should be: the more people keep gravitating toward Haden, the better shape the Cleveland Browns will be.