Locking up Pro Bowl cornerback Joe Haden was at the top of the Cleveland Browns' to-do list.
"We're thrilled we were able to get it crossed off," said a beaming Mike Pettine during the Wednesday afternoon press conference.
The factors in Haden pledging his loyalty towards the Browns are aplenty.
Haden's contract comes on the heels of the organization re-upping with Alex Mack, as well as honing in on veterans Karlos Dansby and Donte Whitner. That didn't go unnoticed from Cleveland's number one corner.
"We definitely have a lot of positive momentum going on," Haden said about the Browns' busy offseason. "It just brings in healthy competition, there's nothing better than that. When you have a lot of good players at a position, that's what you want on the team."
The competition theme spreads to the quarterback position, and Haden knows the spotlight is now on the Browns.
Haden can relate to quarterback Johnny Manziel more-so than most players on the roster. A first-round draft pick in 2010, Haden didn't become the starter until week eight. The hype doesn't matter. The performance does. Whoever the Browns choose as their quarterback, the team will have his back.
"At the end of the day, once you get onto the field, you're going to see," said Haden about his quarterbacking teammates. "If Johnny Manziel is playing better than Hoyer, than he'll be out there and he'll be the leader. But if he's not, than Hoyer will be our guy."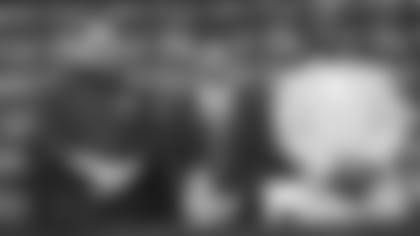 A second-team all-pro last season, Haden genuinely loves the city of Cleveland. He cited the adoring Browns fan base as a top reason for him not even wanting to test the free agent market.
"Actually the fan base is one big part because the way they feel about the team," said Haden with a smile. "I feel like if we could start really winning here, there's no place I'd rather play. If we could get this organization turned around, it would be the best."
The work is just beginning for Haden and the Browns. His rookie contract was given to him based upon his results at the University of Florida. This new five-year deal is trusting that Haden will remain a top three cornerback in the game, or even elevate his level to be the clear-cut number one. His enthusiasm for perfection is spearheading an attitude revival in Berea.
"I don't feel like I've peaked at all," Haden said. "I think I can get so much better. This contract only makes me want to feel like now I have to play like the best corner in the league."
"Defense is something we are going to pride ourselves on," said Pettine. "It's going to be a cornerstone of this franchise moving forward. We feel we've taken a huge step in securing that in getting Joe locked up long term. I couldn't be more thrilled."
Haden will be back on the field next Wednesday for OTAs.