Earlier last week, quarterbacks Josh McCown and Johnny Manziel dropped back side-by-side and fired off slant passes to new weapons Dwayne Bowe and Brian Hartline.
Later on during the offseason workout session, running backs Terrance West, Isaiah Crowell and Glenn Winston were split out near the sideline as wide receivers.
Some details of the Browns' new offense are still being kept under wraps, but one thing is for certain: The passing game will look different under new offensive coordinator John DeFilippo.

"Change isn't easy," DeFilippo said. "They have had a lot of coordinators here. I tell a lot of our players, including Johnny (Manziel), how proud I am of how they've handled the change."
DeFilippo was a sought after offensive coordinator candidate in part for the tremendous way he tutored Derek Carr as the quarterbacks coach of the Oakland Raiders. DeFilippo quickly identified problem areas for Carr during practice and "coached the heck out of him" until bad habits morphed into strengths.
While DeFilippo's focus is the entire offense, he's honed in on some areas for Manziel to work on. The second-year quarterback only used two to three protections at Texas A&M; Cleveland's new system will require him to memorize 10 to 15 protections per game plan. So far this offseason, Manziel has been quizzed with worksheets every Tuesday and Friday and the team has been encouraged by how detailed and precise his knowledge has grown through these written tests.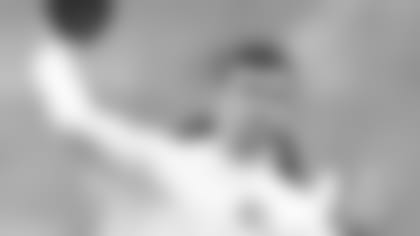 Manziel still possesses that knack for making big plays down the field – don't forget his quick-fire 80-yard touchdown drive in Buffalo last season. But DeFilippo has challenged the 22-year-old to put a timing clock in his head. The Browns want Manziel to strategically throw to spots on the field, not just at wide receivers.
"Fundamentally, first of all, I think he has fairly good arm strength," DeFilippo said. "He gets the ball out of his hand fast. Johnny has a lot of traits that good quarterbacks in this league have. It's just a matter of getting better at them.
"All I know is this: The moment he stepped in the building these last few weeks, I think he's been nothing but a consummate professional. He's spent every hour that he's allowed to spend in the building."
While Cleveland continues to develop Manziel, it has been reported and confirmed by coach Mike Pettine that McCown likely will enter training camp first on the depth chart at quarterback, and there are reasons why.
DeFilippo is big on explaining to his players 'the why' of each and every play call, and the 13-year veteran McCown has taken command in the class room. Further, McCown's arm strength, athleticism and overall enthusiasm for playing in Cleveland has the coaching staff firmly believing the veteran quarterback was truly an essential offseason signing.
"I don't think (Josh has) ever been at a place where we feel as confident taking some of the pressure off him during a game in terms of running the football," said DeFilippo. "I don't want to speak for Josh, you can ask him that, but that's the striking, glaring thing that's going to be there for Josh."
The rest of this week will be an important one for the offense. Rookies Cameron Erving, Duke Johnson, Vince Mayle and Malcolm Johnson will start integrating into the classroom now that rookie mini-camp is over.
The Browns likely will count on all four of these players for contributions big and small as early as September.