Named the starter earlier Wednesday, Josh McCown understands the outcry from those in the passionate Cleveland Browns fan base who want Johnny Manziel to play – better than you might think.
McCown won't be reinventing some of the "vintage Manziel" plays against the Raiders this Sunday, but the 36-year-old fiery competitor has been deemed the best option for Cleveland's offense.
Since his arrival to Cleveland in late February, McCown has blown the socks off coach Mike Pettine, offensive coordinator John DeFilippo, veteran teammates and even Manziel himself. The offensive system was built with the premise that McCown will limit mistakes and consistently hit open receivers. Cleveland firmly believes this system paired with a strong defense can lead to wins.
At the same time, many don't realize McCown's been in Manziel's shoes before.
Back in 2003, McCown was an athletic, playmaking quarterback full of untapped potential with the Arizona Cardinals. Fans were singing from the hilltops for the blonde-haired gunslinger to replace veteran Jeff Blake. McCown did late in the season and led Arizona to an 18-17 win over the Vikings with two touchdown passes. A turbulent two seasons followed, and Arizona replaced him with Kurt Warner.
Fast forward 10 years later and McCown finds himself in the midst of a quarterbacking hot streak while steering the ship as a backup for the Chicago Bears. His 13 touchdowns and one interception had the Bears fighting for a playoff spot with one game remaining against Green Bay. Chicago made the switch back to Cutler, who, in turn, lost the game and a postseason berth for the Bears.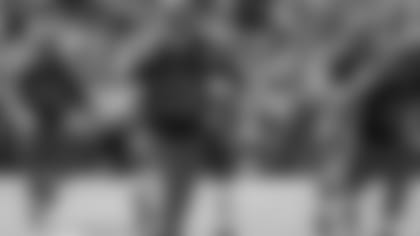 "I still wanted to be out there," McCown said Wednesday from the Browns locker room. "You still want to play because that's why we're in this thing is to play and be the guy out there."
"These people are passionate," McCown continued. "They love our team and the list of quarterbacks, all that stuff is well-documented. So you have a young guy that comes in and plays well, I get it, I understand it. It's just for me, you don't want it to be a distraction for everybody else. But at the same time, I understand where they're coming from and, like I said, there's so much to be excited about the way Johnny played Sunday and where he's headed."
Though a tad bummed, Manziel took the news in stride Wednesday and was determined to keep a positive outlook on his clear growth as an NFL quarterback. Manziel reiterated from every conversation he's had with team owner Jimmy Haslam, general manager Ray Farmer and Pettine, he is on track to one day become the full-fledged starter for the Cleveland Browns.
"Obviously, I'm not going to sit here and say I love the decision," Manziel said. "I respect Coach Pett. That is the guy that makes the calls for this team. I am going to be a team player and do what I need to do from here and out and be ready if my number is called on Sunday, the next one or six, seven or eight weeks or whatever the case may be. I felt like I went out and did some good things."
Now that the decision has been made, it will be McCown's job to build on the momentum Manziel helped generate against the Titans.
It isn't fair to take away Manziel's 50- and 60-yard touchdown passes to Travis Benjamin in Week 2, but if you do, the young quarterback was 6-for-13 for 62 yards and two fumbles that luckily weren't recovered by the Titans. The Browns think McCown will bring a more stable approach behind center because of his experience.
"Very confident. Very confident," McCown said. "I am confident in what I saw us do Sunday. As an offense, it was certainly some good things, obviously the big plays were there. We started to get the running game going a little more. I feel very confident in our abilities to do that."
As for the rest of the 2015 season for Manziel?
"He's one play away," McCown said, "so he's got to be ready to go."