In honor of Super Bowl 50, the NFL launched its High School Honor Roll program. This allowed players from 98 active Super Bowl rosters an opportunity to present the high school, which they graduated from with a commemorative golden football. This football recognizes the school, coaches and communities that shaped the individual the player is on and off the field today.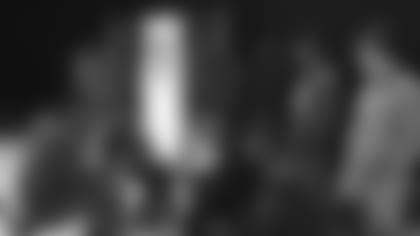 As a part of the program, current Cleveland Browns Inside Linebacker Karlos Dansby, #56, presented a golden football to Woodlawn High School in Birmingham, Ala., Friday. Karlos attended Woodlawn in the late '90s lettering in football, basketball and track—racking up many personal bests, records and accolades.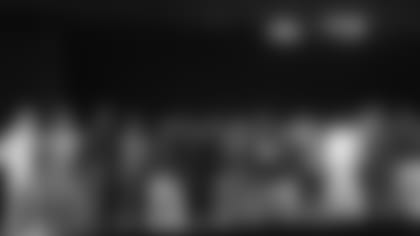 The school, under tutelage of Assistant Principal Miriam Moore, held a special assembly of about 200 student-athletes. Karlos spoke to them about his time at Woodlawn, Auburn University, his career and most importantly education.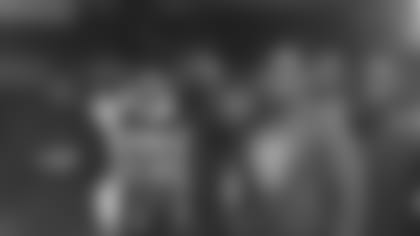 The students were receptive of all he had to say, including important topics such as taking the ACT, and/or SAT and applying to college. Being proactive and doing whatever they need to post-graduation graduation to fulfill their dreams. After speaking to the larger crowd, Karlos met with a smaller group of current football players, who he could really pour some knowledge into. It was an exciting experience for all present.
Karlos later posted on social media about his visit and the golden nuggets he was able to impart on the players:
"I had a chance to sit and talk to the future of my high school in Birmingham Alabama --Woodlawn and had a chance to present them with the Super Bowl Honor Roll Golden Football! The SB honor roll is a program the NFL started this year to give back to the high school and community of players and coaches who played in a Super [Bowl] over the last 49 Super Bowls I was blessed to play in number 42…"
He went on detailing moments of his career that he'd remember for as long as he lives. It was a great showcase of giving back to his community as well as the generations following in his footsteps.
These players have had a tremendous impact on the game and the NFL wanted to find a way to invest back into those who invested in players like Karlos. The NFL was able to accomplish this through the Super Bowl High School Honor Roll program. Schools honored are also eligible to apply for a grant from the NFL Foundation, to grow and improve their high school football programs.
The program will become an annual tradition following Super Bowl 50 because football is more than wins and losses, the game teaches lessons that last a lifetime. The importance of high school football programs is to build men of character by instilling values in student athletes. To learn more about all players who are a part of Super Bowl History click here.
The Cleveland Browns are committed to assisting the development, safety and growth of youth and high school football throughout Northeast Ohio with year-round programming for players, coaches, officials and parents. Through camps, clinics and other initiatives, the Browns' goal is to promote healthy, social, emotional, intellectual and physical development of youth by enhancing opportunities for youth football participation and education.
The Cleveland Browns also encourage players, coaches, staff and fans to get active in their community and #give10 hours of their time to help others. Whether focusing on youth development, health and wellness or education, everyone can give 10 hours, help their community.
For more photos and info about the Super Bowl 50 Honor Roll and other ways that players #give10, help their community. Be sure to follow us on Twitter @BrownsGiveBack or @BrownsYouthFB, and on Instagram @BrownsGiveBack.
Cleveland Browns First and Ten
Share how you are helping the community and pledge to be part of First and Ten on ClevelandBrowns.com/community
Give 10 hours, help your community. We want to hear your stories #give10
Follow @BrownsGiveBack for the latest community updates.