Myles Garrett returned to practice this week, but it's unclear if the Browns rookie defensive end and first-overall pick will make his regular season debut this weekend.
"He moved around well, did some things today," head coach Hue Jackson said Friday, "but again, we're going to huddle with the medical team and the football staff and see what's best." [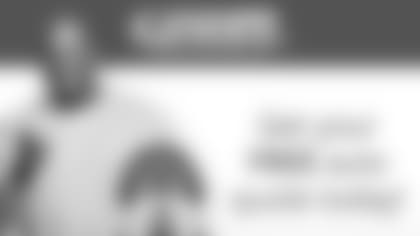 Garrett remains questionable for Sunday's game against the Bengals and hasn't played this season after suffering a high ankle sprain days before the season opener. Jackson earlier this week said the talented edge rushed from Texas A&M would offer a "jolt" to Cleveland's pass rush, but made clear the team won't rush him back onto the field.
"I want to make sure that we cross all the T's and dot all the I's and talk to the medical staff about what the expectation would be of him and what we are going to do because he is a huge piece of our organization and our future," Jackson said. "We want to be cautious but smart as we go through it."
Like Garrett, third-year defensive lineman Danny Shelton (calf) is questionable but remained optimistic he'll suit up.  "You never know, but I'm pretty confident that I'll be good," he said Thursday. "I feel a lot better from yesterday. Just working with the trainers and doing the treatment, it's been feeling a lot better." The Browns will also be without Pro Bowl linebacker Jamie Collins (concussion) for the second straight week.
After a dominant display of second-half defense in Indianapolis, the Browns hope to put that kind of effort together for a full 60 minutes. "There has to be an immediacy," defensive coordinator Gregg Williams said.
Cleveland allowed just three points and 75 yards after intermission but surrendered 28 first-half points to a Colts team that totaled 22 in its first two games. "We had some plays last week that we wish we would have had back, but to their credit again, without throwing a fit or doing anything, we were able to come out and play extremely dominant in the second half," Williams said. "We can't have those giveaway plays early as we did in the second quarter again. There were some plays that were just very simple that we didn't perform or execute correctly."
In three games, the Browns are surrendering 4.2 points and 114 yards in the second half.
Three of DeShone Kizer's first four games have come against AFC North rivals. And while it's made for some challenging Sundays thus far, Jackson stressed the rookie quarterback will be better for it in the long run.
"It shows him where he is and it really gives us an evaluation of where he is. Hopefully, he's going to be a quarterback here for a long time," Jackson said, "so he's learning the different schemes that he is going to face in his career and you start to understand the players who you have to play against and the players you have to defeat."
Kizer, who continues to grow through highs and lows, passed for 242 yards, two touchdowns and three interceptions in Sunday's loss to the Colts. He also added a late rushing touchdown that cut what was once a double-digit deficit to three points.
"I'm becoming more comfortable each week. I'm learning how to be a pro," Kizer said. "I'm learning from some of the best around me and just kind of taking every experience for what it is, and doing my best to get better each week."