Joel Bitonio glides through the Cleveland Browns' cafeteria. He moves more like an NBA power forward than an NFL offensive lineman.
Bitonio waves towards a pair of community relations staffers. His inviting smile is almost as vast as his shoulders. Light brown hair and a grizzly untamed beard sit on top of his 6-foot-4, 305-pound frame.
One week after the Browns drafted Bitonio in the second round in May, offensive coordinator Kyle Shanahan summoned the guard to his office. Bitonio swallowed hard, wondering if he could already be in trouble.
"You were my favorite guard in the draft," Shanahan told the mountain of a rookie from the University of Nevada. "You are explosive. You are athletic. You're smart. That's exactly what you need to be in this offense."
Bitonio nodded in agreement, trying to contain his elation, eventually telling Shanahan he wouldn't let him down.
A few weeks ago before the Browns' decisive 31-10 win against the Steelers, left tackle Joe Thomas was seated next to a local reporter for a one-on-one radio interview. Thomas was asked what he thought about Bitonio, who lines up right next to him on the ever-important offensive line. Normally as even-keeled as they come, even Thomas couldn't hold back his feelings.
"Few rookies are ever going to play as well as Joel has been playing," Thomas beamed to the reporter. "I definitely will be the first person beating my chest to send Joel to the Pro Bowl, because I really think he deserves it."
---
Football and success weren't always a married couple in Joel Bitonio's life.
Weeks after he first signed up for the sport in seventh grade, he had thoughts about giving it up. He grew up worshipping the NFL each Sunday, but strapping on the helmet wasn't the bliss he had imagined. He didn't know how to hit. An offensive and defensive lineman, Bitonio left Pop Warner practices in his hometown of Long Beach, Calif. with bumps and bruises all over his body.
"I just wasn't very good," Bitonio said, bluntly.
When the leaves started to slightly change colors in California, it signaled the end of Bitonio's youth football season and entrance into his true comfort zone: the basketball court.
When you see Bitonio pancake a Buccaneers defensive lineman during today's game and set up a bursting Ben Tate scamper, know that his supreme athleticism was originally developed with a sleeveless jersey and baggy shorts – not shoulder pads and a helmet. Even though he was by far the largest player on his second grade basketball team, Bitonio played point guard.
"I was the only kid who could dribble the ball," laughed Bitonio.
Time only amplified Bitonio's adoration for basketball. As Bitonio reached the age of becoming a young but knowledgeable sports fan, the local Los Angeles Lakers were just beginning their dynasty with Shaquille O'Neal and Kobe Bryant. Bitonio was enthralled with the Lakers' success, jumping up for joy after three straight titles.
"You won't meet a bigger Kobe fan than me," said Bitonio. "I pray every night he can score 25 points this season – just to prove his doubters wrong!"
Bitonio was a growing boy, and by the time high school hit, he was typically the most physically imposing figure on the hardwood. But Bitonio wasn't your usual back-to-the-basket big man. He played like legendary Minnesota Timberwolves and Boston Celtics power forward, Kevin Garnett.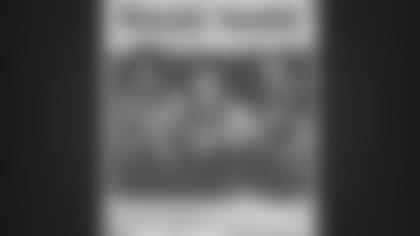 Bitonio could sink 15-footers. He could weave in-and-out of traffic and spin home a gorgeous finger-roll. He could anchor a 1-2-2 zone press defense. Boxing out, playing help defense, finding the right opening to make the extra pass – Bitonio could do it all, and gracefully, too.   
During his senior year at Long Beach Wilson High School, Bitonio averaged 14 points and 12 rebounds – the latter led the powerhouse California league he played in. For portions of certain games, the coaches trusted Bitonio to guard future Toronto Raptors forward DeMar DeRozan and the San Antonio Spurs' Kawhi Leonard – the former made the 2014 NBA All-Star game while the latter won the NBA Finals MVP over LeBron James and the Miami Heat.
"Basketball shaped my athletic ability," Bitonio said without hesitation. "I wasn't a freak athlete. But I feel like you don't see many NFL offensive linemen who were one of their school's best basketball players."
Bitonio was realistic. He knew Division-I college basketball coaches weren't going to be drooling over a 6-foot-4, 265-pounder. His chance to make it athletically would be out on the gridiron, which he started embracing more once high school began.
Gone were the days of Bitonio leaving practices wondering if it would be the last time he played football. By his sophomore year, Bitonio was starting at right tackle on his varsity team and the teenager was captivated by the brotherhood of football – the practices, the games, the study hall sessions. Everything was done together. Everything was about the team.
For as crafty as Bitonio was on the basketball court, he crumpled opponents on the football field like garbage trucks. As national signing day approached in February, Bitonio settled on the University of Nevada. The strength and conditioning program helped Bitonio the minute he arrived in Reno – he could now all of a sudden dunk a basketball and gleefully flaunted the skill on his intramural teams with buddies.
But by no means was he the finished product we see working in sync next to Joe Thomas every Sunday. 
"I didn't come into college ready," said Bitonio. "It took me years to develop. I needed my redshirt freshman year to absorb football. Finally my senior year I put it all together."
Bitonio's biggest test at Nevada came his senior year against UCLA defensive end Anthony Barr, a projected top-15 pick. Bitonio, then playing left tackle, steamrolled the ultra-athletic prospect and started shooting up draft boards. The Browns noticed his mean streak and relentlessness on the field, hoping he could embody the team's new catchphrase for achievement – 'Play Like a Brown.'
From day one of training camp Bitonio saw first-team reps at guard and he never looked back.
"For me, he had a lot of similarities to players that I've seen have a lot of success in this league," said Browns general manager Ray Farmer about his evaluation of Bitonio in August.
Even with such heavy expectations, the rave reviews of Bitonio only are growing stronger. That athleticism he cultivated as a basketball player is a reason the Browns' offensive line has been one of the preeminent strengths on Cleveland's first 4-3 start since the 2007 season.
"We are going to have to win some games people think we aren't going to win. But we have the right people in place."
Yep, Joel. And you are one of those right people.