When the NFL's best players arrive in Arizona this week to participate in the 2015 Pro Bowl, Browns linebacker Paul Kruger will pay attention far away from the snowy mountains of Lake Tahoe.
Lauded by some as the Browns' most consistent defensive player throughout the 16 game season, Kruger's 11.0 sacks were the most a Cleveland player has had since 2006. By comparison, defensive lineman Desmond Bryant finished second on the team in sacks with five.
Kruger doesn't consider himself snubbed from the NFL's annual all-star game. No, snubbed isn't quite the correct term.
How about this one: Motivated. When the 2016 Pro Bowl roster is put together, Kruger wants to make sure he's on the docket. 
"There are so many plays I wish I could have back," said Kruger in a recent exit interview. "Even just sacks as far as those go. I had a couple of taken away, a couple I should've had. For me, there's a lot more I can do."
If you are looking for reasons why Kruger was able to use the 2014 season as a springboard proving him worthy of his free agent contract, watch the MIC'd up video attached above. Kruger said he was as vocal as he's ever been on the football field, rising up his level of leadership to match incoming veterans Donte Whitner and Karlos Dansby.
"Hey! They are going to run the ball!" shouted Kruger against the Bengals, and for most of the season. The 28-year-old started excelling at anticipation in Mike Pettine and Jim O'Neil's scheme. The pair of coaches set the linebacker free as a bull-rusher on nearly every passing down and the decision clearly paid dividends. In addition to sacks, Kruger also set a career-high with four forced fumbles.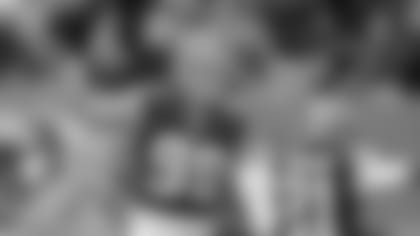 As Pettine reiterated in his year-end press conference, nobody remembers how you start, it's how you finish.
Perhaps no player on the Browns roster embodied a stronger finish than Kruger. Kruger posted nine sacks in the final 10 games of the year, corralling three of those in the month of December. Offensive linemen even started tugging at his shaggy blonde-hair to try and slow down a man possessed.
Kruger's increased production included results that many don't take in account. Other offenses had to start using an extra tight end or running back to chip Kruger, slowing down his relentless repertoire of pass rushing moves.
"That makes it hard on offenses," said O'Neil. "Because if you're trying to take a particular guy out of the pass game by chipping him or double teaming him, being able to move a guy around like that and create one-on-one blocks usually is a benefit for us."
An old soul who often plays chess in his free time, Kruger has already written down his 2015 goals, all of which involve growth. Growth in his sack numbers; growth in his leadership role in mentoring young players. But mostly, growth in Cleveland's win total.
The sour taste of five straight losses and watching the playoffs from a comfortable couch lingers for Kruger, who is the only player on the Browns roster with a Super Bowl ring.
"As a team, the goal is to make the playoffs and win the Super Bowl – to me, there's no other reason to play," Kruger said. "I've been on winning teams my whole life, so, that's what we're going to build here. I know the coaching staff and players all feel the same way."