Pierre Desir had the chills when he walked into the Cleveland Browns' facility for the first time on Thursday.
He sat in a chair and gazed around the NFL locker room; his NFL locker room.
There are so many details and tribulations in Browns' cornerback Desir's story, it's best if we start from the beginning.
Desir was four years old when he and his family arrived in the United States from Haiti. His parents picked St. Louis as the family's new home. Both mom and dad worked double shifts in restaurants. Three younger brothers joined Desir and his older sister. Money was tight.
"It was just me and my siblings, and different babysitters," remembers Desir of his first years in America.
Desir craved soccer during his adolescence. Outdoors, he was blowing past defenders and scoring goals. Indoors, he was religiously watching the English Premier league and rooting on his favorite international team, Brazil. If he happened to stumble onto an NFL game on TV, it was by accident.
Then in middle school, Desir had a moment which would change the trajectory of his life.
He was playing soccer on a nearby field while his friends were conducting an organized football practice. They persuaded their buddy to try and run a few routes as a receiver. Desir scored touchdowns on nearly every play. Coaches and players alike were floored. Desir clearly had natural ability, but he casually trotted back over to the soccer field to let the team finish practicing.
When high school rolled around next year, Desir would have a decision to make: stick with his trusty old pal, soccer, or give something new a try in football? His friends were peer pressuring him, telling Desir he could be the big man on campus in a football jersey. His mom feared the dangers with all the pads and helmets. But it was his dad who told Desir to choose a sport and stick with it. The excitement of football was too hard for the then 15-year-old to turn down.
Before Desir could blossom into gridiron star at Francis Howell Central, his life would change forever: He and his girlfriend Morgan found out they would soon be parents. Nine months later, their daughter Keeli arrived.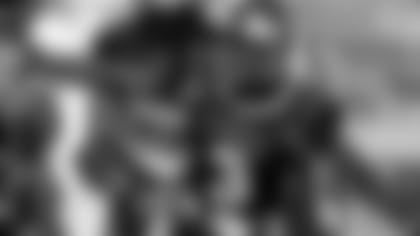 Desir, barely 16-years-old at the time, had his mom drive him around to his job, flipping burgers and manning the drive-thru at Jack in the Box, and then to see his baby girl. Football practice and homework were sprinkled in from time-to-time.
"While my friends were learning how to party, I was at home learning how to change diapers," said Desir with a laugh.
None of these adult distractions would stop Desir, who by his senior year was attracting attention from Missouri, Kansas State and Michigan State. His goal was to go and play wide receiver for the Spartans and one day play on Sunday's in the NFL. But his ACT score was two-points shy of letting him qualify.
So instead of prospering off the perks of being a Big Ten football player, Desir found himself at Division II Washburn College in Topeka, KS. Washburn redshirted Desir his freshman year, while Morgan, now his fiancé and Keeli remained in St. Louis. The traveling back and forth and long distance relationship wore Desir down. He couldn't balance it all. He decided to transfer closer to home. Or at least he thought he did.
Washburn wasn't letting Desir out of his scholarship, meaning he would have to sit out for an entire year. He never contemplated quitting football, but any mention of the NFL was laughable at this point.
"It was frustrating," Desir said, feeling helpless at the time. "I thought I had a bond with the coaching staff at Washburn. But, you know what, it was all a part of the plan."
Another daughter Kamryn had been added the Desir family, when Pierre returned to St. Louis. Financially, Desir remembers the struggle. There were no nights at the movies or sit-down dinners at restaurants. The family had basic cable and corralled together as many DVD's as they could find.
"We cut out the basic stuff, just to try and survive," said Desir.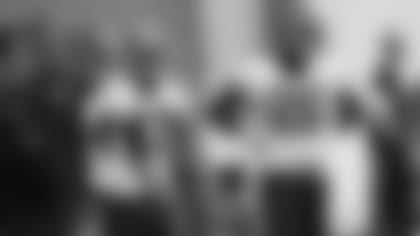 Ready for anything that would pay, a temp agency called Labor Ready found Desir quite the array of gigs. Torrential rains had caused flooding in some parts of Missouri, meaning the football player currently stuck in purgatory was tasked for a big workload. Desir had to clean out several water damaged apartment complexes. The ground level apartments were littered human feces, sewage and hot garbage all the way up to Desir's knees. The odor alone was stronger and more potent than smelling salts. All that, just for $40 a day.
"We had to pick up all that…stuff," Desir said, laughing with a horrified look on his face. "Then we let the water drain out of the building. It was a nightmare."
But the football part of Desir's would pick back up again. Nearby Lindenwood University had accepted the hometown kid with freakishly good secondary skills onto their football team. Moments before his first game back on the field, Desir was so fired up he accidentally head-butted a teammate in midair.
"It had been so long since I played football," Desir said. "I was so overwhelmed with emotion."
As his new teammate Joe Haden would say, Desir balled out at Lindenwood. Junior year he picked off nine passes and senior year he won the prestigious Cliff Harris award, honoring the top defensive player from small colleges. More than 5,000 players were nominated. Breakout performances at the East-West Shrine game and Senior Bowl glued Desir's name to all 32 teams' draft boards.
The unconventional yet extraordinary journey continues in Cleveland for Desir. Making the NFL is different than almost everyone his age, because success in the league isn't just for himself, but for Morgan and Keeli and Kamryn.
"I'm playing for their future," said Desir of the rewards being a professional athlete. "It's added pressure. That's just something you deal with being a parent. I embrace it."
In addition to his family, being an inspiration to smaller school college players will help drive Desir's career.
"I didn't have the typical road to get to the NFL, but it can be done," Desir said. "Challenges can be overcome. It doesn't matter where you come from."
Along his path, most mocked Desir for thinking he could play in the NFL. There will be even more doubters on the list when they hear his new goals – dozens of career interceptions, the Pro Bowl and even the Hall of Fame.
"I know it will take a lot of hard work, but when you look back at what I did to get here… I can do it," Desir said.