From the outside, you wouldn't think it was the biggest day of the offseason.
Around noon outside the Cleveland Browns facility, players filed out in groups. The tight ends -- Rob Housler, Gary Barnidge, Jim Dray and Phil Bates -- chuckled as they walked to their cars after a morning of conditioning and classroom work. Wide receivers Dwayne Bowe and Taylor Gabriel opened the doors to a gust of wind as they were promptly surprised by how chilly it could be on the final day of April in Cleveland. The rest had either already left or lingered throughout the building, biding their time before they returned Friday for their eighth workout of the offseason.
One floor up, the calm before the storm simmers. Years -- yes, years -- of preparation, thousands and thousands of airline miles and an invaluable amount of relationship-building among Ray Farmer's and Mike Pettine's respective staffs will serve as the backbone for the plan Cleveland unfurls over the next three days.
Armed with 10 picks, two of which are in the first round for a second consecutive year and all of which are tradeable, the Browns carry an enviable artillery into the 2015 NFL Draft. What makes it even more valuable is the roster in which these players will join coupled with the unity and stability Pettine and Farmer have cultivated entering a draft they've looked to for more than a year rather than the couple of months they had together at this time last year.
As he reflected on it earlier this month, Farmer called last year's draft preparation "interesting." Though the duo quickly realized their philosophies were in sync and they could work together in productive fashion, there was only so much time. Many of the grades and reports on prospects, Pettine said, were conducted by the previous regime with a different offensive and defensive system in mind.
Time, Farmer said, has helped make this particular draft preparation "a lot smoother." That becomes pivotal at an event like the draft, where those years of preparation are funnelled into decisions that can be executed within the 10-minute window between picks.
"At the end of the day, we really feel good," Farmer said.
"There's always going to be that one selection, that one move that nobody truly anticipated, and that's what you've got to be able to adjust to."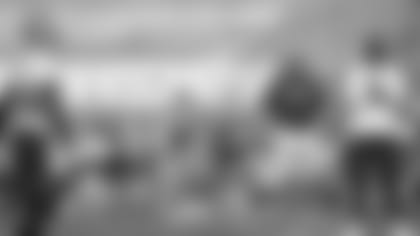 Though there was some shakeup on the offensive coaching staff, including the hiring of new offensive coordinator John DeFilippo, the system hasn't been altered enough to throw out the months and months of grades and analysis conducted by Farmer's team of scouts, a group that has grown in size and experience since last year's draft. The offensive players drafted by the Browns this weekend will enter a meeting room that will feature a lot more of Pettine, who said he's been taking notes like a rookie quarterback as DeFilippo has installed the offense during offseason workouts.
"It's more than months in the making, I can tell you that," said Brendan Donovan, research specialist who has worked in the Browns' college scouting department for two years. "We've been doing this for a long time. We collect data on guys you think may have come out last season that then you then get excited for this season."
The stability of the defensive staff has been well-documented and serves as a major reason why Pettine has been able to work more with the offense. The players on hand will "naturally" feel more comfortable within it, defensive coordinator Jim O'Neil said, allowing them to "take more chances" and be able to handle a "graduate level" of schemes, blitzes and packages. The players who join this group will be surrounded by those "graduate-level" veterans who will be able to help them learn the ropes outside of the meeting rooms. They'll also provide competition on a unit that was one of the best in the NFL at defending the pass but struggled to stop the run.
The free agent acquisitions of March and the success of numerous players drafted or signed as undrafted free agents last year gives Farmer and Pettine a roster that won't necessitate drafting for need over the best player available. The additions of Brian Hartline and Bowe to a thin group of wide receivers and the relatively late signing of Housler amid the departure of Jordan Cameron helped insure there would be no need to reach with any of the 10 picks, Farmer said.
"If I had to play today, I feel good about if we went out and played," Farmer said. "End of the day, I think it comes to take the best player available, move forward, improve your football team and see if you can't get better with the guys that you bring into the building."