Brown: "Productive night. We set out really this morning understanding we had a plan and executed it well. We didn't expect to come away with three [players.] We hoped for two but came away with three and positioned ourselves for next year to have a couple of picks in the first round, as well. We're excited about that. All I can say is, (DL) Myles (Garrett), (TE) David (Njoku) and (DB) Jabrill (Peppers), they're all going to come in here and contribute for us early and are all guys that love football, highly talented, impact players. That was what we set out to do. To be able to do that, at the same time, and picking up an extra first next year, we are real excited about our haul this evening."
Jackson: "You just said it best. I'm sure there are a ton of questions."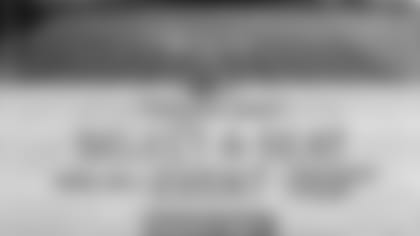 ](http://www.clevelandbrowns.com/news/article-landing/Browns-to-host-Select-A-Seat-event-April-29th/427d2087-a15d-4a65-af3e-cce9be9dfb3f)
On not selecting a QB in the first round:
Brown: "We obviously value the position, but we don't want to force it. We're in certain positions. We obviously have some guys here on the roster. We want to give them an opportunity, and we'll continue to look, but we wanted to make sure that we got players that we felt good about. We understand that other teams may value players more than we do at certain spots. We have a lot of holes to fill on this roster. For us, it is just about making sure that when we get the quarterback, it is someone that we all believe in and can get behind and move forward."
On not selecting Clemson QB Deshaun Watson:
Brown: "We just thought that the better opportunity for us was to trade back. Hue and I, we've spent some time with all of the quarterbacks that were taken this evening. We did like all of them at certain places. For us, in terms of our plan and building the roster, we felt like it was just better to move back. That shouldn't be a take against Deshaun, a great young man. We'll root for him to have a great career."
On telling Garrett that he was 'his guy':
Jackson: "I've had several conversations with him. I'm not sure exactly when I made that statement. We are just excited to have him. He is a tremendous player. He is going to come in here and make a difference in our organization. We are looking forward to that."
On if there was debate between taking Garrett or North Carolina QB Mitchell Trubisky:
Brown: "We won't get into our internal discussions, but we always have good debate. Again, even if we are agreeing, Hue is pushing me to say, 'Sashi, what are we overlooking,' and I'm doing the same thing to him. We want to get the picks right, not necessarily get to an agreement. We had good, thorough discussions longer than a couple of weeks. We have been talking about a lot of different players for months, frankly. Since we had our scouts come in off of the road in January, we have been talking about these guys."
On the Browns knew they would need to take Trubisky at No. 1 if they wanted him, since he went second overall:
Brown: "No, we didn't know how the board would fall, frankly. We didn't know who would be the first quarterback off. There were a number of quarterbacks there that I think people were talking about. We didn't know if quarterbacks might fall out of the top 10 and maybe be there at 12."
On Peppers' dilute test sample:
Brown: "It is certainly a factor for us. Jabrill understands. I think he has been accountable for it. He understands that it is something that he has to clean up as we move forward. We will spend some time with him on that when he gets here. Mostly, we are really excited to get a real exciting football player. We had gotten comfortable with the background on him to move forward with the selection."
On rumored report involving trade talks with different teams, including one pertaining to Redskins QB Kirk Cousins:
Brown: "Bad reporting is what I would say."
On how the Browns will use Peppers:
Jackson: "Line him up in a lot of different places and give him that opportunity. He is a football player, a very dynamic player. Obviously, he's going to play defense for us, but we'll find a role for him over there on offense. No question."
On how happy defensive coordinator Gregg Williams is tonight:
Jackson: "I think our whole coaching staff is happy, but Gregg is probably in the swimming pool right now. It's an exciting time. I think Sashi said it best – we just added three impact players to our roster, and we are all very excited about that."
On if it was a difficult decision to trade down:
Brown: "Always difficult. Whenever you trade down, you're sitting there biting your nails for about the next 45 minutes or an hour and a half or so until we got to 25, hoping that some of those guys fell to us. We felt good about the player that we did end up taking there. You know, you can't have your cake and eat it too all of the time. Most of the time, you are making a decision and taking a risk. We ended up making the best decision for our organization, and I feel good about where we are positioned moving forward."
On if the Browns originally planned to move down from the No. 12 overall pick:
Brown: "We do a lot of work. I know that there has been a lot written about the Browns looking to trade up. We had as many calls with people behind us. We really wanted to go in prepared, understanding who potential trade partners might be. We had done work on both ends of our pick. We came into the night with the understanding that if we got to 12, depending on the players and depending on the offer that we would get and where we would have to move to, that may be something that we would think about. We thought that was the best opportunity for us to move back to Houston's pick."
On if the Browns would have traded out of No. 12 if Trubisky or Texas Tech QB Patrick Mahomes II was still available:
Brown:"I wouldn't get into that just in terms of the hypotheticals of what could have been. That doesn't matter right now. We have three football players on our roster that we are excited to have and a first-round pick next year from Houston."
On if there is such a thing as trading down too much:
On when trading down is too much:
Brown: "Not yet (laughter). In all seriousness, for us, I think you have paid attention to what we have done and written about it well. For us, high-value draft picks in the first couple rounds are tremendously valuable. We have a long way to go to get our roster where it needs to be. We understood that. This is a great opportunity to really add a player and add another player next year that we hope will be again another impact player for us. It's really for us a two-for-one, and where we are coming from on our roster, that's valuable."
On overall impressions of QB Brock Osweiler during offseason workouts:
Jackson: "He's done a good job. He's been very engaging in the meetings. We haven't had a chance to get on the field with him yet. We'll be able to do that next week. He's a pro. He's been in the league. He's played. He understands what it takes to play quarterback in the National Football League. He's been great in meetings thus far. We'll continue to push and push on him and see if we can continue to get him better, but he's working on it. I do know that."
On Garrett's best attributes and how he responds to some recent criticism he's gotten lately:
Jackson: "We've done all of our due diligence, and we feel very fortunate to have him. I think he understands that there are some things that he needs to do a little better. I think he'll be the first to tell you that, but I think he's obviously very talented and has all the characteristics that we're looking for. He and Coach Williams had a great time at the workout, and I think he's looking forward to playing in our scheme."
On how Garrett showed he could handle the pressure and expectations of being a No. 1 overall pick:
Brown: "We could go a lot of different directions with this one (laughter). I think you'll find he's an old soul. He does not seem like a guy that's going to be either phased by the limelight or success. Frankly, he is just a competitive kid that loves football, wants to be the best, wants to be the best at it, maybe the best ever. You guys can ask him that question when he gets here. Works hard. When we went to have dinner with him, he was coming from a workout and going to a workout in the morning. He really just eats, drinks and sleeps football, does do the poetry and some other things, as well, but, he's a very, very intelligent young man. Our psych testing and background testing on him, he was off the charts. Physically, you guys have seen him. I don't think there has been a better prospect that has come out in terms of an athlete at that size in some time. It gives him an awesome opportunity to be really successful for us and an impact player Day 1. Hue spent plenty of time with him, too, and he may have other thoughts."
Jackson: "I think Sashi said it best – this guy is as good as I've seen in a while not just as a football player but also as a person and what he wants to become. He has a burning desire to be one of the best in football, and I think you guys will see that tomorrow. I think we've all known his talent and seen his talent. We have the right guy. He's just got to come in and do it consistently over time, and the rest will take care of itself."
On if the Browns could still draft a starting QB for the 2017 season in this draft:
Brown: "You never know, but we'll see what happens. I wouldn't want to telegraph too much."
On if the Browns feel good going forward with the current QBs on the roster:
Brown: "Yeah, we need to solidify the quarterback position. It's not solidified right now. We know that we need the guys here to work their tails off, and Hue is going to develop them as much as possible and push them to be their best. We also know that until we get it solidified, we are going to continue looking for players all over the league and in college. That may be in next year's draft. That may be in free agency. It may be via trade. We won't rest until really solidify that position, but again (QBs) Brock (Osweiler), Cody (Kessler), Kevin (Hogan) are here working hard and we're going to support them as best as we can."
On what is intriguing about TE David Njoku:
Brown: "Extremely young, big, great athlete. Again, also a competitive kid, but Hue can talk a little bit more about David."
Jackson: "He has the ability to make plays down the field, and I think you can see that in a lot of his highlights. He makes contested catches. He can create separation from defenders. He has the ability to be an in-line blocker. He is a three-down tight end, and he play the Y. He can play the U. He has that kind of versatility. We are going to see if we can use his skill set to that way."
Jackson: "Oh, yes he can."
On Brown saying he knew what the first pick would be for two weeks, the report Thursday morning that Trubisky was in the conversation at No. 1 and which is correct:
Brown: "You don't believe Adam (Schefter) or me? (laughter) Unfortunately, Adam doesn't get to make our picks. We understand. Again we talked. I'm not being too silly about it. We talked the other day, and we knew when we were in the No. 1 spot this was going to be a circus leading up to our pick. I think in one single day we had one report that had both he (Jackson) and I on different sides of one decision, going four different directions. Agents from multiple players called me complaining. It is just some of the things that happen when you're at a certain positon, and we understand that comes with the territory. We are not going to respond to any of the rumors, keep going and put our head down and build this roster."
On if the Browns want the draft to be confusing to the league so that nobody knows what the team will do:
Brown: "We don't want people to know what we're going to do, but certainly, I think when you're at that No. 1 pick, it's no different than watching the Rams last year go through the same thing when there was just a ton of speculation about whether they would pick one quarterback over the other. You just know it comes with the territory. That's the popularity of our league. We have to be mature enough as an organization not to get distracted by it."
On if he trading for a veteran QB is a real possibility for the Browns after acquiring another first-round pick in 2018:
Brown: "That's not the reason we did it. I think we just feel like it'll help us build the roster. It may be something that goes to a package to get a veteran quarterback. It may be something that we just use as a draft pick. We'll see what comes down the pipe in terms of opportunities, but there is no specific deal in place or plan in place to go acquire another veteran QB at this point."
On where Peppers will play on defense:
Jackson: "He plays in the secondary, strong safety. He can play both free and strong, but I think he's been a lot better around the ball. It's going to be really interesting just to see how Gregg uses him because Gregg's had so many players like this with this kind of skillset before in his defense. It's going to be exciting to watch."
Brown: "We were really excited just to get a player that fits our scheme and the experience that Gregg has had finding players like Jabrill and making them successful. Then, I think Jabrill brings perhaps a dynamic play style and athletic ability that probably Gregg hasn't had in that position and the other guys he's actually turned into Pro Bowlers. That was really exciting for us to be able to add Jabrill and give him to Gregg who has got experience in knowing exactly how to use that player."
On being intrigued by Peppers with the ball in his hands:
Jackson:"No question but we're going to start him over there on defense for sure. Again, when you have guys that have ability to make plays, you do anything and everything you can to put them in an environment so they can showcase their talent and ability. We will do that, but first we are bringing him in here to play defense and play special teams. He is one of the premier special teams players in football. He is a tremendous punt returner and kick returner. We're going to make sure that he can hit the ground running doing that, but there is no question we will give him a chance over there on offense too."
On if they are looking for players to bring energy like Peppers does:
Jackson:"Absolutely. We need guys that will infuse passion and energy into our football team, and the three guys that we put on this team today, we truly believe they will do that."
On if the Browns will leave the weekend looking for a veteran quarterback:
Brown: "Every day until we solidify the position, we leave this building thinking about what opportunities might be out there. Absolutely."
On when the Browns will acquire a first-round QB to develop:
Jackson: "Soon, when it is time for us to get one. Obviously, it didn't happen today, but it's not like we didn't try, I can guarantee you that. I think that time is coming. It will be here. We are going to continue to, as Sashi said, anything and everything we can to get this position better as we continue to move forward."
---
Single Game Ticket Information
2017 single game tickets will go on-sale at a later date. Fill out the form below to be contacted when single game tickets are available.