How did Travis Benjamin become one of the fastest and most dangerous deep threat wide receivers in the National Football League?
For that answer, let's travel back to Belle Glade, Fla., a small town of 17,000 roughly an hour north of Miami. The year was 2002. Benjamin was a lanky 12-year-old and had impressed the older neighborhood kids who occasionally watched him play street football in their col-de-sac . The boys invited Benjamin to join them around a large farm, which happened to be on fire.
To the world, Belle Glade is known is one of the scarier places on the East Coast. According to a 1985 article from AEGIS, the city had the highest rate of AIDS per capita. And a 2003 FBI report cited the city as having the second highest violent crime rate in the country at 298 per 10,000 residents. Poverty is prevalent.
Belle Glade though is also home to Glades Central High School, which was won six state titles and has produced 11 players who have been drafted the past 20 years including four in the first round with Fred Taylor and Santonio Holmes being the most notable. Only seven high schools have had more players selected.
"Football is everything to my area," said Benjamin.
To Floridians and to Benjamin, Belle Glade is known as "Muck City." The town is tucked in the Southeastern corner of Lake Okeechobee in Palm Beach County. Regular torrential downpours have overflowed the lake for hundreds of years causing mucky conditions, in turn, which are ideal for the crop sugarcane to grow.
Sugarcane fields look like the corn fields many are accustomed to seeing and they can grow up to seven feet tall, but most of the plant is just stalk and leaves – not the important sugar part. So from May to November, farmers light the sugarcane on fire. The process eases the manual labor, and the sugarcane falls right off the plant.
Why are we giving you a South Florida agriculture lesson? Because this is exactly where Benjamin's world class speed was born.
Rabbits make their home inside these sugarcane fields. The smoke from the fires send hundreds of rabbits fleeing from their home.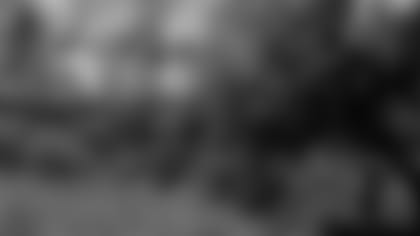 Benjamin had always enviously watched the rabbits as a boy. Now he was getting his first chance to chase them down. The rabbits ran right, and left, north and south. With a large wooden stick in his hand, Benjamin attempted to slow down the rabbits. Some residents would eat the rabbits as cuisine, which tasted like pork chops. Others would sell them for $4 to neighboring towns.
On his very first time, Benjamin caught 15 rabbits in a mere two hours. Everyone watched the 12-year-old with their jaws dropped in astonishment. The people of Belle Glade had never seen anyone, let alone a child, chase down rabbits like this.
"I really do think chasing rabbits helped me develop agility," said Benjamin, who guessed he chased rabbits 50 times in his life and caught hundreds of them. "Sometimes when I watch my punt returns on film, it reminds me of being a kid with the rabbits."
Coach Mike Pettine and the Cleveland Browns fan base are thrilled with the fact that Benjamin has only gotten faster since his rabbit chasing days. The third season of an NFL career is often coined "the make or break year" for burgeoning professional players. All Benjamin is doing is leading the Browns with three touchdown receptions – two of which came in the fourth quarter in the NFL's biggest road rally victory of all-time against the Tennessee Titans. Without Benjamin the Browns don't overcome the 25-point deficit, which was so impressive, representatives from the Pro Football Hall of Fame mounted Benjamin and quarterback Brian Hoyer's jersey in Canton.
Even though Benjamin's neighborhood still gushed about his speed, it wasn't until later in his high school career at Glades Central that he realized football might one day became his day job. As a freshman, Benjamin only weighed 130 pounds and decided to not even play football, fearing injury. While his friends played on the freshman team, Benjamin trained and put on weight.
His sophomore year Benjamin was placed on the junior varsity team for two games and immediately bumped up to varsity, once coaches realized no cornerback could cover him. As a junior, Benjamin caught 23 passes for 494 yards and seven touchdowns – two of those touchdowns came in a state championship win over and current Redskins running back Alfred Morris, and were reminiscent of the scoring plays against the Titans.
The University of Miami coaching staff showed up to Benjamin's high school spring game, heading into his senior year. They offered the wide receiver a scholarship on the spot and the four-star recruit accepted without hesitation. Benjamin grew up watching the Hurricanes every Saturday and fell in love with "The U" on the side of Miami's helmets.
"My main focus is once I set a goal for myself, I'm going to stick to it," said Benjamin, who was beginning to wonder if Miami was going to offer him a scholarship. "So I just stuck to it until I got an offer."
The problem? The Hurricanes had offered seven other receivers, all with higher accolades than Benjamin. It didn't matter to him, though, and not the coaches either. Benjamin beat out all the players to become the only true freshman to get regular playing time. By the time his college career ended, Miami fans knew Benjamin for more than his dreadlocks. Benjamin finished his tenure with the Hurricanes as one of only six players in program history with more than 2,000 receiving yards.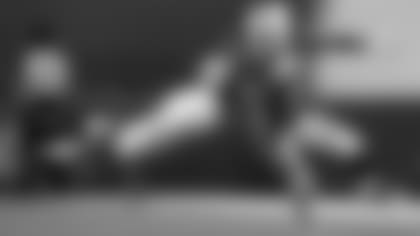 But Miami wasn't the perennial powerhouse they were when Benjamin loved them as a kid. The Hurricanes went 29-22 in Benjamin's four seasons, playing in bowl games with the names Emerald and Champ Sports, as opposed to Orange or Rose.
So that's why when the Cleveland Browns drafted Benjamin in the fourth round in 2012, he wrote down his goal: help restore the glory years to the city of Cleveland.
"It was kind of disappointing that Miami wasn't a championship caliber team, but it was also a learning experience knowing that we had the pieces to win, but you have ups and downs as a player and as a staff and team," said Benjamin. "It was a blessing to be a fourth rounder and coming to Cleveland. I could say it was just like Miami was. Coming into a downfall of a team that, who needs to rebuild. And needs help from guys to rebuild it. And we're about to get it right."
Benjamin said because of the trades and uncertainty, his first two years were marred by guys not giving it their all. That's the exact opposite with Pettine at the helm.
"The whole team has bought in," said Benjamin. "From the receivers to the linemen to the defense. Everybody is willing to make that sacrifice. And that's why you see us becoming a real team."
When Benjamin's career is all said and done, he wants people to remember him for mainly things, but one sticks out above the rest: that defensive players and coaches feared his presence.
If he keeps playing the way he has in 2014, Benjamin may need to set an even loftier goal.