Ever since the Browns established a partnership with the Cleveland Metropolitan School District in 2015, the Cleveland Browns Foundation has prioritized eliminating chronic student absenteeism across Northeast Ohio.
The "Stay in the Game! Keep Learning, Every Day" Network was established in 2019 to help them achieve that and identify solutions to the barriers that prevented students from frequently attending school. Now, among the COVID-19 pandemic, those initiatives are needed even more to ensure classrooms stay full across Northeast Ohio.
Students missing school are 33 percent less likely to meet Ohio's Third Grade Reading Level and 89 percent less likely to graduate from high school on time, and the pandemic has drastically disrupted the education journey for nearly all students in America. In Ohio, the number of chronically absent students increased from 260,000 to nearly 380,000. 
The "Stay in the Game! Keep Learning, Every Day" Network, which partners with 16 school districts and has impacted more than 110,000 students, is striving to significantly decrease that number over the next 10 years through awareness, supplying fundamental necessities — such as clothing and digital connectivity for remote learning — as well as funding interventions that support engagement and attendance such as athletic fields, mentorship programs and tools to increase family communications. 
During Sunday's home game against the Pittsburgh Steelers, the Browns will highlight the "Stay in the Game!" Network by showcasing the impact of education and school attendance, as well as recognizing districts, schools and students who have been exemplary in leading the attendance efforts in Ohio.
Below are the barriers that the "Stay in the Game! Keep Learning, Every Day" Network is looking to knock down and examples of how initiatives from the program have already made an impact in eliminating chronic student absenteeism. To learn more about the Stay in the Game! Network and the importance of school attendance and engagement for student success, visit SITGNetwork.org or follow us on our official social media accounts (@SITGNetwork) Twitter and (@SITGNetwork) Facebook.
Housing
Donation to Legal Aid Society
The Cleveland Browns have committed to a $110,000 donation to the Legal Aid Society in Cleveland through their work in the Social Justice Space. The Legal Aid Society and the Browns have a shared goal of providing justice and success to families and children and keeping them engaged in education when barriers to learning are present. Legal Aid has been providing support to families for 116 years, and one of the main barriers they try to prevent is unstable housing circumstances. They combat these issues through "securing safe, stable homes for families by preventing evictions and addressing unsafe housing conditions such as hazardous mold and lead paint". In fact, Legal Aid has helped nearly 4,000 families in various housing cases, over 50 percent of those cases affected school-aged children to help them secure safe and stable housing arrangements. In addition, they connect families to SNAP benefits, or food stamps, in order to ensure children can be nourished and focused in class.
Clothing
"Special Teams Package" Clothing Program
In 2017, The Cleveland Browns Foundation partnered with Shoes and Clothes for Kids and the Cleveland Metropolitan School District (CMSD) to develop the "Special Teams Package" clothing program. The program was developed to help provide students in need with appropriate school clothing, footwear and school supplies in order to provide them with the resources they need to help stabilize their school attendance and improve it. Through referrals from CMSD's Project ACT program, — which provides services to students living in temporary emergency shelters or transitional housing due to a loss of housing, economic hardship or similar situation — SC4K provides a special package of three school uniforms, one casual outfit, socks, underwear and a shoe voucher card to help keep that student attending school during their difficult time. SC4K tracks the student's attendance and overall academic record before and after receiving the package to help determine the impact of the program, and the research has found that attendance improves up to 24 percent for certain categories of students in the month after receiving the package. To date, The Cleveland Browns Foundation has granted more than $450,000 to support student attendance through the Special Teams Package program.
Shoe Giveaway with Akron Public Schools Office of Student Support and Security
The Akron Public Schools (APS) Office of Student Support and Security, in partnership with the "Stay in the Game! Keep Learning, Every Day" Network attendance initiative, distributed a pair of top-brand athletic shoes to select students who attended a summer program this past summer. Students who participated in an APS summer program received a ticket for each day they attended. The more a student attended, the more tickets they received. At the end of each program, tickets were entered into a drawing where students were selected to win a pair of top-brand athletic shoes. The APS Student Services team delivered shoes to more than 150 students just in time for the new school year.
Clothing is a basic need and can often be a barrier to attending school for many students. The Student Services team decided shoes would be a great way to reward students for participating in the summer learning programs, especially because of the hardships families have faced over the past year due to the pandemic. It was important to provide an incentive that could be useful to both the student and their family, as well as help eliminate a potential attendance barrier.
Digital Divide
- Cleveland ranks as one of the worst digitally connected large cities in the US in 2019.
- 33.7 percent of households in Cleveland have no internet connection of any kind, including smartphone access.
- 52.9 percent of households make less than $20,000 annually and do not have at-home internet access.
Donation to East Cleveland Schools
The Browns donated $350,000 to East Cleveland Schools to close the digital divide gap. East Cleveland received $350,000 to provide families, students and educators with the tools, training and equipment needed to enhance remote education efforts due to COVID-19. This donation was designated as part of the NFL's Inspire Change grant program to address the Digital Divide.
Part of this donation has also been used to set up a HelpDesk phone line for students, parents and teachers to call if they have any technical questions. The line has helped resolve all non-hardware issues in less than 24 hours and has offered an efficient alternative to the email ticketing system, which used to be the only method toward fixing tech issues. The HelpDesk phone line also helped East Cleveland families troubleshoot their technical issues efficiently so they could remain connected and learning while participating in remote education last year.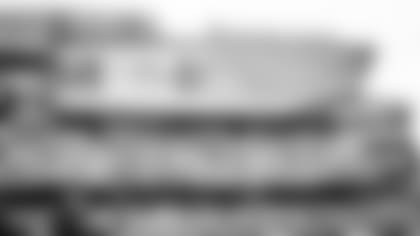 Hats Off to our Heroes Donation - Maple Heights
With the help of Browns Foundation, Maple Heights has decreased the digital divide and is currently able to provide all students in the district with 1-to-1 technology. Maple Heights was the recipient of the "Hats Off to our Heroes" $60,000 grant in 2021, which was used to support educators by breaking down barriers to learning caused by the digital divide during the pandemic. The grant allowed students to be engaged in education remotely and in person by providing necessary tools to remain engaged in education.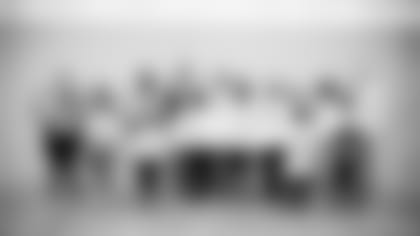 Mental & Physical Health
Grant provided to Canton City School District with focus on social and emotional learning
In order to address and begin to break down the barriers, the district recently implemented an intervention focused on social and emotional learning (SEL) through support of the Stay in the Game Network, Proving Ground at Harvard University and a $60,000 grant from the Cleveland Browns Foundation. This intervention has been rolled out to 450 students in the 9th grade Career Connections classes and the 10 grade Success 200 classes. The SEL intervention is designed to build resiliency, self-awareness, and other relationship and decision-making skills in students, and ultimately foster a connection to school and improved self-management.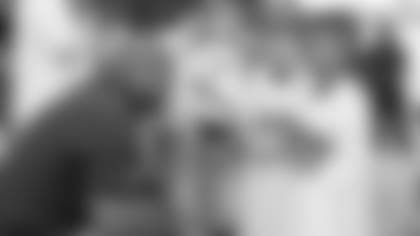 Engagement
- According to the National Athletic Trainers' Association, students who participate in high school sports are 15 percent more likely to attend college
Field Turf Installation Project
Since 2016, the Browns have completed 10 high-quality synthetic turf installations in Ohio as part of a project started by the Haslam's and Browns Give Back. The project is still ongoing today and has helped schools drive thousands of more students to participate in not only their football programs, but other sports teams who are able to use the turf field. Research shows that after-school enrichment activities can provide valuable leadership and life skills lessons that pay dividends inside the classroom by increasing school attendance and engagement. Thus, the fields installation project is helping students find passion and purpose both on and off the field.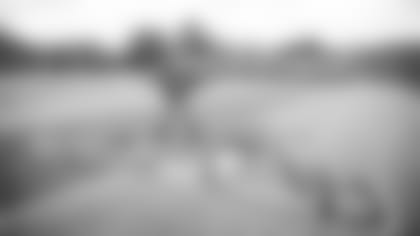 Partnerships with Akron Public Schools (APS)
With the assistance of the Browns and "Stay in the Game!" Network, APS has engaged students on attendance improvement through a variety of activities and contests. Examples include incorporating signage and handouts at the Backpack Adventure event, as well as back-to-school kickoffs to start the school year. Since the 2020-21 school year, students have participated in poster contests, attendance challenges and attendance-based giveaways, featuring game tickets and gift cards, to create fun ways to drive home the importance of being in school every day.  APS is at the forefront of the attendance campaign work and creating a safe and supporting environment that encourages students to attend school, learn and achieve their dreams!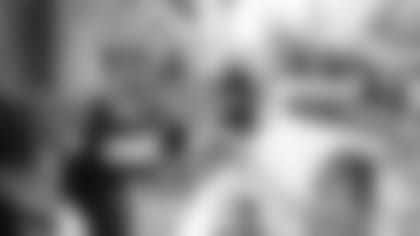 Parent Communications and Misconceptions
Robocalls and Post Card Project in Maple Heights (through partnership with Proving Ground)
Through grant-funding and assistance with the Cleveland Browns Foundation, Proving Ground and the Maple Heights School District have used robocalls and postcards to keep parents in the know on their child's attendance — whether it was positive or in need of improvement. Proving Ground, a network that assists schools in identifying and testing evidence-based solutions to specific attendance challenges, worked with Maple Heights to develop the robocalls and postcard interventions. Both interventions have been proven to be successful and helped Maple Heights reduce their absence rate of 10.1 percent in 2018-2019 to 7.3 percent in 2019-2020, when both interventions were in place.
Akron Public Schools postcard intervention
APS is in the process of rolling out a postcard intervention, supported by a $25,000 grant from the Browns Foundation to encourage attendance. With agreement from the leadership of two pilot schools, David Hill CLC and Crouse CLC, the families of K-3 students who miss 3-5 days will receive postcards sent home via backpack, followed by USPS mail. The cards will inform families of lessons the student missed, along with a personalized note of encouragement from the student's teacher. Accompanied by teacher text messages and incentives for improvement, this intervention will further open the lines of communication between families and educators while stressing the importance of attendance and making students feel wanted at school. This intervention will also work to clear up any misconceptions about how much a student can miss out on if he or she is not in attendance.