Late Tuesday evening, Terrance West walked into RU Villa, a shoe store in the outskirts of Cleveland. The memories came flooding back.
At Northwestern high school in Baltimore, Terrance West was that guy, you know, the one people from all over the town come and see.
West accumulated 3,500 total yards his junior and senior year. He was all-city both seasons, in a football rich area. He starred on the basketball and baseball teams. He was an honor roll student. He had that signature smile. He was* Terrance West*.
But his mailbox wasn't filled with big time universities swooning over his skills. West's phone wasn't ringing. College coaches weren't flocking to see the massive running back every Friday night.
Following graduation, West decided to attend Fork Union Military Academy, a prep school many overlooked college football recruits attend to boost their appeal. But the Virginia school wasn't everything West had pictured. And mostly, he missed his family. He was coming home.
Leaving Fork Union could've been a career ending decision. He tried taking matters into his own hands by setting up tryouts to be a walk-on player at Morgan State and the University of Maryland. The schools didn't bite.
West was headed back to Baltimore, and at the time, things were bleak.
"I never thought of really quitting, but I had doubts," West remembers of his journey. "I just needed to wait for the opportunity."
And the waiting would begin.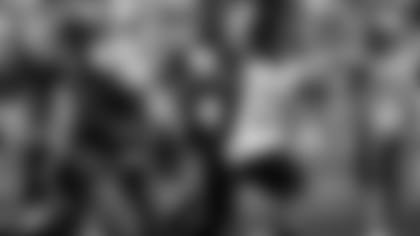 His mornings started before the sunrise, for grueling workouts to keep in tiptop shape. Then he would research addresses of various coaches to send out his highlight tape. But West had bills to pay.
So the running back went to work at a shoe store called Jimmy Jazz. The trendy shop was located in the heart of West Baltimore, the notoriously rough streets West roamed as a kid. Almost instantly, West became the ruler of the store, which came as no surprise. He had the people skills to sell. But as much as Jimmy Jazz needed West, West needed Jimmy Jazz.
"I knew the shoe store wasn't going to be my life time," said West of the motivation the store had given him. "It kept me humble."
After nearly two years of grinding as a retail salesman, West caught his break. Towson head coach Rob Ambrose liked what he saw on West's tape, and loved what he had heard of legendary Baltimore high school player.
Ambrose invited West to attend spring workouts at 5 am. When the coach arrived at 4 am to get the day in order, he was stunned to see the running back. A whacky bus schedule forced West to arrive in the wee hours, but he didn't care. Ambrose was giving him a chance at his dream.
West earned a spot on the roster as the fourth-string running back. But by season's end West had rushed for nearly 1,300 yards and 29 touchdowns. Towson was 1-10 the season before West arrived. They went 9-2 in 2011 and earned a playoff berth behind the churning legs of their power running back.
Last season, his junior year, Towson would make it all the way to the national championship game. West totaled 2,509 rushing yards and 41 touchdowns. Essentially, he was the Duke Johnson Jr. of the FCS – the most feared offensive player in the nation.
West's impact wasn't just felt at Towson. He made waves all throughout the Baltimore area.
"It's amazing," said West of how far he's come, from Jimmy Jazz, to the NFL. "A lot of kids now look up to me. And I drive them to keep pushing."
Towson found a hidden gem in Terrance West. The Cleveland Browns are thinking the same exact thing.