Karlos Dansby walks to the very front of the linebackers classroom. He stands next to a white board, littered in green marker with football terms from top to bottom.
Dansby looks as if he's about to say something important. His fellow linebackers perk up in their chairs to listen closely.
"When you are born, you have 300 bones," says Dansby to his teammates. "And by the time you're an adult, you only have 206."
It's an afternoon tradition linebackers coach Chuck Driesbach has started. Someone shares an interesting fact. The linebackers debate the validity of said fact. Craig Robertson normally cracks a joke or two. And then it's down to business.
Besides the quarterbacks, what goes on in the linebacker's classroom could dictate how successful the Cleveland Browns are.
Everything begins and ends with Dansby.
"I've got to listen all the time to what he says," said Driesbach. "Dansby brings immediate credibility in that room. All of the other linebackers look up to him. All of them."
Before the Browns left for summer vacation, the linebackers were reviewing film of a preseason opponent. Dansby pointed out to the room how this particular team's quarterback lobs the football over the top on play action passes.
"We have to make sure we get depth straight back," echoes Dansby. The linebackers nod in agreement.
"Some things like that can only come through experience," said Driesbach. "I coach it. He plays it. He sees it from his angle."
Driesbach lets Dansby speak up whenever necessary in the classroom setting. And when he does, rookie Chris Kirksey grabs his pen and paper.
Following a few hours of studying, Driesbach calls it a day and most of the players break for dinner. Except Kirksey, who doesn't hesitate to ask Dansby specific questions. What is my gap assignment for an outside run play in this formation? What tendencies do the Detroit Lions show on offense?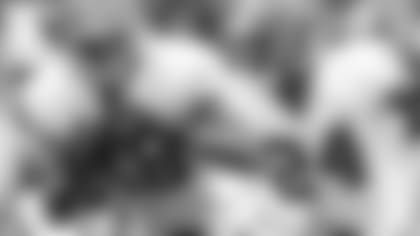 "I just try and pick at him to see how he does it," said Kirksey. "He's been a linebacker for 11 years. That's something I want to do."
Dansby sees a lot of himself in Kirksey. Both are lean and tall. Both will cover the most athletic of tight ends and can blitz off the edge when asked. Both are relaxed personalities off the field and instinctive leaders on it.
Driesbach sees something in Kirksey, too, calling him, "extremely smart." Last season Driesbach tutored another rookie who morphed into a star: Kiko Alonso. The Buffalo Bills' 2013 second-round pick notched a mammoth 159 tackles as the centerpiece of the defense.
Although he made it clear Robertson still holds an advantage over Kirksey in terms of snap counts, Driesbach sees the same "want-to" from Kirksey he saw in Alonso.
"Kiko Alonso came in and had a great year," said Driesbach. "If [a rookie] is smart, and accountable, and if they put time in outside the building, learning it, it's not a problem at all. With Kirksey, there's no problem at all. He's smart. He has a million questions, really a football guy. I love him to death."
---
When Dansby signed his contract with the Browns, he knew Mike Pettine and Jim O'Neil were creative defensive minds. But he didn't exactly realize how much the Cleveland coaches were going to experiment with him.
During training camp Dansby has lined up as a pass rushing linebacker on the edge more than anyone would've guessed. When you are a linebacker in your 30's, you can play football from any angle. Linebackers, like running backs, are usually a position NFL teams look to replace often. You want fresh legs there. But there are exceptions to the rule. Dansby is an exception.
When Pettine and O'Neil look at Dansby, they see a player with 38 career sacks, 6.5 last season to be exact. They see a resourceful chess piece – think rook – who can fly all over the field and alter games with a strip-sack or a tipped pass that leads to an interception. They see an intense, football intellectual, who loves nothing more than to get vicious on Sunday's.
"If you play the game the right way, you can get nasty," said Dansby. "When you have your opportunities, you have to take advantage of them. When you get a chance to deliver that blow, you've got to deliver it."
Whether he's in the front of the classroom talking about a fact, or setting the tone in a training camp practice, Karlos Dansby is here. Driesbach leans on him. Chris Kirksey leans on. The Cleveland Browns will lean on him.