INDIANAPOLIS — All eyes were on the quarterbacks Friday at the NFL's annual scouting combine. That, of course, includes the Browns, who haven't been shy about the prospect of using either the first or fourth overall pick to end years of instability at the position.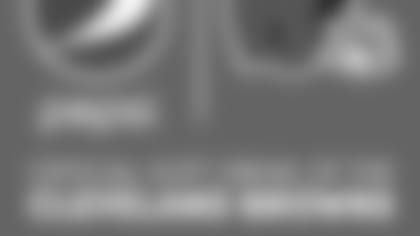 ](https://www.pepsi.com/en-us/)
As Cleveland continues that elusive search, the cream of the crop of this year's class — a group that includes USC's Sam Darnold, UCLA's Josh Rosen, Oklahoma's Baker Mayfield, Louisville's Lamar Jackson and Wyoming's Josh Allen — took center stage in Indianapolis and made their respective cases as the best prospect at the sport's most-important position.
"I don't mean to say that in a cocky way, but I think every quarterback should think that," Allen said. "If you're not thinking that you're the best quarterback in this draft, you probably shouldn't be here."
"I think I'm the best quarterback here," added Rosen, described by some as the best passer in years.  "I think I can diagnose defenses and put the ball where it needs to be and make quick decisions. I think we're all competitors, and I think every other quarterback should have the same exact beliefs that I do."
"I can make any throw," said Mayfield, the 2017 Heisman Trophy winner and perhaps one of the nation's most polarizing prospects. "Winning is most important, but the way I've been able to get my guys around me to play, not just the offensive players around me, the other 10 guys, but the defensive guys, special teams. The energy I bring, the passion I bring, it's infectious."
"I feel I'm (the best quarterback), but I don't really care what order we're in," said Jackson, the electrifying Louisville star who also laughed off reports he'd been asked to switch positions to receiver. "They're all great quarterbacks as well."
While Darnold, widely considered the most-complete of the quarterbacks, declined to declare as much, he embraced the idea of being drafted first overall by Cleveland.
"It would be a great opportunity," Darnold said of potentially going to Cleveland. "It's always been a dream of mine to play in the NFL, and I think turning a franchise around is obviously a hard thing to do, but I'm always accepting of a challenge," he said. "I think it's a really good scenario right now. With the draft picks, the amount of cap room that they have, I would honestly love to play there."
With what has been regarded as one of the best quarterback classes in recent memory, the Browns are positioned to find a long-term answer at the position following the franchise's first-ever winless season.
"You will never know until you go through it all and understand all of the potential players that are there," Browns coach Hue Jackson said Wednesday, "but there are quite a few quarterbacks that we feel are going to be really good players in the National Football League."
On Friday, they all did their best to communicate why they're poised for success at the next level.
"Everybody does things well in their own aspect and we're all different, we all have our pluses, our minuses," Allen said, "but if you don't have the mindset that you're the best quarterback in this draft, you're not going to fare well in this league."​