Want to know who Cleveland Browns rookie cornerback Charles Gaines is as a person? Watch him interact with youth football players at a Play 60 Youth Football Clinic. Gaines' whimsical personality is on full display.
He's encouraging kids to bust out their best touchdown dance, enthusiastically clapping and making up secret handshakes on the fly. He's also pushing the young football players to compete harder than the guy next to him. Gaines is the opposite of shy.
Former teammates of Gaines at Louisville said that frisky energy is a large part of how the cornerback plays football.
"He had the reputation as the talker on the field," said linebacker Lorenzo Mauldin, a third-round pick of the New York Jets and a teammate of Gaines at Louisville. "He can talk the trash, but he can back it up. He's going to get in your ear if you mess up."
Gaines is a former wide receiver, so it's no surprise he likes to be chatty on the field. He's skillfully able to get inside the head of opponents. If a receiver drops a ball, if a running back fumbles or can't read the holes, or if a quarterback makes a bad decision, Gaines doesn't let them forget.
"I can make opponents get out of their game a little bit," Gaines said.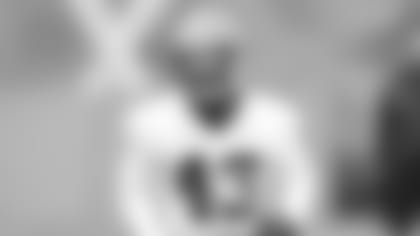 The Cleveland Browns haven't seen that side of Gaines yet. The rookie has come into the building, taken copious notes and kept his mouth shut. But defensive backs coach Jeff Hafley is extremely high on the team's sixth-round pick.
Cleveland put the task of learning both cornerback and nickel back on Gaines' plate – a rarity for a rookie. The team threw him out on the deep end of the pool and, so far, he's swimming on his own. If you watch film of Gaines at Louisville, you'll find he's exactly the mold Cleveland looks for in a cornerback – physical at the line with instinctive coverage skills and maximum effort on every snap.
"What I like about Charles is that he takes coaching hard," Hafley said. "He's improving rapidly and you can see the confidence growing. We heard he was a trash talker coming in, but he's kept a business-like approach so far. But you can tell, each day he's becoming more himself. We want to see that fun personality. But we've respected his approach so far." 
Gaines, in particular, has settled in closely with assistant defensive backs coach Aaron Glenn. The 42-year-old was a three-time All-Pro for the New York Jets and Houston Texans. When Gaines gets back to the team hotel, he sometimes loads up highlight clips from Glenn's 15-year career.
"The coaching has been on another level," Gaines said. "The little things really matter. Coach Glenn has opened my eyes and it's been a blessing to be around him."
When he walked through the front door of the Browns facility, Gaines wondered how he would be received in the defensive backs room. He had heard horror stories of some NFL teammates not mentoring younger teammates because they were scared of the rookie taking their spot. That hasn't been the case at all in Cleveland.
During last week's minicamp, Gaines approached Joe Haden about what he looks for when receivers are lined up in bunch formations. Haden, in turn, said to watch him on a particular play and then expanded further on his explanation of the coverage technique.
"They've made my job so much easier," Gaines said. "There's really just so much knowledge in that room. Nobody shies away."
Special teams will be paramount in what kind of role Gaines plays for the Browns in 2015. But the chatter in the building about the rookie cornerback, from Gaines himself and from the coaching staff, is becoming increasingly louder.