During the month of August ClevelandBrowns.com in partnership with the Pro Football Hall of Fame will run a series of articles entitled "The 16 Cleveland* Browns Gold Jackets". The series reflects back on the men who played for the Cleveland Browns and are members of the Pro Football Hall of Fame.*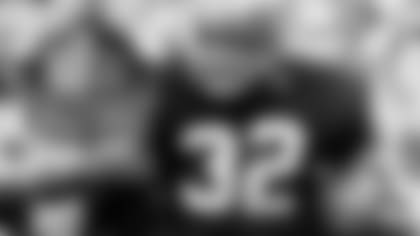 The mission statement of the Pro Football Hall of Fame is to Honor the Heroes of the Game, Preserve Its History, Honor the Values of the Game and Celebrate Excellence Everywhere. No one stands for that mission statement more than the 166 Living Gold Jackets from the 291 Hall of Famers. Jim Brown has been a Hall of Famer for 44 years, one of the longest tenures of any Gold Jacket, and has been national stage for all those years with his strong opinions for the love of the game and the Cleveland Browns. We spoke with Jim about what it means to him to still be affiliated with the Cleveland Browns.
Recently we interviewed Jim to update his profile:
What does it mean to you to still be so involved with the Cleveland Browns?It's a great feeling, particularly the respect that's displayed by the organization.
What does it mean to "Play like a Brown?Play Like A Brown" means to revisit the history of the franchise...and once one revisits the history, you come up with some of the greatest football that's ever been played in the National Football League...Kosar era...Otto Graham era, the 64 championship team.... To go back historically and recognize the great football that the Cleveland Browns have been recognized for is what it means to me.
Jim Brown was a superb craftsman whose primary job was to run with the football for the Cleveland Browns. For nine seasons, he did it better than any player before him. When he retired at the age of 30 at the peak of his career, he left behind a record book clogged with Jim Brown notations.
Brown was more than just a one-of-a-kind running back. He caught passes, returned kickoffs, and even threw three touchdown passes. His 12,312 rushing yards and 15,459 combined net yards put him in a then-class by himself. Jim was a unanimous first-team All-NFL pick eight times, 1957 through 1961, 1963-1965. He played in nine Pro Bowls in nine years and was the game's outstanding back three times. He closed out his career with a three-touchdown outburst in the 1966 Pro Bowl.
"I loved the game. We played because we loved it," commented Brown on his career.
What is it of the game that you still love?The level of skill that's displayed by the great players.
Brown was unanimously named the Rookie of the Year in 1957. He was recognized that season as the NFL's Most Valuable Player by many media organizations. In all, he earned league MVP honors four times (1957, 1958, 1963, and 1965). At Syracuse University, Brown was All-America in both football and lacrosse and a letterman in basketball. Jim selected football as his career sport, however, and thus became the Cleveland Browns' number 1 draft pick in 1957. Even though coach Paul Brown was traditionally reluctant to use rookies as regulars, Jim Brown was a regular and a star from day one.
In the summer of 1966, Jim stunned the sports world with his announcement that he was retiring. Fans still ponder what heights he might have reached had he stayed on the firing line a few more seasons. As exceptional as Brown's statistics were, his durability may have been even more amazing. Despite a constant pounding from defenses always stacked against him personally, he never missed a game in nine years.
Jim Brown parlayed his dominance on the football field into success it. He transitioned into a career in Hollywood towards the end of his football career. Brown began his acting career in 1964 and in total appeared in over 50 movies and television shows, including multiple starring roles. In 2005, the Gold Jacket found himself once again with the Browns – this time in the front office. He took a position as executive advisor to the Browns until 2010. Three years later, under the leadership of Jimmy Haslam, he rejoined Cleveland's front office staff as a special advisor, a role in which he works with the players and represents the franchise at various events. He is a constant presence in Berea and his career epitomizes the new slogan in Cleveland "Play like a Brown."
Brown has used his notoriety as a platform to help others. He has volunteered at and funded many charities. He founded the Amer-I-Can program in 1988. The program's mission is to help enable youth to meet their academic potential, to conform their behavior to acceptable society standards and to improve the quality of their lives by equipping them with the critical life management skills to confidently and successfully contribute to society.
"What I teach kids that I learned from football is to be the best you can be. Use what you have and be as good as you can be," said Brown.
The former running back has been honored numerous times throughout his career. He was inducted into the Pro Football Hall of Fame in 1971, the National Lacrosse Hall of Fame in 1983, the College Football Hall of Fame in 1995 and the Browns Ring of Honor in 2010. The Browns also retired his number in honor of his spectacular career.
HOW DO YOU WANT FANS TO REMEMBER YOU?The level of skill that's displayed by the great players.