JIM RAY SMITH (G, 1956 – '62)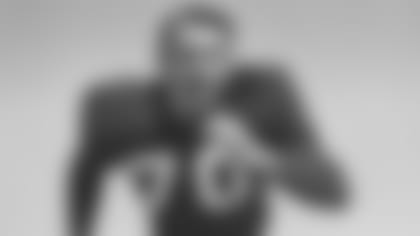 Known for his incredible speed, Smith became a mainstay on the Cleveland line for seven years and was considered one of the best offensive linemen of his era.
Smith attended Baylor University, where he earned two All-America nods. "My mother always wanted me to finish high school. No one in my family on either side had gone past the sixth grade. Well, my brother and I and my sister all graduated from high school and we went on to college and got our degree. If it hadn't been for football, I would never have gone to college without a scholarship."
In 1954, during his sophomore season at Baylor, Smith was drafted by the Cleveland Browns in the sixth round.
JIM RAY SMITH AT BAYLOR
After college, Smith served in the Army. "I was in [the Army] for 23 months, from January 1955 through December 1956," recalled Smith. He joined the Browns midway through the 1956 season. "I took a 30-day leave during training camp to see if I could make the Browns. I did, but I sprained my ankle during an exhibition game in California. They said, 'Why don't you go back to the Army until you get that well. Then we will bring you on up.' There were six or seven games left when they said, 'Well, we will bring you back now.' I took another leave to finish out the 1956 season. I think it was the Philadelphia game in Philadelphia that I took a flight back to Fayetteville, North Carolina when I mustered out of the Army. Then I went back to Cleveland and finished out the season."
In his rookie year with the Browns, Smith played defensive end. "I had gone to Cleveland to take Lenny [Ford's] place," recalled Smith. "I weighed 218 pounds. Of course, Lenny weighed about 265 and was 6'4" or 6'5". In 1955, I played in the College All-Star Game and I played offensive tackle. I was lined up in front of Don Colo and Lenny Ford. [The Cleveland Browns] thought they saw something there as an offensive lineman instead of a defensive end. When I went to camp in 1956, I was a defensive end, but they made me learn all of the offensive guard plays." After one year, head coach Paul Brown switched him to offensive guard and his career took off.
Smith recalled his experiences playing for legendary coach Paul Brown. "At first, not knowing who he was, it was interesting," said Smith. "He was very demanding. He demanded perfection. He was probably the most organized person I have ever known. He could have run any company in the world, particularly in America, the way he organized things." Smith continued, "You had a playbook. If you lost that playbook, it was [a] $500 [fine]. When you weren't making any money, $500 is a whole lot of money."
Smith had the opportunity to block for arguably the greatest running back of all time: Jim Brown. Smith's speed and Brown's ability made Cleveland's end sweep a powerful weapon. "I was there in '56 and Jim came in '57," recalled Smith. "As a pulling guard, you went out to block for him. We would get together to talk about what we were going to do in different situations." That relationship built one of the best running games in history.
BROWNS LEGENDARY OFFENSIVE GUARDS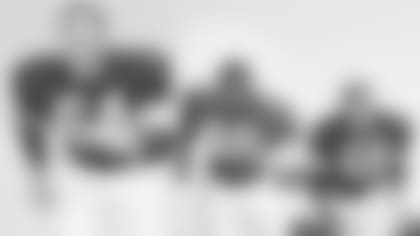 Jim Ray Smith, John Wooten and Gene Hickerson
After the 1961 season, Smith announced his retirement from the game in order to focus on his real estate business. According to Smith, "Ray Renfro and Mike McCormack got me to come back and play in 1962."
He played one more season for the Browns. After the 1962 campaign, Smith again announced his retirement. That was around the same time as the firing of legendary coach Paul Brown by majority owner Art Modell. According to Smith, "We left at the same time." Smith continued, "Our oldest son was going to start school. My wife didn't want to put him in school up there [in Cleveland] for half a year and then bring him down here [to Dallas] for the second half of the year. I was in the real estate business in the off-season and I was doing decent. I just wanted to stay in the Dallas area, so that is what I did."
"Art [Modell] tried to get me to talk to the Cowboys," recalled Smith. "I said, 'I do not want to talk to them.' I know [head coach] Tom [Landry] and other players who play for him. I have no qualms about playing for him. I just did not want to play anymore. I was well. I didn't have any major disasters, like knee problems. I had a few concussions and a shoulder problem, but nothing to keep me from playing. Then Art comes along and he says, 'You are a good player and we would like to get something for you. We would like for you to talk to the Cowboys so that we can make a trade.' I said, 'I do not want to talk to them. I would rather leave it just like it is.' After a couple of hours of listening, I said, "OK, I will talk to them, but I am here to tell you that I am not going to play for them.' Before I got back to my office, [the Cowboys] had called and we had lunch. I said, 'No. No. No.' We had lunch the next day and I said, 'No. No. No.' Finally, they put some pressure on and they thought I had to play. So, I played." Smith was traded to the Dallas Cowboys for tackle Monte Clark.
JIM RAY SMITH IN CLEVELAND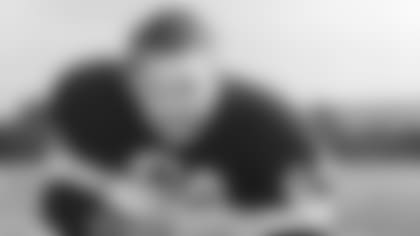 Commenting on the differences playing for Paul Brown versus Tom Landry, Smith said, "It was different. [Landry and I] were friends in the off-season. Tom is a good man. He was good because he is hard-headed. Paul Brown was hard-headed. Most great leaders are hard-headed. It is not a negative saying that. They are set on what they want to do and they are going to do it. Tom looked at an offense from a defensive standpoint. Paul Brown looked at an offense from an offensive standpoint. Paul says, 'Every play that you run goes for a touchdown.' Tom's theory was that you go for two yards or five yards or ten yards. Then you throw the bomb for a touchdown. Paul Brown thought that if you had a short pass and everyone did what they were supposed to do, it's a touchdown. Everything goes for a touchdown." Smith continued, "One thing Tom did was that he changed blocking assignments during the week. Once, twice, maybe three times. You get in the heat of a game and they call the play that you had been going over. Now, was it the one we did on Tuesday, or Thursday, or was it this morning? He has changed it and I forgot what blocking scheme we were going to use. But, it all worked out."
After two injury-riddled seasons with the Cowboys, Smith retired for good after the 1964 season. Smith commented, "My first year [with the Cowboys], I was on a kickoff and got rolled up on my knee. I didn't even see the play. I tore my knee up in the middle of the season and again the second year. I had two knee operations with the Cowboys. I had two broken hands with the Cowboys and I had two concussions with the Cowboys."
Smith focused his time on his real estate business. Smith explained, "Well, it was on the commercial end. Some leasing and some warehouse development. I was basically a broker. I ended up meeting Ed Gaylord here in Dallas. He owned Opryland, Oklahoma Publishing, and several television stations. I handled their land in the Dallas area for about 28 years. It was a good relationship. It helped me put three kids through college."
In 2005, Smith was inducted into the Cleveland Browns Legends.
2005 CLEVELAND BROWNS LEGENDS CLASS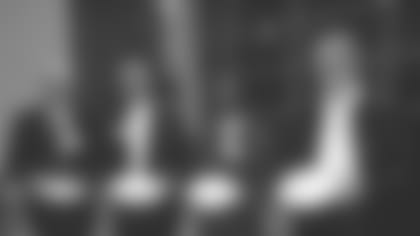 Frank Ryan, Jim Ray Smith, Frank Minnifield and Jerry Sherk
In 2008, Smith was inducted into the Professional Football Researchers Association's (PFRA) Hall of Very Good. Formed in 2003, the Hall of Very Good is the PFRA's way of honoring players who have had excellent careers, but are not in the Pro Football Hall of Fame. "I thought that was great. Somebody is still looking after the old guys!"
"It is kind of like a lot of things that have happened since I retired, especially since the calendar has gone to 2000. You sit back and think that you have been forgotten. One of the things, when I left Cleveland, the managers said, 'We are going to clean up your uniform and send it to Canton, because you will be inducted into the Hall of Fame in a few years and we want to make sure that they have got it.' Well, I went over there one day and I was looking around and I asked if they had Ray Renfro's uniform there. They said, 'Yup.' I said that I would like to see it. So, we went down into the vaults. They bring it out and I take pictures holding it. As we left, I said, 'By the way, is my uniform here?' They said, 'Oh, no. You are not here.' When I got home, I had a message from the Cleveland people. They said, 'The guy is extremely embarrassed, because your uniform is down there.' I said, 'Well, tell them to send it on to me. If they are not going to let me in the Hall of Fame, I would like to have it here and give it to my kids.' They said, 'No. No. We can not do that.' I said, 'What are you going to do, just hide it?' So, it is still there. It is probably like Ray Renfro and a lot of other guys who have their stuff there, but will never get in. Some of them need to be [inducted]. Maybe I was never that good."
When asked about his Hall of Fame chances, Smith commented, "I am not mad. I don't think that I have ever been selected to go through the process. I am 81 years old and I have lived without it."
Currently, Smith is semi-retired. "I like to call it tiddling," joked Smith. "I still do a little bit of [real estate]. A little bit in the oil business. I bought a little land. I was born and raised about 50 miles south of Houston in West Columbia. I have a little land down there. Nothing big. Just a few little acres. I just watch my retirement portfolio. I try to play a little golf." He also enjoys spending time with his family. "We have three kids and four grandkids. Hopefully, we will add some more on."
CARTOON OF JIM RAY SMITH FROM 1960'S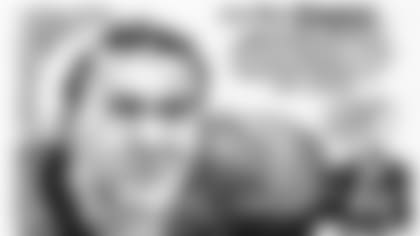 Smith is also feeling the impact of his playing days. "In the last three years or so, both of my shoulders have started hurting. Finally, it got so bad that I had the ball in my left shoulder removed and another put in." He joked, "I tell everyone that they cut your arm off and they take a drill and drill down your arm bone. Then they put this titanium shaft with a ball on it and take a sledgehammer and drive it in there and then tie it all back together." He continued, "I am still having a little problem with it, but I am having more problems with the other one. Part of it is football and part of it is just aging. You just kind of laugh and bear it, and keep going and enjoy life and your kids and grandkids. And try to make a hole-in-one every once-in-a-while."
For the last 30 years or more, Smith has been on the Board of Directors for the Cotton Bowl Athletic Association. "It was set up with three representatives from each of the schools in the Southwest Conference. One of the members from Baylor was going out and he didn't want to come back in. He said that they should get in touch with me. That was in the 70s sometime. I have been involved with it ever since. It has been a great experience."
"The good Lord said, 'Boy, we are going to make a football player out of you until we figure out what to do with you.' I guess he made a pretty good football player. I don't know."
Smith currently lives in Dallas, TX with his wife Paula.
• Cleveland Browns (1956-62)
• Dallas Cowboys (1963-64)
Awards:
• Named to the Pro Bowl five times
• Inducted into the Baylor University Athletics Hall of Fame (1968)
• Inducted into the College Football Hall of Fame (1987)
• Inducted into the Cleveland Browns Legends (2005)
• Inducted into the Texas Sports Hall of Fame (2008)
• Inducted into the Professional Football Researchers Association's Hall of Very Good (2008)
KEN CRIPPEN is the former executive director of the Professional Football Researchers Association. He has researched and written about pro football history for over two decades. He won the Pro Football Writers of America's Dick Connor Writing Award for Feature Writing and was named the Ralph Hay Award winner by the Professional Football Researchers Association for lifetime achievement on pro football history. This article originally appeared on the National Football Post on November 13, 2013.