Last year, the Browns went 7-9. If you ask Donte Whitner, Cleveland was 10-12 plays away from earning a postseason berth.  
After playing in three straight NFC championship games with the San Francisco 49ers, Whitner senses several key components coming together in Berea that suggest the Browns will improve on their win total.
Coaches and players are developing trust together. Veteran leadership is apparent at every position. And the secondary can be the absolute best in the NFL, the three-time Pro Bowler said. 
"It's really big," Whitner said. "Losing so many games by three-four points, we understand it was maybe 10-12 plays that kept us out of the playoffs. We understand if we go out and correct certain things, maybe we're not even in close games at the end of the football game. Maybe we win by two-three touchdowns."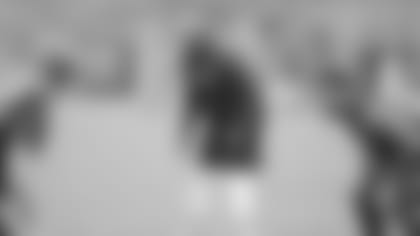 Whitner became a de facto spokesman when he signed with the franchise in March 2014, commenting on everything Browns related. He's not one to sugarcoat either, which is why his observations about quarterback Josh McCown shouldn't be taken lightly.
"I can tell you one thing: Josh looks good – really, really good," Whitner said. "I remember playing him in Chicago a couple of years ago with San Francisco. We actually thought he looked better than (Jay) Cutler.
"Especially when he gets time to throw the football. When you get skill guys around Josh, he knows where to go. This is his 14th year. And he's still a guy that can get out on the basketball court and dunk a basketball. He's a guy that still has a lot of athletic ability. He has a strong arm. He knows all the reads. Today, he beat Joe Haden on a double-move – and he told Joe he was coming after him!"
Another quarterback, Johnny Manziel, is someone whom which Whitner hasn't been shy about in expressing his opinion. At the conclusion of last season, Whitner pleaded with some of his younger teammates to do some soul searching in the offseason and prove they want to help the Browns win football games.
Manziel took that message to heart.
What's changed from Whitner's perspective has to do with Manziel's car. When Whitner pulls into the team facility parking lot each morning, Manziel's vehicle is parked in the same spot. And when Whitner leaves after putting in a hard day of work, the car is still there.   
"There are certain guys that stay later, get here earlier and he's been one of those guys," Whitner said. "Everything off the field and the things he's supposed to be doing, he's really doing. So hopefully that translates to him going out there and making plays and becoming the quarterback we think he can become and he wants to become."
As Whitner walked off the practice field, drenched in sweat alongside his teammates, his body language matched his words: The Browns are focused on making the plays that will put them in the playoffs.