At 30 years old, Browns quarterbacks coach Kevin O'Connell is one of the youngest position coaches in the entire NFL.
But in the eyes of coach Mike Pettine and the rest of the Browns coaching staff, 30 is just an arbitrary number attached to O'Connell's name.
Pettine first met O'Connell with the Jets in 2009. New York plucked away the former New England Patriot quarterback on waivers during training camp, which enticed Pettine and current Browns defensive coordinator Jim O'Neil: What exactly could this kid tell us about Tom Brady's offense?
As a 24-year-old backup quarterback, O'Connell got up on the drawing board and galvanized Pettine with X's and O's. O'Connell pinpointed weaknesses in the Jets' coverages and diagrammed how opposing offensive lines would pick up their exotic blitzes. O'Neil told ClevelandBrowns.com he stayed in touch with O'Connell over the years, and O'Connell has helped design blitzes – some were even implemented in the Browns' scheme last season.
"He displayed knowledge of football schematics far beyond your typical player – even for a quarterback," Pettine said. "The combination of personality and knowledge made it clear he would make an outstanding coach. He was outstanding in the interview and instantly fit in with our group of offensive coaches that sat in."
"I've always been incredibly close with Coach Pettine and Jim O'Neil from my time in New York," said O'Connell. "I knew that coaching was something that was maybe in my future, something I was really passionate about."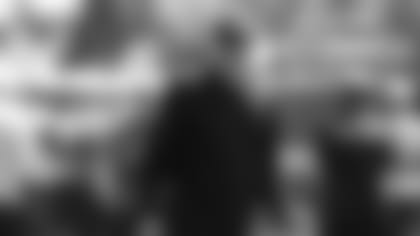 The future is now for O'Connell, who will embark on his first season as an NFL position coach. And he isn't exactly stepping into a crystal clear situation with a franchise quarterback in place. His coaching will matter.
Josh McCown has shown leadership and a capable playmaking arm in the offseason program, but he's playing for his seventh NFL team. Johnny Manziel has worked with O'Connell in the past during his pre-draft training, drawing rave reviews from the young coach. But Manziel's rookie season wasn't one the competitive 22-year-old was proud of. Connor Shaw and Thaddeus Lewis have minimal experience between them and will duke it out for the final roster spot in the preseason.
Pettine and O'Connell concur on this: Cleveland's quarterback unit, especially McCown, may have detractors across the league. But they still have potential to be coached up to play effective, winning football.
"The fact that Josh has played this long, he's obviously done some really good things and a lot of people talk about the time in 2013 with Chicago," said O'Connell. "He was put in some good situations in Chicago and he thrived and that's our goal for him to do here.
"My job on a daily basis is the little things, the small things, do whatever I can to help those guys play their absolute best. Whether it's a running play on first-and-10 or it's a critical third-and-9 in the red zone. The quarterback's got to execute the play. If we can get all 11 guys doing their jobs, that's really what it's about and we've got a good chance of being successful."