INDIANAPOLIS -- John Dorsey didn't feed into any of the assumptions about what the Browns plan to do with the No. 1 pick during his Thursday media session at the 2018 NFL Combine.
The Browns general manager said the Browns were willing to do "a lot of things" with the first pick in the draft, and that includes selecting someone other than a quarterback or even trading the pick.
"There's a lot of things I can do at No. 1 and not just get a quarterback as well," Dorsey said. "My door is wide open if somebody wants to come up and talk to me about a trade, I'm willing to trade. But also I'm going to do what's best for this organization, and I will do that.
"Any good GM wants to field phone calls from all of his peers. Why wouldn't I? That's why I say, 'Give me a call and see what's up.'"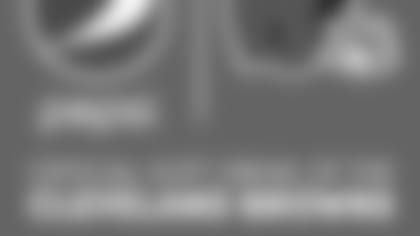 ](https://www.pepsi.com/en-us/)
Dorsey has been in this position before, and he's been known to keep those outside of his organization guessing about his plans up until they're announced at the draft.
In his first season as general manager of the Chiefs, Dorsey's big move was a trade one month before the draft to secure the quarterback position with veteran Alex Smith. He followed at the draft by taking Central Michigan left tackle Eric Fisher with the No. 1 pick.
In 2016, Dorsey didn't use his first-round pick at all, as he traded down, acquired assets and snagged defensive lineman Chris Jones, who has played at a first-round level, in the second round. And just last year, Dorsey pulled the biggest stunner in the first round when he executed a trade up from the bottom of the first round to No. 10 that landed Texas Tech quarterback Patrick Mahomes.
Cleveland's plans, Dorsey stressed repeatedly, are fluid. Every last second of every day leading up to the first round, which is set for April 26, will be utilized to make the best possible decision.
"Right now we're early in the process," Dorsey said. "We're still trying to finalize our preparation with the college draft. We're here and we're meeting with players. It's early in the process."
Dorsey said the team had already met with one of the top quarterbacks and planned to sit down with the rest by the end of the week. Over the course of the week, teams can meet with up to 60 players, 15 minutes at a time.
"There are a lot of good players in this draft with regards to (quarterback)," Dorsey said. "I can't wait. Then I can't wait to watch them compete on the field. If they don't compete, we'll go see them at their Pro Day."
Next up are the players' pro days at their respective schools. One of significant importance is USC's, where top-rated quarterback Sam Darnold, who plans to bypass throwing drills Saturday at the combine, will throw for scouts for the first time.
Another fluid aspect is the team's plans for the 30 in-facility visits it's permitted to host with draft prospects. Dorsey said the team hasn't finalized its list, but the potential candidates have been pared down.
"As an organization, we understand this is a pivotal offseason for us," Dorsey said. "We have really done our due diligence laying out our plan, and I feel really good about that plan moving forward."