INDIANAPOLIS -- Saquon Barkley was as advertised from start to finish during Friday's on-field drills at the 2018 NFL Combine.
That meant the Penn State running back broke away from a deep pack of talented running backs in a variety of ways, as he posted impressive numbers on the bench press, vertical leap, 40-yard dash and many more.
One day after posting 29 repetitions on the bench press, tied for the best total among all running backs and even most offensive linemen, Barkley clocked a 4.40-second 40-yard dash -- second-best among all running backs and just a few one-hundredths of a second behind NC State's Nyheim Hines, who is 36 pounds lighter -- and posted the best vertical leap (41 inches). According to NFL Research, Barkley is just the second player to ever post 25 or more bench press repetitions to go along with a vertical leap of 40 inches or better.
The first? Browns defensive end Myles Garrett, who was the first pick in last year's draft.
"I try to be a versatile player. I'm very confident in myself," Barkley said Thursday. "Whether the ball's on the 1-yard line or the 99-yard line, I like to think I can find a way to get into the end zone.
"I can do it all. I can go over top of you. I can beat you with speed. I can beat you with some wiggle. I can run through you. I try to improve every day."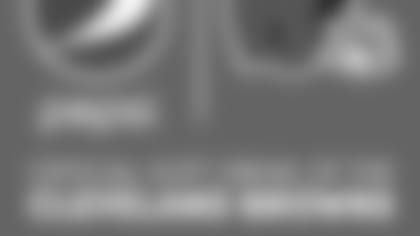 ](https://www.pepsi.com/en-us/)
Barkley said Thursday it'd be "awesome" to land in Cleveland, which holds both the first and fourth picks in this year's first round. Asked specifically about Barkley, Browns general manager John Dorsey said simply, "he's a good football player."
Dorsey drafted one of the league's top running backs in last year's third round, Kareem Hunt, in his final year with the Chiefs. He made clear that there's still plenty of reasons to draft a running back early if the player can be a true "difference-maker."
"I think there are some really talented running backs in this thing. That is not to say whoever the first running back taken can't be a franchise difference-maker," Dorsey said. "That is how you have to look at these things as well. I mean, if you look back at Gale Sayers. What was Gale Sayers picked back in the day? He was picked up really early and he was a difference-maker. So, I mean, it is a case-by-case study."