CINCINNATI -- Three quick reactions to the Browns' 31-17 loss to the Bengals …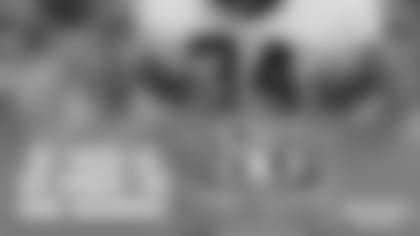 ](http://www.clevelandbrowns.com/news/article-5/1986-Browns-team-to-be-honored-1030/5bf3d609-a3ab-49e9-8ffe-2736870a4f04)Browns turn to Hogan after Kessler injury**
The Browns had plans to use rookie Kevin Hogan throughout Sunday's game, but they were forced to go with the former Stanford product full-time when even more adversity hit the position.
After taking a string of hard hits throughout the first half, Cody Kessler was knocked out of the game with a concussion. It's the second time Kessler has been sidelined during a game in three weeks, and it marked the second time Cleveland had to turn to a quarterback who hadn't previously seen the field at all this season.
But instead of veteran Charlie Whitehurst, it was Hogan, who was added to the Browns practice squad shortly before the season opener. Drafted in the fifth round by the Kansas City Chiefs, Hogan found himself elevated to next man up after a series of unfortunate injuries at quarterback. And on Sunday, he was pegged to receive his first action as a change-of-pace, zone-read quarterback.
It was humming along nicely, too, as Hogan caught the Bengals defense off guard and picked up rushing yards in chunks. And when he took over full-time, he still found ways to make an impact as a runner, slashing his way to an improbable 28-yard touchdown run to cut Cincinnati's deficit in the third quarter to four.
Ultimately, it was just a tough spot for Hogan, who didn't find much success after his touchdown run. He finished 12-of-24 for 100 yards and two interceptions with 104 rushing yards.
As the Browns prepare for next week's game against the Jets, there will be two quarterbacks on the injury report to monitor with Kessler and Josh McCown, who has practiced the past two weeks but hasn't been active since Week 2 with a shoulder injury.
Bengals gash Browns D on ground
Cincinnati took an early lead thanks to strong running from Jeremy Hill and snatched away any momentum Cleveland gained in the third quarter with Hill's longest of the season.
Hill's 40-yard run on Cincinnati's opening drive paced a possession that ended with Giovani Bernard's 5-yard touchdown. It marked the fourth straight game in which Cleveland's defense surrendered a touchdown on its first drive.
After Hogan's 28-yard touchdown run, Hill broke free and raced 74 yards for a touchdown that promptly put the Bengals ahead by 11. Hill had 168 of Cincinnati's 271 rushing yards, by far the most Cleveland has surrendered on the season.
The Bengals amassed 559 yards of offense.
The Browns made some tweaks to their offensive line before the game and were forced to make another when center Cameron Erving left the game in the second half because of an illness.
Rookie Spencer Drango, who has been tasked to learn a number of spots over the past few months, got the start at left guard and played there for most of the game. He left briefly with an injury but returned shortly thereafter.
During the second quarter, rookie Shon Coleman received a handful of snaps at right tackle. The third-round rookie was inactive for multiple games to start the year but received his first playing time last week and saw an increase Sunday.
With Erving out of the lineup, John Greco moved over from right guard to center, Alvin Bailey played at right guard and Austin Pasztor worked at right tackle.
The offensive line cleared the way for a bounce-back rushing performance from the Cleveland offense, which struggled the previous two weeks but finished Sunday's game with 180 yards on 26 attempts. Hogan was sacked twice and Kessler took a handful of hard hits from Bengals pass rushers.
Cleveland has started the same offensive line in back-to-back games just once this season.
Take a look at the best photos from the Browns vs. Bengals game in Week 7.