1) Browns confident in McCown if he practices Friday
Josh McCown can emerge from the NFL's concussion protocol Friday if he passes all of the required tests.
Browns coach Mike Pettine joked there wasn't a "PhD" after his name and he couldn't predict the future. He used the word "hopeful" to describe his feelings about McCown, who was sidelined after just one series in Cleveland's season opener.
Pettine will know much more about his starting quarterback for Sunday's home opener at this time Friday.
"If he's cleared and practices fully tomorrow I don't see -- barring anything unforeseen -- a reason why we wouldn't play him," Pettine said.
On a different week, the transition from one practice to the game might be more of a challenge, but the Jets and Titans tout similar defenses, Pettine said. There's also all the "over-install" that goes into the season opener, which is truly months in the making.
"When we game plan for the first quarter of the season and started to work some of that stuff late in training camp, it carries over," Pettine said. "If this was a completely different plan and it wasn't this close to coming out of training camp, I think the situation would be different, but he's gotten quality reps on a lot of the elements of the plan that we have up."
Left tackle Joe Thomas called the Friday practice the "most important" of the week because "it is kind of where you put it all together."
The Browns have spent the past two practices preparing as if Johnny Manziel would be the starter against Tennessee. Players have expressed their confidence in Manziel, who has shown noticeable improvement since his outings last season, and expressed a similar belief in McCown, a 36-year-old veteran who quickly won over his teammates and coaches this offseason with his ability to pick up and lead the offense.
"As long as he gets a Friday in, I think he would have no problem stepping in and not missing a beat," Thomas said.
Evaluating Duke Johnson's first appearance
---
*Offensive coordinator John DeFilippo said the Browns' very first play of the 2015 season was meant to get the ball in rookie running back Duke Johnson Jr.'s hands.
The Jets sniffed it out, though, and McCown opted for his second progression, tight end Jim Dray on a deep out down the field. The ball slipped out of Dray's hands for an incomplete pass.
"We thought they were going to come out in man coverage," DeFilippo said. "They came out in zone coverage and (Antonio) Cromartie got width with him. We were going to throw him a swing pass on the first play of the game just to get him going."
Johnson, who caught 38 passes out of the backfield as a junior at the University of Miami, ultimately wasn't targeted as a receiver against the Jets, but he made an impression on DeFilippo with his mental wherewithal. He was tracked as playing 31 snaps in his first action since suffering a concussion in the Browns' third preseason game against the Buccaneers.
Johnson finished with seven rushes for 22 yards.
"I saw Duke not make any mental mistakes," DeFilippo said. "I think for a first game for a rookie on that stage shows that it is not too big for him."
Scott Solomon's injury tough to swallow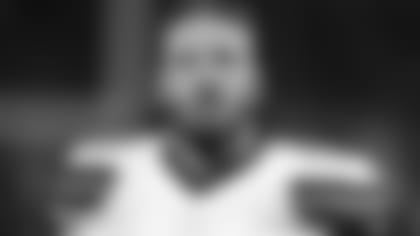 Jim O'Neil never wants to see one his players go down, but it hurt the Browns defensive coordinator a little extra last week when outside linebacker Scott Solomon limped off the field with an ankle injury. Solomon's 2015 debut against one of his former teams lasted all of a few plays.
"That game meant a lot to him because that team cut him," O'Neil said. "For him to get hurt on the second play of the game with how hard he's worked and where he came from was tough on him. I know it was. It was tough for us coaches to see that because I really wanted that kid to have success."
Solomon, who was one of the Browns' top performing players throughout the offseason, is expected to miss a few weeks with his injury. Players such as Armonty Bryant, Barkevious Mingo and rookie Nate Orchard are expected to fill the void.
O'Neil expects Solomon to make an impact whenever he returns to the lineup, and Solomon echoed that point.
"Anytime you get hurt, it's tough," Solomon said. "You obviously don't want that to happen but you just have to do everything you can to get back on the field, which I'm in the process of doing now."
Travis Coons' record extra point no laughing matter
Pettine and special teams coordinator Chris Tabor tossed out a few jokes Thursday about Travis Coons' 48-yard extra point last week against the Jets.
"We were worried about a kicker getting live game experience. He got three reps. One at (the distance) of an extra point and two at field goals and was 3-for-3," Pettine said.
"That's why we attempted three on that one right there," Tabor said with a smile. "I'm glad he made them, he did a nice job and came through for us."
Still, the penalties that occurred before the 48-yard attempt were what stuck with Tabor in the hours and days after Coons' memorable kick.
"First one we didn't have enough men on the line of scrimmage and then on the next one they called hooking on Cromartie coming around the edge there," Tabor said. "Obviously, as it's going further and further back, your chances of it going through are obviously going down and every point is critical, especially when you're on the road. I was pleased that the kid came through. He was unfazed and that said a lot about him."
Kick returner a mix while Travis Benjamin instills even more confidence on punts
Tabor said running back Shaun Draughn and wide receiver Marlon Moore are both "in the mix" at kick returner and so, too, is defensive back Justin Gilbert, who has been sidelined close to a month with a hip flexor injury.
"Obviously, the injury did set him back but he's a guy that's definitely in the mix," Tabor said. "He just wasn't up for the game and had been, he'll be a guy that we will put back there."
Draughn was only able to field one kick against the Jets and returned it 27 yards. The rest went for touchbacks, which is typical at this point of the season, Tabor said.
Travis Benjamin, meanwhile, instilled even more confidence than what already existed with Tabor, who has been one of the fourth-year speedster's biggest supporters.
Benjamin's only punt return went for 10 yards. Going back to the preseason, his last three have gone for 17, 54 and 10 yards, respectively, with the 54-yarder resulting in a touchdown.
"When you see him catch the football, is he square? He's not chasing the ball and his hands are high," Tabor said. "The way he's catching the ball, you see that he's exuding a lot of confidence. He got it, he made a decision, went quickly and he got us 10 yards. We're always saying, let's get the first first down and then everything after that is gravy."