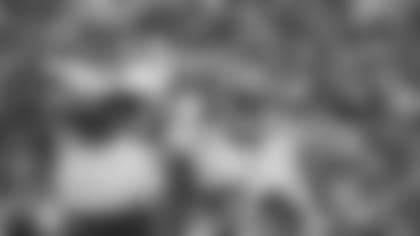 The AFC is chock full of teams with winning records, significantly more so than the NFC, so there are no guarantees for many of those still in the hunt for one of six coveted playoff spots. Even after Sunday's loss at Buffalo, the Browns, who are one of six AFC teams with a 7-5 record, are very much in the mix.
If the playoffs started today, the tiebreakers wouldn't work in the Browns' favor. Miami, which escaped with a victory Monday against the New York Jets, would be the one 7-5 team to make the playoffs as the No. 6-seeded Wild Card.
The reasons why are complex -- and you can see why here -- but the Browns currently don't benefit from the NFL's tie-breaking procedures. That's why winning -- duh -- in the month of December is so pivotal.
"We've got four games left, but we don't have much of a margin for error with playoffs being one of the goals that we set down at the beginning of the season," Browns coach Mike Pettine said Monday. "Our sense of urgency has to increase moving forward."
If the Browns want it to be a December to remember, they'll likely need to win three of their final four games to have a shot. Even then, it's not a guarantee.
Though the Browns sit one game back in the Wild Card and 1 ½ games behind the Cincinnati Bengals in the AFC North, the clearest path to the playoff comes through the division. That eliminates a lot of the messy tiebreakers.
Just like we did last week, we're analyzing where it all stands with four games to play.
Dec. 7 - Indianapolis (8-4)
Dec. 14 - Cincinnati (8-3-1)
Dec. 21 - at Carolina (3-8-1)
Dec. 28 - at Baltimore (7-5)
Biggest game: With a gauntlet like this, it's basically pick your poison. The Browns need to beat the South-leading Colts, who nearly put up a 50-burger on Washington last week, before they can even look ahead to their other opponents.
Player to watch: WR Josh Gordon - The talented wide receiver promises to only get better as he gets back up to speed. The 23-year-old led the league in receiving last season and already has 15 catches for 195 yards in two games.
Dec. 7 - Pittsburgh (7-5)
Dec. 14 - at Cleveland (7-5)
Dec. 28 - at Pittsburgh (7-5)
Biggest game: The Bengals haven't won at FirstEnergy Stadium in their last two tries and were completely shut down by Cleveland in last month's matchup. For tiebreaker purposes, this one's huge.
Player to watch: LB Vontaze Burfict - The heart and soul of Cincinnati's defense missed the entire month of November with a knee injury. He's anticipated to be back soon, though, and there's no telling what kind of emotional lift he'll provide.
Dec. 7 - at Cincinnati (8-3-1)
Dec. 14 - at Atlanta (5-7)
Dec. 21 - Kansas City (7-5)
Dec. 28 - Cincinnati (8-3-1)
Biggest game: Something tells us that the regular season finale at Heinz Field's going to be important. Pittsburgh's up and down season has included a mix of dominant performances and puzzling losses at its home stadium.
Player to watch: QB Ben Roethlisberger - This is money time for the veteran signal-caller. Fourth in the NFL in passing yards, the 11-year Steelers starter is on pace to finish with the highest total of his career.
Dec. 14 - Jacksonville (2-10)
Dec. 21 - at Houston (6-6)
Dec. 28 - Cleveland (7-5)
Biggest game: The road hasn't been much of an issue for the Ravens, who are 3-3 away from M&T Bank Stadium and scored a pivotal win two weeks ago in hostile New Orleans. Baltimore will have an extra day of rest advantage over the Dolphins, whose past three losses have been by a combined 10 points.
Player to watch: RB Justin Forsett - He wasn't on many fantasy football rosters to start the season but he sits fourth in the NFL with 1,009 rushing yards and seven touchdowns. He's cleared 100 yards in three consecutive games and averaged better than 6 yards per carry over that stretch.
Dec. 7 - New England (9-3)
Dec. 20 - at San Francisco (7-5)
Dec 28 - at Kansas City (7-5)
Biggest game: The Chargers will be looking to replicate the magic they worked against the Chiefs in last year's regular season finale. Only this time, a 9-7 record won't be good enough to sneak into the playoffs with an overtime victory.
Player to watch: RB Ryan Mathews - The fifth-year pro is at least forcing defenses to pay attention to the Chargers' running game now that he's back from a knee injury. His numbers haven't been huge, but his presence, at the least, takes some pressure off quarterback Philip Rivers.
Dec. 14 - at New England (9-3)
Dec. 21 - Minnesota (5-7)
Dec. 28 - New York Jets (2-10)
Biggest game: You might chuckle, but the Dolphins can't sleep on the Jets in their regular season finale. The Jets nearly won Monday and might just embrace the spoiler role in Miami's home stadium. A division loss would really hurt some of Miami's tiebreaker advantages.
Player to watch: CB Brent Grimes - The eight-year veteran is playing some of the best football of his career. He's second in the league behind the Browns' Tashaun Gipson with five interceptions.
Dec. 7 - at Arizona (9-3)
Dec. 21 - at Pittsburgh (7-5)
Dec. 28 - San Diego (8-4)
Biggest game: The Chiefs could be walking into a hornets' nest Sunday in the desert. The Cardinals have lost two straight on the road and will be hungry for a win in front of their home fans.
Player to watch: LB Justin Houston - The fourth-year pro is in the midst of the best season of his career. The former Georgia star leads the league with 14 sacks, picking up at least one in all but three games.
Dec. 14 - Green Bay (9-3)
Dec. 21 - at Oakland (1-11)
Dec. 28 - at New England (9-3)
Biggest game: Like the Browns, the Bills need to take care of Step 1 before they can look ahead and start making playoff plans. The Broncos have appeared more vulnerable than they were last year, but it will take Buffalo's best performance to take down the defending AFC champions.
Player to watch: WR Robert Woods - Rookie Sammy Watkins is typically drawing the toughest cornerback, and Woods has made the most of it in recent weeks. His long fourth-down catch against the Browns was, perhaps, Sunday's turning point, and he's caught at least five balls in the past four games.
Dec. 14 - at Indianapolis
Biggest game: With zero margin for error, the Texans need to win them all to even have a chance. That said, we're looking ahead to their showdown with the Colts, whom they nearly beat earlier this season in Houston.

Player to watch: DE J.J. Watt - He's arguably the best player at any position in the NFL and he's showed off his versatility by catching touchdown passes for the offense. There's no way around it: He's a beast.