The Browns have been leaders in the NFL in giving women an opportunity to build careers at the top levels in professional football, and they were given a chance to reflect on those efforts — and how they've created a environment sustainable for women to grow in the organization — at the NFL Women's Forum on Feb. 28 at the combine.
Browns Executive Vice President and GM Andrew Berry and assistant wide receivers coach Callie Brownson each spoke in a panel discussion to hundreds of women interested in furthering their careers in the sport and how progress can continue to be to make football more inclusive for everyone. Berry and Brownson were among panel participants that also included NFL commissioner Roger Goodell, Buccaneers co-owner Darcie Glazer Kassewitz and others.
For Berry, the reasoning behind why it's important to hire women in a front office and coaching staff is simple.
"We compete as hard as possible for talent on the field. Why wouldn't we do the same for coaches, football operations, player personnel and scouting?" he said to the audience. "Really, that's the approach that we took. Talent can come in many different forms or many different areas, and our goal has always been to find the best and brightest to ultimately help us make better decisions and help us win games."
And for Brownson, the criteria for what constitutes success for any woman working in the NFL is the same as it is for anyone on the coaching staff.
"I think success is adding value and ultimately in your piece of making the team better in your capacity and in your role," she said. "I've always thought, 'Am I making the lives of the people around me easier? Am I making their jobs easier?' That's success to me. That means I'm doing my job."
Berry's remarks and Brownson's successes show how it's possible for the NFL to be a more equal and diverse workplace for women, and events like the Women's Forum will help accelerate that. The seventh annual forum connected  41 women, 60 percent of whom were women of color, with leaders in professional football to provide insight and networking opportunities for their careers in the areas of scouting, coaching and football operations.
Brownson remembered being at the first forum, where the conversation was much different from the one they were having in 2023.
"Seven years ago at the forum, if you ask the question, 'What is the greatest obstacle for women in football? The answer would have probably been available opportunities,'" Brownson said. "And here we are seven years later, and there are seats at the table that were not there before, and now the theme of what we're talking about isn't as big as an obstacle — it's internal and self-imposed."
Berry offered the audience a summary of how he views the proper way to go about a hiring process, which goes beyond simply assessing a candidate's football knowledge and learning significantly more about their background.
"We believe hiring on, what I would say, trajectory," he said. "We want well-rounded people who are really bright and interested in football, but also really, really broad. We care less about, what I would say, role-related knowledge and experience on the front end. Our view is OK, if they have an interest in football, if they're real smart, but they have an interest for assistant GM — like Catherine Raîche. She's fluent in three different languages. We've had people who are avid hikers or really accomplished musicians. We felt like adding those people to the organization, if they had an interest in football, it just gave them more bandwidth, whether it's in terms of their ability to solve problems across a number of different domains within football operations, but also in relatability, whether it's in an entry-level role or as they progress in their career because we do work in a people business. 
"To be able to have people that have a diverse set of experiences that allows them to be able to connect and have different touchpoints, whether that's players, coaches, staff, ownership, people who work in the league office, we've found that to be incredibly valuable. We've largely taken that approach, and it's been very successful for us."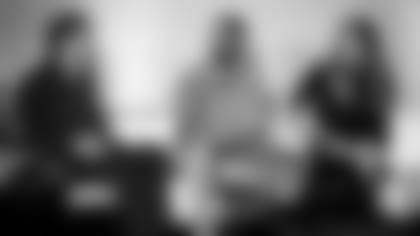 That approach can still lead to a team selecting who they believe is the best and most talented person for the job.
"At the end of the day, whoever we bring in is coming in to be a Cleveland Brown," Brownson said. "It's not about bringing in a female Bill Walsh (Diversity Coaching) fellow, it's about bringing in a Bill Walsh fellow. It's not about bringing in female seasonal ops interns, it's about bringing in seasonal ops interns. To us, it's about bringing in the best people, and we build culture around the fact that you're here because you are the best, period."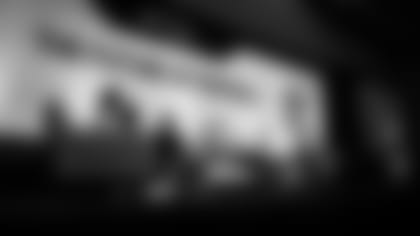 Head coach Kevin Stefanski was also recognized with other select NFL coaches during the forum for his efforts in providing women an avenue to success in the league. He recently promoted Riley Hecklinski, another woman who started with the Browns as a scouting assistant in 2020, to the role of coordinator of coaching logistics for 2023.
"Riley's been awesome," Stefanski said. "She's been in our building as a scouting assistant, so you see her work ethic. She's the daughter of a coach (Jeff Hecklinski), so she knows the profession. She knows the work that it takes. She's really sharp, so she's a young person that we're enjoying having on our staff and, I think, growing as a young person in this business."
Stefanski made sure to applaud Sam Rapoport, the NFL's Senior Director of Diversity & Inclusion, for the impact she's made on the sport and helping the league establish and build careers for women.
"(Diversity) is really important to me, and it's really important to our ownership group and Andrew," Stefanski said. "We want to have a diverse staff, diversity of thought and diversity of opinion. We want young, old, Black and white, male and female. I just think that's when you get different viewpoints. I have to applaud the NFL for the work they're doing here with the Women's Forum. Sam is killing it with what she's doing and the impact she's having on our game."