Paul Kruger has five sacks this season. In 2013, he had 4.5 the entire season.
Clearly Mike Pettine and Jim O'Neil's scheme suit Kruger's style and he explained why to ClevelandBrowns.com
"The biggest difference is that we've been keeping very simple game plans – allowing guys to really figure out their own game and make plays against guys one-on-one," said Kruger. "And the other thing, we've been blitzing at the ideal times. That's really created some fun scenarios for us like we saw against the Raiders. Guys coming in free and creating havoc all-around."
In particular, it's the one-on-one matchups being created for Kruger (in addition to less coverage responsibilities) that have him on pace for a possible Pro Bowl season. In the following film breakdown, we'll highlight his three sacks.
Paul Kruger's first sack vs. Oakland
Situation: 1st and 10 at CLE 32 – 3:07 left in the second quarter, Browns leading 9-0
Formation: three-down linemen, nickel package, with safety Tashaun Gipson as an extra blitzer from the left side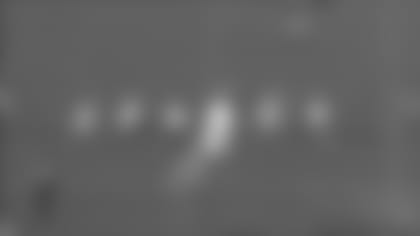 Technique: Kruger is normally a bull-rusher but on this play he chose to use a "chop technique." Kruger attacks Raiders right tackle Menelik Watson from the outside, letting Watson purposely get his hands on Kruger. Then Kruger chops Watson's right arm down, harder than he expects, and is able to use his hips to slide by the lineman. "It's all about timing and rhythm on that play," said Kruger.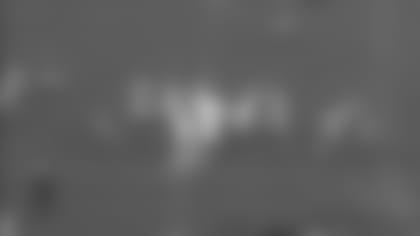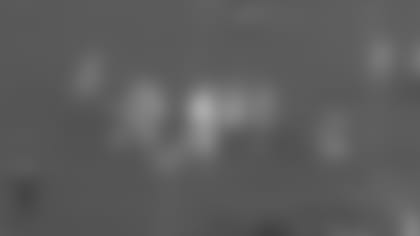 The result: Kruger's pursuit wasn't noticed by Raiders quarterback Derek Carr until it was too late. The sack helped keep Oakland out of the end zone and forced a Sebastian Janikowski field goal instead.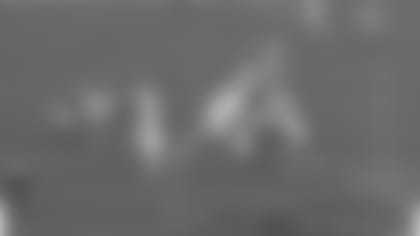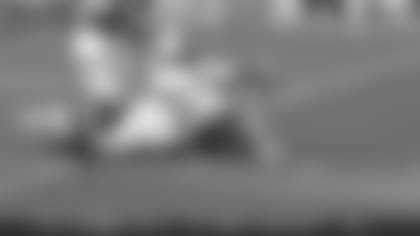 Paul Kruger's second sack vs. Oakland
Situation: 1st and 20 at OAK 12 – 10:16 left in the third quarter, Browns leading 9-6
Formation: two-down linemen, dime package, safeties Tashaun Gipson and Donte Whitner split out as cornerbacks
Oakland miscue: This is when it helps to play an inexperienced rookie quarterback. Before the ball is snapped, Carr slides the protection over to the left, anticipating Kruger to drop as an extra defender in coverage. This is the wrong call, and an odd one from Carr, being that Kruger rarely drops in zone coverage. The slide protection should have been shifted right instead of left.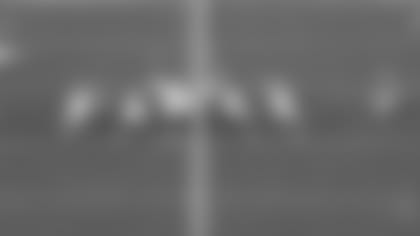 The result: To even further confuse Carr, the Browns play call had the burly Ahtyba Rubin (blue circle) dropping back into coverage in the middle. In turn, Oakland accidentally put two blockers on Ishmaa'ily Kitchen and not one Raiders player put a hand on Kruger (red circle) – who breaks free and unleashes on Carr. After a dull period in the game, Kruger's forced fumble got the Dawg Pound rocking and rolling.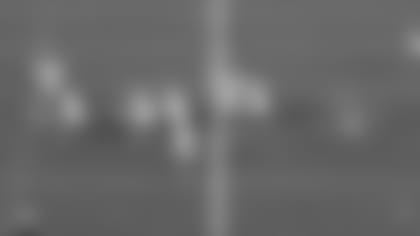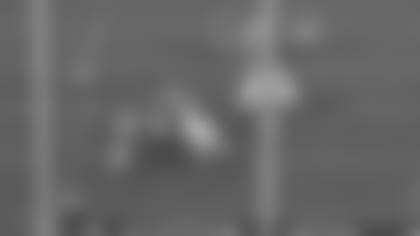 Paul Kruger's third sack vs. Oakland
Situation: 3rd and 4 at CLE 25 – :40 left in the fourth quarter, Browns leading 23-6
Formation: Exotic front. Jabaal Sheard (yellow circle), Kruger (red circle) used as down linemen while Desmond Bryant and Eric Martin as the uniquely placed stand-up rushers. Also, Jim Leonhard lined up next to Karlos Dansby as a middle linebacker in an obvious passing situation.
Technique: Kruger straight up bull-rushes 330-pound Oakland guard Austin Howard. Kruger pushes his right hand off Howard's chest for leverage and blows right past him on his way to Carr.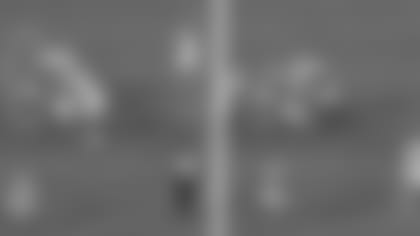 The result: Kruger posted his third sack. Going into the game Oakland had allowed only five sacks all season and their offensive line was considered one of the biggest strengths of the team. Kruger's five sacks have him in the top 10 of the AFC. Kruger's emergence as the team's top pass rusher will heavily influence how opposing offenses prepare for the Browns.