When coach Mike Pettine, defensive coordinator Jim O'Neil and linebackers coach Chuck Driesbach arrived from Cleveland the early months of 2014, they sat down and watched film of the Browns defense: What players were they exactly inheriting?
When the trio came together to compare notes, all three circled a name of a thumping linebacker who made some noise when he got snaps. That name? Tank Carder.
The problem for Carder was that a year ago during OTAs and training camp, he was dealing with both a shoulder and foot injury. While Karlos Dansby, Craig Robertson and Christian Kirksey were establishing roles within the defense, Carder was forced to take mental reps off to the side. The Browns knew they wanted to keep the TCU alum, but they just didn't know what to do with him.
"We went into camp and the preseason and it just wasn't a great moment for him to get ahead and try and jump somebody," Driesbach said.
Said O'Neil: "We never really got an evaluation on him last year."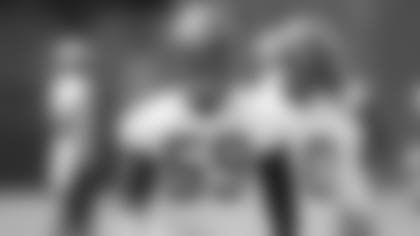 Carder won the AFC Special Teams Player of the Week last October after his blocked punt against the Titans flipped the tables during a record-setting Cleveland victory. But now that the Browns coaches have gotten to know the 26-year-old better through regular spring practice repetitions, special teams supremacy won't be the only area Carder could deliver on Sunday's.
"I could envision him having a role in our defense as a blitzer," O'Neil said. "He's one of our best blitzers on the team."
The 2015 season will be Carder's fourth in the NFL. It could also be the year the league is formally introduced to another Pettine-O'Neil manufactured playmaker.
"This spring has been eye-opening," Driesbach said. "He's been an excellent blitzer. His coverage skills are good. He's a playmaker. He's shown solid leadership and command in making the calls out there. He gives us so much depth and he's a guy we now know we can do some things with."