Up until the second quarter of Sunday's win against the Steelers, the Browns had not had an offensive snap without Pro Bowl center Alex Mack since he was selected as the 21st overall pick in the 2009 Draft.
Regarded by many as the best player at his position, the athletic and clever Mack has been the anchor of the offensive line.
Mack was carted off the field with a fractured fibula that will require surgery. Nobody is taking the loss harder than Mack's best friend, left tackle Joe Thomas, who openly told reporters after the game he was fighting emotions.
"We have played every snap together for six years and you are finally getting the best of Pittsburgh, he deserved to be out there with us," said Thomas. "It was hard to go on because we have gone through hell together and this was finally the payoff and he didn't get to be out there with us.
"It's such a brotherhood, and it got a little emotional out there after he went down. We know how much he means to this team and as one of the leaders of the offense, guys pull a lot of energy from him. He is such a great example. It's so difficult to lose such a tremendous player like that."
"Like Coach Pettine told us in the meeting room today, you don't replace Alex Mack," said quarterback Brian Hoyer. [He's] a guy who's never missed a snap in his NFL career, a Pro Bowl center. You don't just replace that guy."
During his Monday press conference coach Mike Pettine said Mack is likely done for the year but that a roster move would not be made until later in the week. Pettine was proud of the way Mack's teammates surrounded him and gave him well-wishes before the injured center went in for further medical tests.
"It's big," said Pettine. "We lost two warriors in him and Armonty, but we'll check the mail. There's not going to be any sympathy cards from around the league."
On Sunday, the offensive line, under makeshift circumstances, somehow didn't miss a beat. John Greco slithered over from right guard to center – his first time ever snapping the ball in an NFL game. On the very first play, the Steelers sent a blitz right up the middle, but Greco recognized the chaos, made the right call and picked up the oncoming blockers.
Paul McQuistan, who stepped in for Greco, also played like a starting-caliber right guard. The Browns felt comfortable sending Ben Tate and Isaiah Crowell right behind the former Seattle Seahawk. Cleveland finished the day with 158 yards rushing on 36 carries.
The Browns are still evaluating short and long term options at the center position. John Greco solidified himself as a candidate for the position. But backup center Nick McDonald, who was nicknamed "The Butcher" for his violent play, is coming off the reserve/non-football injured reserve list. McDonald can also play guard.
"We're a mile away from making that decision," clarified Pettine.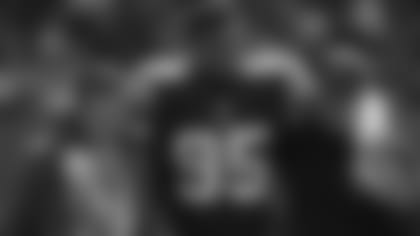 Although he doesn't have the Pro Bowl pedigree of Mack, the loss of Armonty Bryant is also being felt strongly in the hallways of Berea. The versatile 24-year-old defensive lineman was really coming into his own this season and his void as a pass rusher will be challenging to fill.
Bryant is set to undergo surgery to repair knee ligaments and will miss the rest of the season.
"It's tough for him to be out," said Desmond Bryant of his fellow defensive lineman. "Any time you get an injury like that, you send prayers out for him. It's going to be a long recovery, but I think he will do well.
"As far us, we had a couple guys step up this week and that's what it's going to be for next week. Somebody is going to have to come in and fill his shoes as best as possible."
The Browns could use Billy Winn back, but Pettine doesn't want to rush it – especially with a quad injury. Those have potential to flare up if they are not properly rested.
"It's the cliché, but it is truly next man up," said Pettine. "We can't feel sorry for ourselves, and I'm confident in the guys that we'll end up either promoting or bringing somebody in. I'm confident that we'll put a functional group out there."