Like how ancient time periods in history are divided by B.C. and A.D., the Browns 2014 season had a similar benchmark: "Before Alex Mack's leg injury" and "After Alex Mack's leg injury."
Before Mack broke his leg against the Pittsburgh Steelers in October, the Browns were averaging 26.8 points per game while boasting one of the NFL's premier rushing attacks at 4.5 yards per clip.
After Mack broke his leg, the Browns averaged 15 points per game and a dismal 3.3 yards per carry. Cleveland's offense mostly sputtered in November and December.
As Mack watched from his couch at home, it became obvious to him what opposing teams were doing. Defenses were forcing Cleveland's hand by loading up the box with eight defenders, stifling all the running lanes. If the Browns were going to beat an opponent, they'd have to do so through the air.
"We had a pretty good run game going, teams committed to try and stop that, and then other teams copied each other to have success," Mack said Monday from the locker room. "It's kind of simple. The more people you have to block, the more challenging it becomes."
That was the final reflection from Mack on the 2014 season. That was last year. This is now.
Even if it has only been "vanilla play calling" in training camp and the preseason, it's become clear the Browns have more of a balanced offense that won't exactly live and die by the running game. An overflow of formations have been created and passing plays are no longer predicated on running concepts – like play-action fakes or jumbo tight end sets.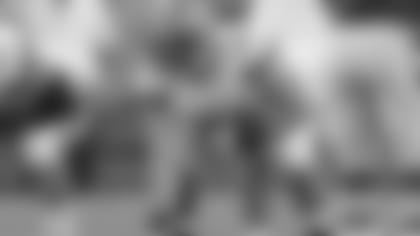 While offensive coordinator John DeFilippo has brought a new approach to Cleveland's passing attack, he's kept most of the blocking schemes the same. Part of the problem with the run game a season ago was actually the lack of depth at the wide receiver position. Andrew Hawkins, Taylor Gabriel and Miles Austin were asked to do too much. And if they had trouble getting open, plays on offense were often busted.
General manager Ray Farmer injected the unit with Dwayne Bowe, Brian Hartline and now, a confident Travis Benjamin. Remember how explosive Benjamin was as a deep threat when the run game was humming early in the year? In the first five games last season, Benjamin caught passes of 43 and 31 yards down the field, not including two touchdowns against Tennessee.
The thought process from Mack is that this season, there won't be a surefire way to shut down the flow of the offense. 
"We have players who know what to do," Mack said. "When it comes down to having a good offense, it's about being consistent, especially on third downs. You have to convert those.
"I would choose to have a team that was very consistent and able to just go down the field versus an offense that every once in a while catches a huge pass."
Though the preseason is often taken with a grain of salt, coach Mike Pettine wasn't pandering when he said the 31-7 win against the Buccaneers will give Cleveland some momentum. On two touchdown drives in Tampa Bay, quarterback Josh McCown led respective, methodical drives of 16 and 11 plays and kept the chains moving in a variety of ways. McCown has even been making Mack's job easier by becoming much more involved in setting the protections.
"That was a really good sign to see," Mack said. "(Josh) is in-tune, very professional, excited with high energy. He knows the offense well."
The other good sign to see that's gone vastly under-covered is Mack is back. After admittedly knocking off some rust during the preseason, the 29-year-old is set to begin his seventh NFL season in Cleveland with the highest expectations he can remember.
Opposing defenses can go ahead and try to load the box this season with the Browns Pro Bowl center back in the middle. This Browns offense has adapted itself, and Mack likes what he sees.