Cameron Erving found out Tuesday he'd likely be starting in his first-ever NFL game.
The kicker: It would be at the position where he hadn't been spending much of his time throughout training camp.
The first-round rookie offensive lineman played his first official snap for the Browns at left tackle, filling the void left by eight-time Pro Bowler Joe Thomas. The veteran missed Thursday's game because of a coach's decision, and Erving was the "sixth man," able to step in and give the Browns their best possible group of five.
"It felt good," Erving said. "I can kind of relate it back to when I was in college and you play that first game, no matter who it is. It was fun. It was a great time. It's been something I've dreamed of a long time.
"Just being able to go out and suit up in the Browns uniform was like a dream come true."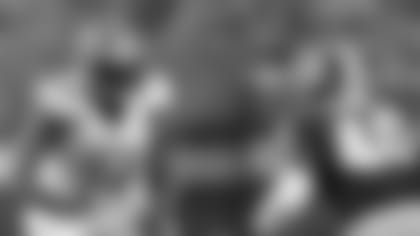 Erving remains entrenched in a competition to start Cleveland's season opener at right guard, the position veteran John Greco manned for all but one game last season. Greco's taken the majority of snaps with the first-team unit since the start of training camp while Erving has gotten his work with the second group.
That changed Tuesday when Thomas received a day off and Andrew McDonald, the second-team left tackle through most of training camp, was out with a concussion. Erving and Michael Bowie split repetitions at left tackle, and Erving was ultimately tabbed as the best option for Thursday's preseason opener against the Redskins.
"I keep an open mind to a lot of things," Erving said. "I feel like it's making me a better player being able to change my mindset from being a right guard to a left tackle. It's been pretty good. I haven't really had any big setbacks as far as knowing what I'm doing or what's going on. I feel like I've done a pretty good job."
The position wasn't entirely foreign to Erving, who spent most of his time at Florida State at left tackle. But the versatility he showed when he moved to center to close his career made him such an attractive prospect, and he's continued to impress his coaches and teammates with the ability to handle multiple positions as a rookie in the NFL.
Left guard Joel Bitonio saw the evolution firsthand Thursday.
"As the game went on, he just got more and more comfortable out there," Bitonio said. "He did a good job. As the game went on, I think he understood it's a little different animal in the NFL. You have to be on your game every play. You're not just going to beat a guy because you're better than him. He understood that and he played well."