Six names will vie for about four chairs in the Cleveland Browns' tight ends classroom.
A pair of veteran incumbents: Gary Barnidge and Jim Dray.
A free agent acquisition from the Arizona Cardinals: Rob Housler.
A sixth-round draft pick from USC: Randall Telfer.
And, most recently, two undrafted free agents:  Emmanuel Bibbs and Kevin Haplea.
"That room went from being – before we signed Housler – a big question mark, to what we feel is very deep," coach Mike Pettine said Friday at the Browns Foundation's annual golf outing.
Replacing departed Pro Bowler Jordan Cameron won't be a one-man job, and it's already a task Barnidge and Dray were asked to perform often in 2014.
Cameron missed six games last season because of a shoulder injury and concussion. In a momentous Week 2 victory over the Saints, Barnidge hauled in four catches for 41 yards – all on third or fourth down. Pettine noted Dray had hands of steel more than once over the course of the season. Even though the grizzly veterans are considered to be primarily blockers and secondarily pass-catchers, they still combined to haul in 30 receptions for 398 yards.
"We feel that is a solid duo," Pettine said.
In a March interview, offensive coordinator John DeFilippo said his offense was in need of a vertical threat at tight end. General manager Ray Farmer delivered that asset in the form of Housler.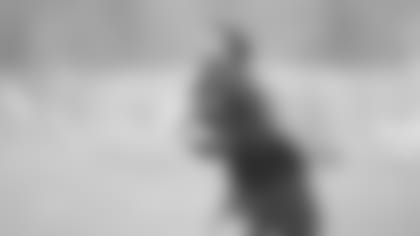 A third-round pick in 2011 by the Cardinals, Housler was an essential part of the offense in 2012 and 2013, registering a combined 84 catches and 871 yards in two seasons. Housler was phased out of the Cardinals offense in 2014, but the Browns saw more than enough productivity, and speed, from the Florida Atlantic alum to believe he can become a focal part of the offense.
"The tight ends will be very involved. We want to run the football. That's going to be an important part, a cornerstone of what we do," Pettine said. "We also want to be able to control and work the middle of the field. That's why we feel very fortunate to add a Rob Housler."
Intrigue around Telfer began in Cleveland's scouting department back in 2012, when the then-sophomore already had nine career touchdowns. A foot injury will keep him sidelined for the first several months of his career, but Telfer's potential as a dangerous red zone threat is apparent.
"He was one of our top-rated tight ends. We were fortunate to be able to get him when we did," Pettine said. "We all know the injury is well-documented but we think there is a chance he can help us late in the year."
Cleveland signed a player from a tryout last season who changed the team's landscape on offense last season – wide receiver Taylor Gabriel.
There is wonder about the recent signings of Bibbs and Haplea. The former led all tight ends in the "Power 5" college football conferences with eight touchdown receptions in 2014. The latter has pro-style offense experience at both Penn State and Florida State and was also a special teams stalwart.
"We feel they are solid guys," Pettine said, "that have a legitimate chance."