Confidence comes naturally to Tracy Howard. [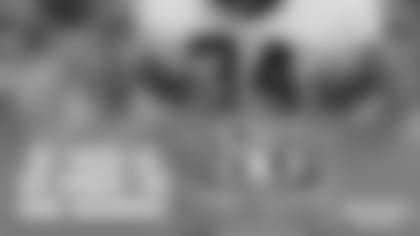 ](http://www.clevelandbrowns.com/news/article-5/1986-Browns-team-to-be-honored-1030/5bf3d609-a3ab-49e9-8ffe-2736870a4f04)
Undrafted out of Miami, Howard had only a few options when it came to where he'd pursue his professional career. Cleveland was one of them, and the fit felt so right in Ray Horton's defense that Howard was filled with genuine optimism about his chances -- as longshot as they may have seemed -- of making the 53-man roster.
"When I first came in at rookie minicamp, I got into the feel of things. I thought to myself, 'this is going really well for me,'" Howard said. "It's a great opportunity for me with everything that's going on. Early on, I kind of got comfortable, but not comfortable. I never get comfortable. I just felt comfortable with the defense. I picked it up kind of fast and things like that. I feel like I was ready to go."
Howard only got better as minicamp turned to training camp and training camp turned to the preseason. He made the cut and solidified his role in the back end of a young Browns secondary. He kept himself ready and prepared for a moment like last Sunday's, when he filled in for an injured Jordan Poyer at safety, one of the many positions he proved he could play throughout the preseason.
With Poyer on injured reserve, Howard, fresh off a season-high 38 snaps against the Titans, is slated for a starting role starting Sunday against the Bengals. And he's confident he'll continue to feel that comfort at a position he's embraced after four years as a defensive back at The U.
"It is going to be the same," Howard said. "I don't make it too big. I just go out there and play football. There is really no pressure. There is really nothing to it. It is just football at the end of the day."
Howard is the latest new face in a Browns secondary that has dealt with injuries and instability at a number of spots. Pro Bowl cornerback Joe Haden has missed two games with a groin injury and nickel Tramon Williams Sr. was sidelined with a shoulder injury. Safety Ibraheim Campbell missed multiple games with a hamstring injury and now Poyer is out for eight games at the least, if not the season.
It hasn't all happened at once, but it's been enough to prevent the Browns from having their season-opening lineup on the field as much as they would have liked. And there have been some growing pains because of it, the latest coming against the Titans, when quarterback Marcus Mariota connected on multiple deep throws against a Browns defense that ranks 26th against the pass.
"We can't let the ball go over our heads. That is happening at an alarming rate for me," Browns coach Hue Jackson said. "That is one thing our defense has built on. You can't let the ball just go traveling over everybody else's head. We have to improve that way. We have to do that fast because this a team that will throw it over your head if you don't stay back there."
As a versatile defensive back, Howard has the kind of ball skills that make him a nice fit at free safety. Haden lauded Howard for the way he attacks the ball and how he's handled the leadership responsibilities that come with being a safety in Horton's defense.
The challenge ramps up Sunday in Cincinnati.
"Throughout preseason, we all just built a bond. Anybody back there, we are going to be comfortable with," Howard said. "In the secondary, we are a brotherhood. At the end of the day, whoever is in there, you have to communicate with him and be comfortable. We have a lot of growing to do, and once we get rolling, we will be all right."